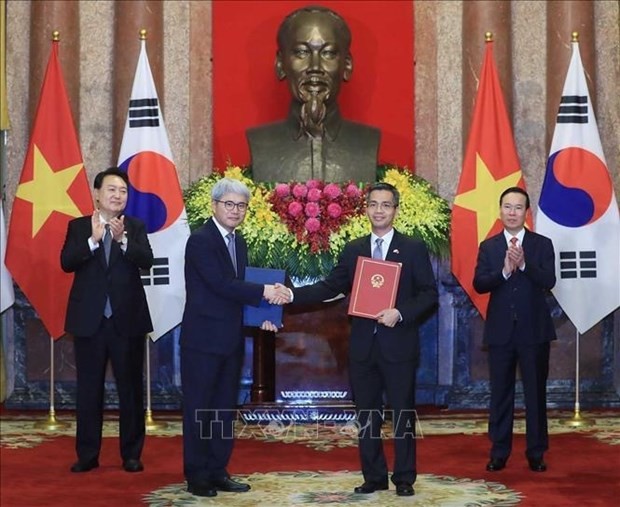 President Vo Van Thuong (R) and his RoK counterpart Yoon Suk Yeol witness the signing of the two governments' agreement on the loan from the economic cooperation promotion fund for 2023-2030. Photo: VNA
The leading unicorn business in technology, tourism services, and hotels in the Republic of Korea (RoK), Yanolja Cloud, said it has successfully signed a strategic partnership with three businesses in Vietnam.
Following the Vietnam visit by President Yoon Suk Yeol and a business delegation of the RoK in June, Yanolja Cloud has successfully established strategic partnership agreements with three Vietnamese companies, namely VNTravel, DiHotel, and Fusion Hotel Group.
According to VNA, Yanolja Cloud has signed a cooperation agreement with VNTravel, the number one travel company in Vietnam.
Through this cooperation, the two companies will strengthen cooperation, which has been established since 2021 with the goal of promoting digital transformation for Vietnam's tourism market.
By combining each other's technologies and know-how, the two companies will continue to innovate tourism technology so that visitors from both RoK and Vietnam can enjoy the most convenient convenience experiences.
Based on 200 airlines, more than 1.5 million global hotels and local accommodation, VNTravel is currently introducing more than 50,000 travel and accommodation products on its own platforms such as Tripi and Dinogo.
In addition, Yanolja Cloud also signed a memorandum of understanding on strategic partnerships with hotel management software company DiHotel and Fusion Hotel Group, a pioneer in the field of tourism and hospitality, health care services, owns the famous resort chain Fusion Resort in Phu Quoc island, Da Nang city, Cam Ranh city.
According to the agreement, Yanolja Cloud will introduce a localised solution that connects the property management system provided by Di Hotel with the booking channel setup solution and the channelization solution.
With Fusion Hotel Group, Yanolja will provide a SaaS solution to the corporation with plans to expand and facilitate customer access with Yanolja Cloud solutions for local customers.
SaaS stands for "Software-as-a-Service" is one of the most popular forms of cloud computing, defined as a software application service delivery model; where the vendor does not sell a software product, but rather sells a service based on that software.
Accordingly, the provider creates and maintains a software that runs on the web and can be accessed remotely by the customer via the Internet after paying a recurring subscription fee (monthly, quarterly, and annually).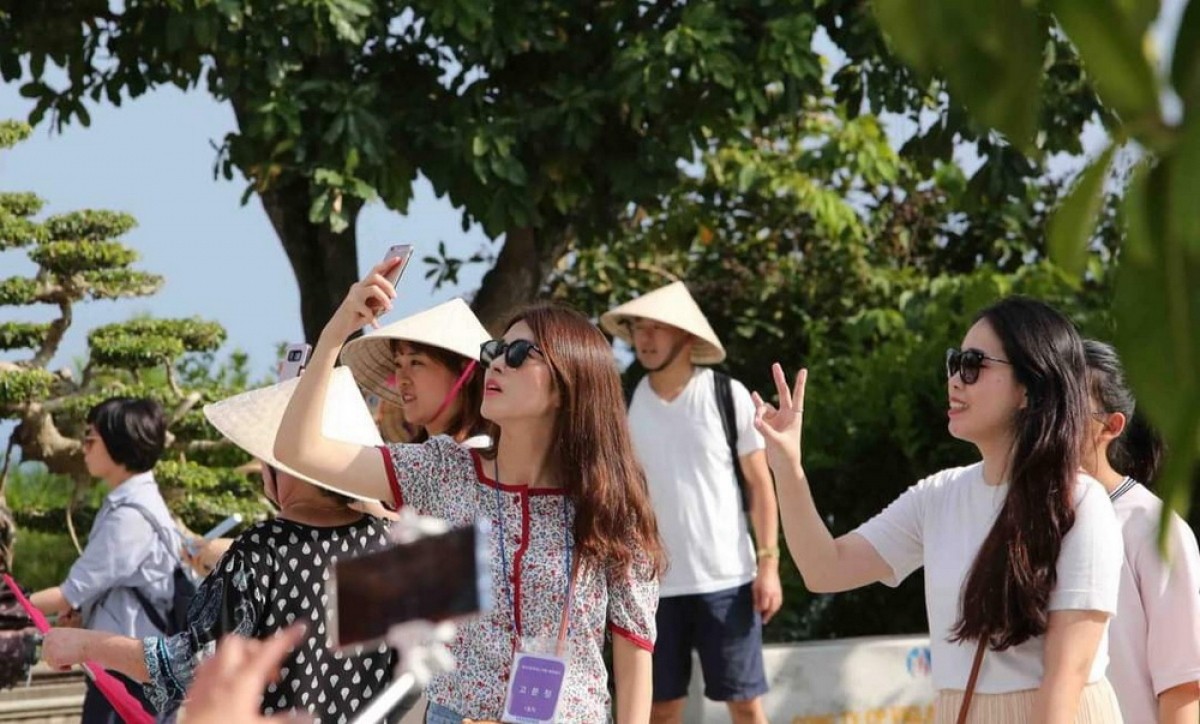 Korean tourists visit a popular destination in Hanoi. Photo: Phuong Cuc
Kim Se-joon, General Manager of Yanolja Cloud Global Partnership, said, "We will strive to make a direct contribution to promoting cultural, tourism and content exchange between the two countries and providing an amazing travel experience, created for all customers. By disseminating our solution technology, not only in the Vietnam market, we will accelerate digital transformation to the whole Southeast Asian hotel market."
Created to strengthen Yanolja's leadership in the global hospitality market with Software-as-a-Service technology, Yanolja Cloud is the global top cloud-based hospitality solution provider offering B2B operation solutions. for approximately 30,000 clients in 170 countries in more than 60 different languages.
Retail firms of the RoK are stepping up efforts to tap into the Vietnamese market, which has huge growth potential thanks to its rapid economic growth and a high proportion of the working-age population.
Lotte Group, one of the top two retail giants in the RoK along with Shinsegae, is the most active in the scene. The company currently has 20 affiliates operating in Vietnam, including Lotte GRS, Lotte Shopping, and Lotte Culture Works.
Lotte Shopping is set to open Lotte Mall West Lake Hanoi in the capital city in August. It will be Vietnam's largest shopping mall complex also consisting of a hotel and offices.
The retail giant is also investing about USD 900 million to establish Thu Thiem Eco Smart City, which is a complex that will consist of a shopping mall, a hotel, offices, housing, and a cinema. In August, Lotte World Aquarium is set to open in Hanoi as well.
"Vietnamese retail market grew about 100 times in the past 20 years. It is an attractive business destination with a high portion of the young population, who love Korean food, K-pop and K-drama," a Lotte Shopping official said, as cited by The Korea Times.
Shinsegae plans to open a third Emart store in Vietnam under a master franchise contract with local THACO Group in the second half of this year.
GS Retail has already opened over 200 GS25 convenience stores in the Southeast Asian country.
Vietnam has a domestic market with a population of nearly 100 million. Looking at the composition ratio of the population, those under the age of 30 account for 50% of the population while the working-age population takes up 70%.