The organizing committee of "Pho Day 12-12" has decided to expand the event abroad and introduce Vietnamese culinary culture to the world through the Vietnam Pho Festival 2023. The festival will be held at Keyaki Namiki, Tokyo, Japan, VNS reported.
This announcement was made by Tuổi Trẻ (Youth) Newspaper, Saigontourist Group, and the Vietnam-Japan Friendship Association of Ho Chi Minh City on September 28.
The Vietnam Pho Festival 2023, with the theme "Harmonious Flavors: Enjoying and Exploring Vietnamese Culinary Culture," will take place on October 7-8.
This event signifies a significant milestone as the "Pho Day 12-12" event enters its seventh year, with the participation of numerous Pho brands from all regions of Vietnam.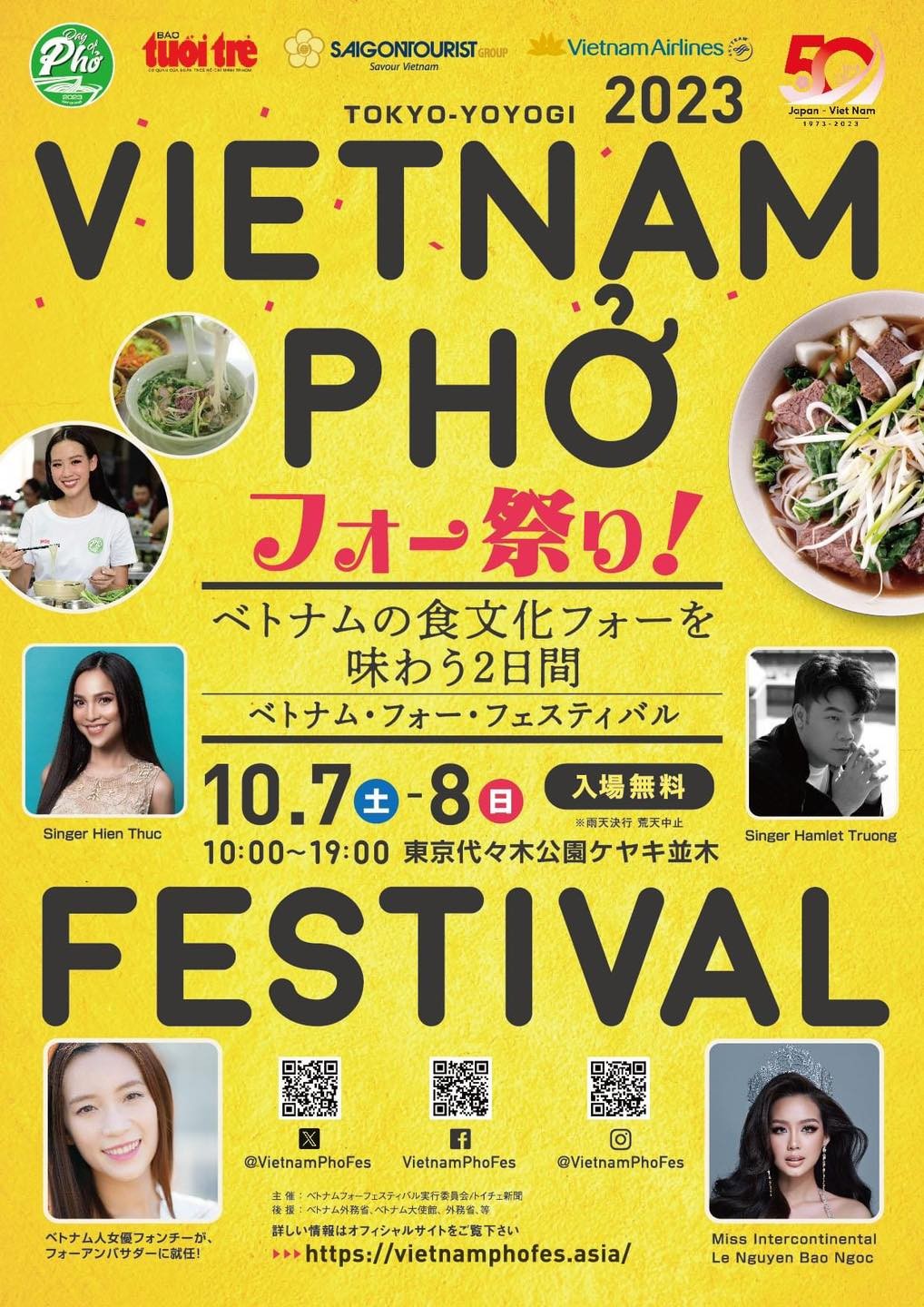 Vietnam Phở Festival 2023 goes to Japan
In addition to showcasing the flavors of Pho, the Vietnam Pho Festival 2023 will also feature various promotional activities such as Pho decorating demonstrations, discussions about the love for Vietnamese Pho, a creative contest for making Pho, exhibitions, and video screenings providing information and history about Pho.
Culinary expert Matsuo Tomoyuki, President of the Vietnam-Japan Culinary Culture Association, will serve as the ambassador of the Vietnam Pho Festival 2023. He will personally introduce Pho dishes and demonstrate how to make Pho.
Le The Chu, editor-in-chief of Tuổi Trẻ Newspaper and co-head of the Vietnam Pho Festival 2023 Steering Committee, emphasized the importance of promoting and enhancing the cultural and culinary values of Vietnam and their connection with other cultures and cuisines.
Pho can help promote Vietnam's cultural image, economic potential, and tourism, both nationally and specifically in HCM City, Chu said.
Pham Huy Binh, chairman of the Saigontourist Group's Council and co-head of the Vietnam Pho Festival 2023 Steering Committee, mentioned that this is the first time the festival is organized on such a large scale in Japan. Saigontourist Group aims to add its flavor to the rich tapestry of Vietnamese Pho and promote Vietnamese cultural and culinary heritage worldwide, attracting more Japanese tourists to Vietnam through the Vietnam Pho Festival 2023.
According to Phan Thi Minh Nguyet, deputy head of the international relations department of Ho Chi Minh City Union of Friendship Organizations (HUFO), the Vietnamese community in Japan often cooks familiar dishes such as chicken Pho, beef Pho, and spring rolls during traditional holidays and New Year. Additionally, many Vietnamese restaurants have recently opened in Japan, and there is a growing trend of people in Japan cultivating Vietnamese spices and herbs to enhance the flavor and health benefits of the dishes.
"But in that process, there is still creativity to suit the tastes of Japanese people. Many years ago, when I went to Japan, I had the opportunity to eat seafood Pho, which was quite delicious. It was both creative and unique, combining Vietnamese cuisine with the Japanese love for seafood. Through Vietnamese Pho festivals and delicious dishes, we can introduce Japanese consumers to flavorful dishes that evoke a sense of home, while also presenting them with creative variations," Nguyet shared.
The Vietnam Pho Festival 2023 is expected to coincide with the celebration of the 50th anniversary of diplomatic relations between Vietnam and Japan, making it a practical activity to promote cultural exchanges, economic relations, and cultural ties between the two countries.