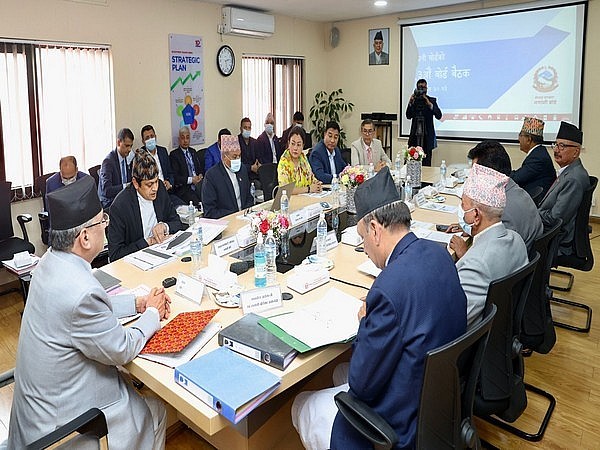 Nepal Prime Minister Pushpa Kamal Dahal holds meeting (Image Credit: Nepal PM Secretariat)
The investment proposal from SJVN worth 92.68 billion Nepali Rupees was given approval in the 53rd meeting of the Investment Board chaired by Nepal's Prime Minister Pushpa Kamal Dahal on Thursday. The proposal was put forth by SJVN to set up four hydropower projects in Nepal with a total capacity of 1,200 megawatts. The Board also approved a proposal by the Ministry of Energy to set up a new transmission line for the development of the energy sector.
The Investment Board of Nepal has announced the formation of a "Project Development Agreement Negotiation Committee", which will be led by the Chief Executive Officer of the Board. The committee will be responsible for submitting a document of consensus to the Board. By forming this committee, the Board hopes to ensure that all stakeholders have a productive and meaningful dialogue on the development of projects. This will ensure that all parties are in agreement and that any potential issues are addressed in a timely manner.
This is the third project undertaken, all through negotiation windows, on the Arun River after the 900 MW Arun-III and 695 MW Arun-IV hydroelectricity projects. The three projects will generate nearly 2,300 MW of electricity from the river in the Sankhuwasabha district.
Earlier, the Investment Board of Nepal and India's SJVN signed an agreement for the development of the Arun-III hydropower project in November 2014. According to this agreement, Nepal will receive Rs 348 billion over 25 years.
The project developer will provide 21.9% of the energy generated free of cost, worth a total of 155 billion Nepali Rupees, as well as an additional 107 billion Nepali Rupees in royalties.
In May of last year, the Nepal Electricity Authority's Managing Director, Kulman Ghising, and chairman of the SJVN, Nandalal Sharma, signed an agreement in Lumbini for the development of Arun-IV on behalf of their respective governments.
Arun Hydropower Project in Sankhuwasabha district.
Nepal will receive 21.9% or 152 megawatts of electricity for free, as per the agreement from Arun-IV. In July 2020, Nepal signed a deal with the SJVN (Satluj Jal Vidyut Nigam) to develop the 679 MW Lower Arun Hydropower Project in Sankhuwasabha district.
On Thursday, the Nepali government approved an investment of 92.68 billion Nepali Rupees for a project spearheaded by Arun. This is a significant step forward in the country's development.
The Lower Arun project will not involve the construction of any reservoir or dam; instead, it will be a tailrace development of Arun-III, meaning that water will be re-introduced into the river for the project.
The Nepal Investment Board (NIB) approved an investment of 167.57 billion Nepali Rupees for five hydroelectric projects on Thursday. This is a major milestone for the Nepalese economy, as it will help to improve the country's energy infrastructure and boost economic growth. The projects are expected to generate a total of 1,200 megawatts of electricity, and will provide employment opportunities for thousands of people. Furthermore, the projects will help to reduce the country's dependence on imported energy sources. This is an important step forward for Nepal in its efforts to become energy independent and self-sufficient.
Of total approved investments, Nepali Rupees 146.2 billion is being received through foreign direct investment, and Nepali Rupees 21.37 billion is from domestic investors.
In addition to the 669 MW Lower Arun Hydroelectric Project, Nepal has several other significant projects in progress. These include the 102 MW Upper Marsyangdi-1, which carries a price tag of 33.19 billion Nepali Rupees, the 70 MW Dudhkoshi-2 Jaleshwar project with a cost of 20.35 billion Nepali Rupees, the 70.3 MW Simbuwa Khola project, costing 13.44 billion Nepali Rupees, and the 43 MW Upper Madi project, which stands at 7.93 billion Nepali Rupees.
Among them, 146.2 billion Nepali Rupees in foreign investment has been approved for three hydroelectric projects, namely Lower Arun, Dudhkoshi-2 (Jaleshwar) and Upper Marsyandi hydropower projects.
This huge investment is aimed at modernizing Nepal's energy sector and promoting economic growth in the region.
ANI