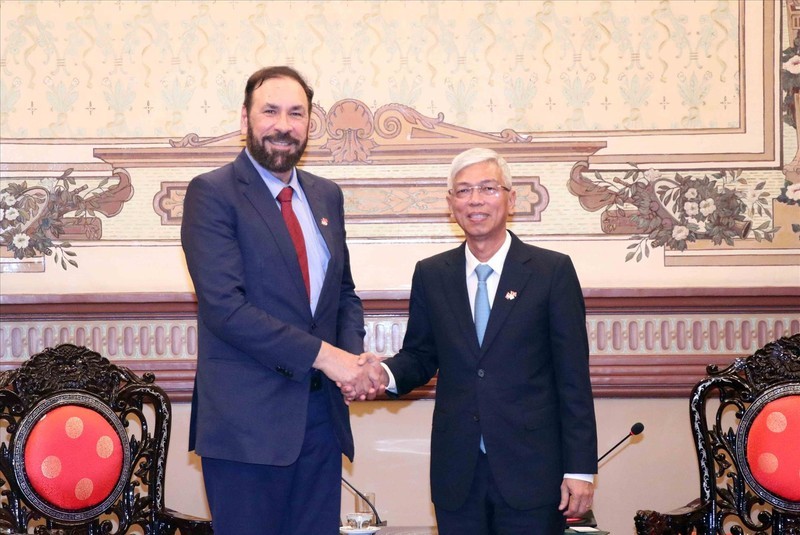 Vice Chairman of the Ho Chi Minh City People's Committee Vo Van Hoan receives Jagrup Brar, Minister of State for Trade at the Ministry of Jobs, Economic Development and Innovation in the Canadian province of British Columbia. Photo: VNA
The Vice Chairman of Ho Chi Minh City's People's Committee, Vo Van Hoan, hosted a reception on May 25th for Jagrup Brar, Minister of State for Trade at the Ministry of Jobs, Economic Development and Innovation in the Canadian province of British Columbia. During the reception, the two discussed the orientations to promote trade and investment cooperation, per the Vietnam News Agency (VNA).
Canada is currently ranked 22 amongst 117 countries and territories investing in the world's largest economic hub in the south with 113 projects amounting to a total of approximately USD 130 million. Despite the adverse effects of Covid-19, the two-way trade turnover recorded last year was a staggering USD 630 million, representing an annual growth of over 30%, as highlighted by the Vice Chairman.
Hoan expressed his wish to increase the city's collaborative efforts with Canadian provinces, including British Columbia, particularly in the areas of commerce and investment – despite the fact that the outcomes have yet to reach their full potential for cooperation.
Ho Chi Minh City is eager to collaborate with British Columbia in sectors related to green growth, where the Vietnamese metropolis has requirements and the Canadian province provides advantages such as personnel training and waste management.
For his part, Brar said the two localities have seen significant progress in their trade ties and informed his host on the upcoming opening of the British Columbia trade-investment office in Ho Chi Minh City.
Canada and Vietnam possess a wealth of potential for economic collaboration, particularly in areas such as climate change, agriculture, and forestry. The strong relationship between the two nations' people provides a solid foundation for further cooperative endeavors between the two countries in the future, the speaker highlighted.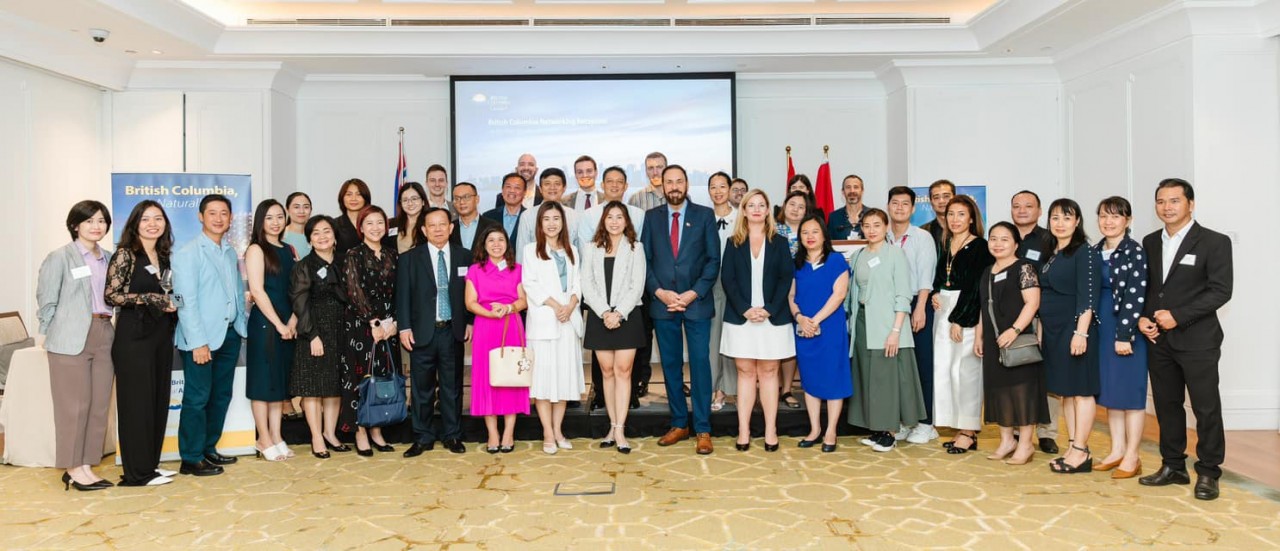 The Province of British Columbia (Canada) has opened a new trade and investment office in Vietnam as part of a new international trade strategy.
On behalf of the British Columbia Government, Brar officially opened the new British Columbia Trade & Investment Office in Ho Chi Minh City on May 26th. This opening is part of the province's Trade Diversification Strategy, aimed at creating more job opportunities and fostering collaboration between businesses in British Columbia and Vietnam.
Vietnam's Trade Diversification Strategy, recently unveiled by the country's Ministry of Industry and Trade, aims to diversify its export markets and increase investment opportunities in three new targeted markets, while expanding its presence in existing markets. The strategy sets out key actions for the government to take to enhance Vietnam's exports and attract foreign investment, with the ultimate goal of creating a more resilient and competitive economy.
"We are well aware that British Columbia's success is intrinsically linked to the international trade and commerce we conduct across the globe, including in Vietnam," said Brar. "This strategy, along with our office in the Ho Chi Minh City, enables us to capitalize on our competitive edge and collaborate closely with British Columbia's businesses, industries, and community partners to provide top-notch, made-in-British Columbia products and services that people need. We look forward to strengthening our ties with Vietnam in the future."
"By establishing a trade office in Vietnam, we are providing increased support for British Columbia businesses to access the Vietnamese market, creating more lucrative jobs and economic growth in our province," said Brenda Bailey, Minister of Jobs, Economic Development and Innovation. "By strengthening our trade ties and promoting B.C.'s cutting-edge, sustainable products and services abroad, we are continuing our efforts to support businesses and people in both countries."
"It was an honor for me to join the BC Government in announcing the launch of the FII office in Binh Duong Province last year," said Nguyen Quang Trung, the Vietnamese Consul General in Vancouver. "This office supports the vibrant furniture-making industry in the province and is a vivid demonstration of our two-way economic relationship."
The opening of British Columbia's new Trade and Investment Representative office in Vietnam is indicative of the rapidly growing economic partnership between the two nations. Not only that, but it also reflects the B.C. Government's commitment to creating better job opportunities and prospects for companies in both British Columbia and Vietnam. This announcement will go a long way in strengthening the bond between our two countries, especially as we celebrate the 50th anniversary of our diplomatic ties. Nguyen was especially optimistic about this development.
Last month, British Columbia opened a Forestry Innovation Investment (FII) office in Vietnam's southern province of Binh Duong. This office is set to foster collaboration between Vietnam and British Columbia and promote the development of forestry-related technology, research, and innovation.
The FII office in Binh Duong, Vietnam – a major industrial hub – is the third of its kind established overseas by British Columbia, with an aim to guarantee a steady supply of sustainable softwood products with origin certification.
Trade between Vietnam and the Canadian province skyrocketed to nearly CAD 2 billion (about USD 1.6 billion) in 2021. This was a significant increase from the year before, when the two countries only traded around CAD 1.3 billion (about USD 1.1 billion). The surge in trade is largely attributed to the growing partnership between the two countries. Vietnam has benefited from increased access to Canadian markets, while Canada has seen increased investment in the Vietnamese economy. The two countries are expected to continue to strengthen their relationship in the coming years, with further growth in both trade and investment.