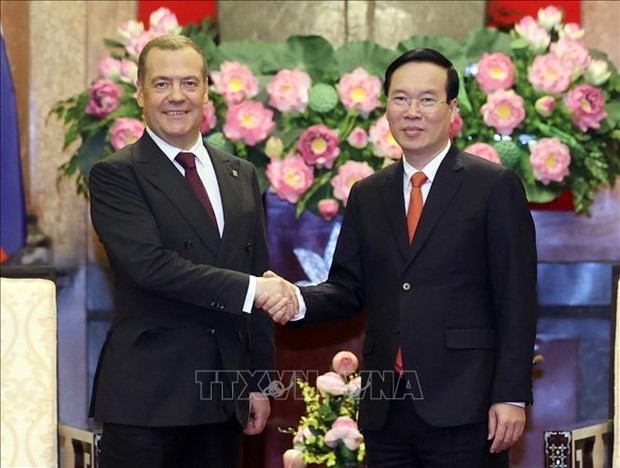 President Vo Van Thuong (R) and URP Chairman Dmitry Medvedev. Photo: VNA
The reputable Russian newspaper Komsomolskaya Pravda (Komsomol Truth) recently published an article that highlighted the potential and prospects of the Russia-Vietnam relationship in the current situation, on the occasion of the Vietnam visit by the Chairman of the United Russia Party and Deputy Chairman of the Security Council of Russia, Dmitry Medvedev.
The article described Vietnam as a powerful, emerging nation boasting a population of 100 million and one of the fastest-growing digital economies in the region, with an annual growth rate of 38%. It is likely that the country will become the second-largest digital economy in Southeast Asia by 2025, cementing its status as an economic powerhouse in the region.
Commenting on bilateral ties, the enduring relationship between Russia and Vietnam was highlighted. In 1950, the Soviet Union was one of the first countries to formally establish diplomatic relations with Vietnam, providing much-needed support for Vietnam's national liberation and development.
After a period of stagnation due to fluctuations in Russia, cooperation between Vietnam and Russia resumed at the State level following the highly successful Vietnam visit by Russian President Vladimir Putin in 2011. One year later, the two countries elevated their relationship to a comprehensive strategic partnership.
Currently, Vietnam maintains a close relationship with just four countries: China, Russia, India, and the Republic of Korea. This is evidenced by the high-level of cooperation between the respective governments.
In international relations, Vietnam has adopted a policy of equilibrium between major countries based on respect for national interests, and has been remarkably successful in becoming a new geopolitical hotspot in the region. This is evidenced by the operation of some of the world's largest factories that are taking place on Vietnamese soil, as it has been noted.
The article concluded that it is imperative for Russia to maintain Vietnam's role as a strategic gateway to Asia, in order to bolster cooperation in trade and other key sectors between the two countries.
President Vo Van Thuong welcomed the ongoing visit to Vietnam by the Chairman of the United Russia Party (URP) and Deputy Chairman of the Security Council of Russia, Dmitry Medvedev, on May 22. Vo Van Thuong stated that the visit offers both sides an opportunity to discuss the orientations for Vietnam-Russia ties, including cooperation between the two Parties and States. Furthermore, the visit provides an excellent chance to further strengthen the relationship between the two nations.
Both the host and the guest pledged to continue to facilitate people-to-people exchanges, particularly among the younger generation, and to uphold the role of friendship associations between the two countries to promote understanding and safeguard the cherished values of an enduring friendship with a history of almost 75 years.