Both Wendy Idle and Phil Hoad from The Guardian gave the documentary a 3 out of 5 stars view, calling it a "scrupulous" cinematic project with a "well-meaning" message on nature preservation at Son Doong – the largest natural cave in the world.
Phil Hoad praised the visual for capturing the breathtaking beauty of the cave.
"The stupefying shots look computer-generated, like something from Avatar," wrote Phil Hoad.
The critic also went into details on Alastair Evans's intentionally breaking the films into different parts.
"Alastair Evans's slightly ungainly documentary (we only get the history of the cave's discovery 20 minutes from the end) very thoroughly details the campaign to preserve Hang Son Doong…There's a noticeable colonial gulf in the gap between tourists, researchers enjoying the cave and the local porters – which Evans, devoting a section to the latter, is evidently aware of," said Hoad's article.
Screenshot from Empireonline.com
Another review from Empire (England) highlighted that "A Crack in the Mountain" has a measured and empathetic storytelling that leaves a lasting message. The reviewer also claimed that this documentary is filled with captivating footages for "establishing [Son Doong's] sheer vastness", which charted the explorers hoping to uncover more of its secrets.
"One scene shows a leading activist breathlessly describing the first-hand experience of standing in the cave's darkness during a TED Talk, imagining aloud that this is what the afterlife could feel like," said the review from Empire.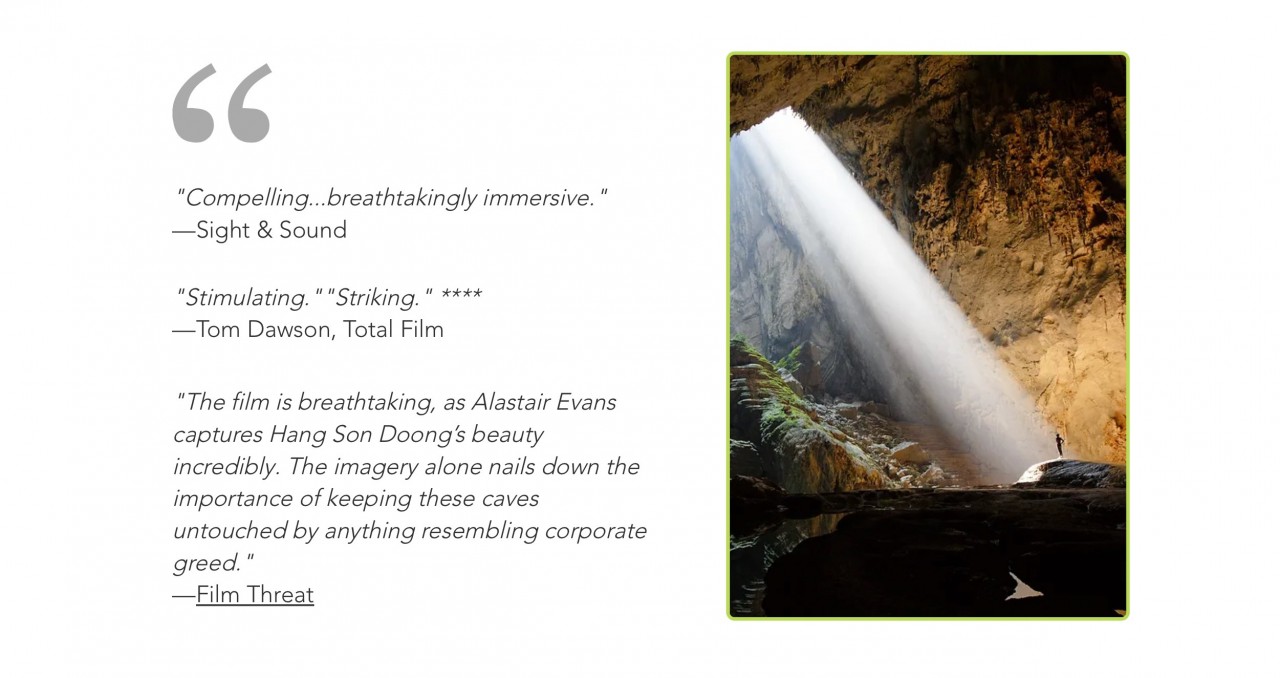 Reviews from film critics published by Dartmouth Films.
Review from Alex Ramon (British Film Institute) also commented on Evan's ability to touch on issues of wider concern.
"Many shots are haunting, capturing the cave's natural beauty in breathtakingly immersive images. Throughout, wider contexts are deftly sketched, but it's the central conflict between environmental protection and economic opportunity that the film fleshes out with nuance and insight," said Alex Ramon.
"A Crack in the Mountain" is directed by Alastair Evans and produced by Dartmouth Films. It is about the arguments about the 2014 plans that were announced to build a cable car into Son Doong. While it appears this would destroy the cave's delicate ecosystem and the local community divided over the benefits this development would bring, the film follows those caught up in the unfolding events.
The documentary also uses the narrative as a lens through which to investigate related themes such as the challenges of modern-day exploration, environmental conservation & sustainability, and the perils of operating as an activist in a country such as Vietnam where freedom of speech is severely curtailed, cited from Dartmouth Films.