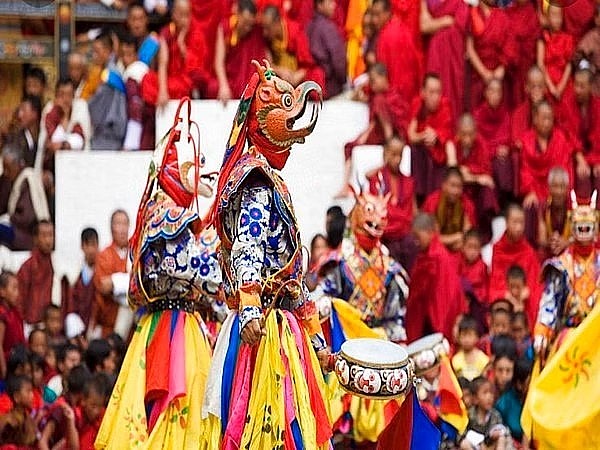 Representative Image of Bhutan's Tshechu Festival. (Photo/Twitter: @ruchirakamboj)
Tsendagang Gup,Bal Bdr. Rana, who is also the chairperson of Dagana Dzongkhag Tshogdu moved the motion.
Accordingly, other local leaders supported the move. Some members said, serving meat items during the annual Tshechu and other routine rituals conducted in gewog lhakhangs have become an expensive affair for both the government and individual organisers.
"I served as a procurement officer during the Dagapela Tshechu a few months ago. I had spent around Nu 50,000 just to buy meat despite strict control. And I spent another Nu 25,000 on alcohol. Therefore, it would be nice if we could ban meat and alcohol during annual Tshechu and rituals because Tshechu is all about religion," said Mani Kumar Ghishing, Gesarling Gup.
"Firstly, serving vegetables during the annual Tshechu and rituals would help low-income families to conduct any religious activities. Secondly, mask dances during the annual Tshechus teach devotees about what we should do to accumulate merit and what we should not do to avoid sins. But it is useless to witness Tshechu if we cannot avoid consuming meat during Tshechu," said Chador, Kana Gup.
"In my Gewog, we tried to impose restrictions on using meat items during the Tshechu, but we could not do it, so far. But I heard some chiwogs in other gewogs have already stopped using meat during religious functions. So, I am supporting the motion," said Sangay Wangmo, Gozhi Gewog Mangmi.
The restriction will come into effect after the Dzongkhag Tshogdu's resolution is passed on to relevant offices, reported The Bhutan Live.
Bal Bdr. Rana said "lhakhang is a place where we accumulate merit and seek blessings. But consuming meats and alcohol during the annual Tshechu and in the lhakhangs is not a good example and it is also a sinful deed."
Dagana district hosts three major annual Tshechu of Daga Dzong, Dagapela and LhamoiDzingkha Dungkhag. Similarly, chiwogs in all the 14 gewogs conduct routine rituals on auspicious days.