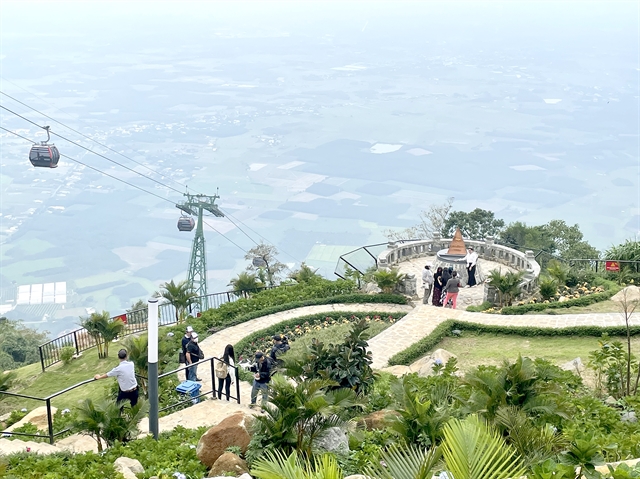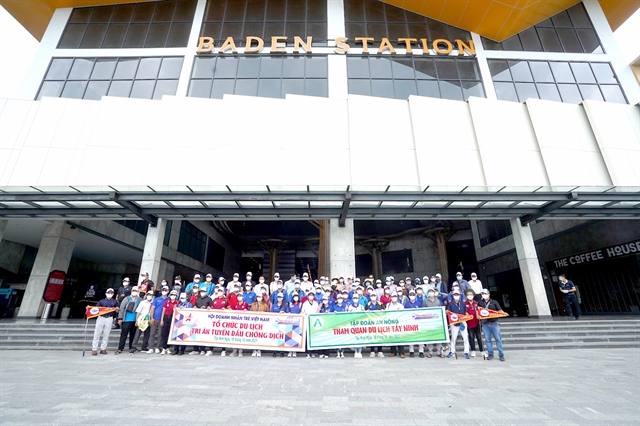 Visitors pose for a photo at the Ba Den mountaintop on October 18.
The HCM City tourism sector has co-operated with travel firms and destinations in the city to promote online booking and payment solutions. It has collaborated with Traveloka Vietnam and Shopee Viet Nam to support the city's digitalisation process and promote travel products and communications campaigns.  
Vaccinated locals from HCM City are now eager to travel again to relieve the pandemic's mental strain after more than four months of pandemic-related lockdowns and travel restrictions.
Vũ Văn Phú, 25, spent a joyful day with his colleagues on a one-day trip to the Bà Đen Mountain Relic and Cultural complex in the southeastern province of Tây Ninh.
He was one of 105 travellers who joined the first closed tour from HCM City to Tây Ninh after more than four months of travel restrictions.
"The trip was a reward that my company offered employees who have spent months working and staying at the company during the pandemic."
"In the past four months, we had to work and stay at the company. It's definitely a relief to finally step out of HCM City to get some fresh air. This trip partly satisfied my wanderlust and made me feel like everything is gradually returning to normalcy."
"My company plans to organise a beach trip for employees and their relatives to the (southern coastal) city of Vũng Tàu in the next few days."
Tourists can visit the sacred Bà (Lady) Temple on the mountainside of Bà Đen Mountain and go by cable car up to the Bà Đen mountaintop at the height of 986 metres.
The one-day tour for domestic travelers who have received two COVID-19 vaccine doses from HCM City to Bà Đen Mountain in Tây Ninh is part of an effort to resume travel linkages between the two localities under agreed health protocols.
Trương Quang Hùng, director of Tây Ninh Province's Department of Culture, Sports and Tourism, said that vaccinated travelers from HCM City can now join a group tour to visit Bà Đen Mountain.
It has not received individual tourists due to concerns over safety as the vaccination rate in the province remains low.
All staff working at the Bà Đen Mountain Relic and Cultural complex and tour guides are fully vaccinated.
More tourist sites in the province will reopen for domestic travelers when local residents are fully vaccinated. Around 76 per cent of its adult population have taken one shot.
Nguyễn Ngọc Tấn, general director of Saco Travel, said the closed tour for more than 100 tourists from HCM City to Tây Ninh kickstarted his company's operation after months of suspension due to travel restrictions.
The company's staff are fully vaccinated and have been trained in COVID-19 prevention and control by the HCM City Centre for Disease Control.
Saco Travel is also planning to organise tours from HCM City to central provinces and the northern province of Hà Giang, he said.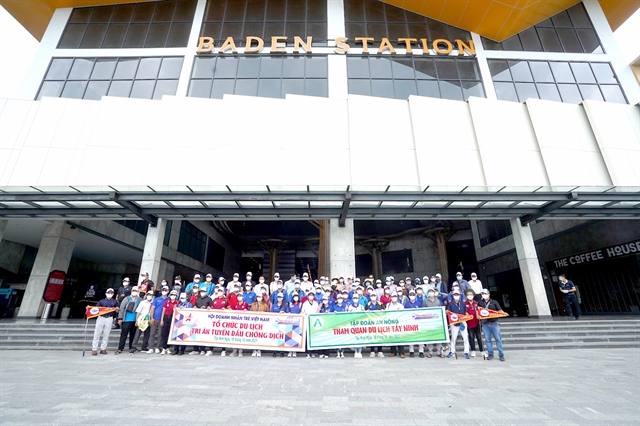 Travellers jointhe first closed tour from HCM City to Tay Ninh after more than four months oftravel restrictions. 
Phased plan for recovery
HCM City has revealed a three-phase plan to revive its tourism sector, seeking a "travel bubble" with many cities and provinces as case numbers in the country continue to drop.
Nguyễn Thị Ánh Hoa, director of the city's Department of Tourism, said inter-provincial tours from HCM City to Tây Ninh would be the first step in the launch of a programme to revive the tourism sector.
In the first phase, the city will open tours to "green", or safe, areas with a low infection risk and pilot closed tours to Tây Ninh Province this month to gradually resume tourism activities.
Tourist accommodations and tourist sites will be allowed to operate at 50 per cent capacity.
In the second phase from the beginning of next month until year-end, inter-provincial group tours will be expanded to safe destinations nationwide.
In the third phase next year, tourism activities and products in the city will fully resume.
With a high rate of vaccinations for adult and 80 per cent of employees in the travel sector fully vaccinated, HCM City authorities plan to revive domestic travel with more inter-provincial tours to safe destinations nationwide.
The city is working with tourism authorities in the central provinces of Khánh Hòa, Phú Yên, and Bình Định to open closed tours to safe destinations for domestic travelers.
Public-private cooperation and close linkages of 30 travel operators and tourist destinations in the city are key factors in the revival of the tourism sector, she said.
Nguyễn Minh Mẫn, marketing and communications director of TSTtourist, told Việt Nam News: "His company last week resumed operation, with about 40 per cent of staff returning to work. They are fully vaccinated against COVID-19."
The company on October 11 opened tours to safe destinations in the city and received many inquires about group tours to Củ Chi and Cần Giờ districts in HCM City and the coastal city of Vũng Tàu.
Family groups mostly booked tours to travel later this month and next month. 
Inter-provincial tours from HCM City to neighbouring provinces such as Tây Ninh, Bà Rịa-Vũng Tàu, Long An, and Tiền Giang and central provinces of Khánh Hoà, Phú Yên, and Bình Định will soon resume under tourism linkages between HCM City and these localities, he said.
TSTtourist is updating information from other localities on safety requirements to offer tourists closed tours to safe destinations in other provinces. This is a positive sign for expected demand in the year-end season. 
Source: VNS