Vietnam News Today (Aug. 31) notable headlines
PM Pham Minh Chinh to attend ASEAN Summit in Indonesia
Vietnam, China promote friendship in border area
Vietnam highly values cooperative ties with Japan, says legislature leader
HCM City to celebrate National Day with festivities
Vietnam's food map with 126 typical dishes to be unveiled in October
E-visa proves convenient at Lang Son's border gate
Vietnam, Russia hold 12th defense, security strategy session
Vu Lan Festival – A time to express gratitude towards parents
Vietnam ranks first in Southeast Asia in search volume growth rate for foreign travel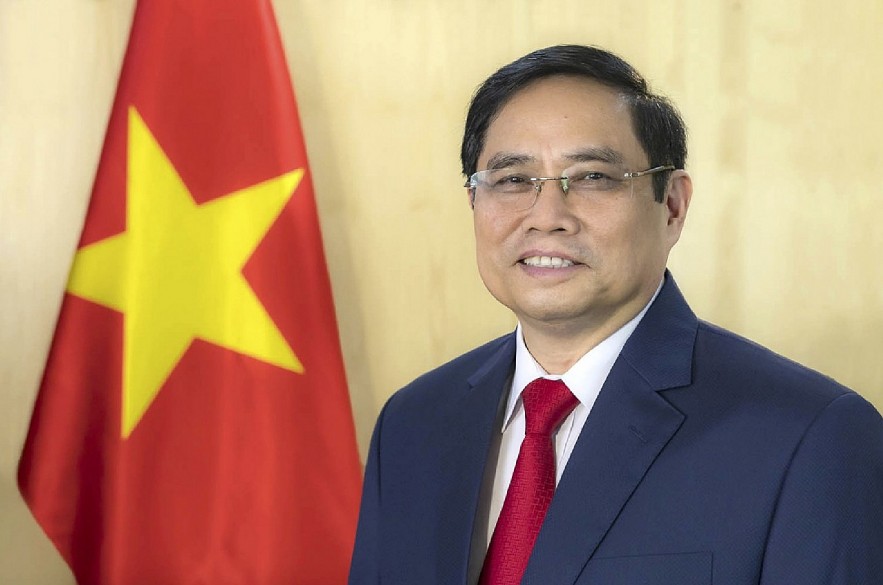 Prime Minister Pham Minh Chinh of Vietnam will attend the 43rd ASEAN Summit and Related Summits in Indonesia in September 2023. Photo: VOV
PM Pham Minh Chinh to attend ASEAN Summit in Indonesia
Vietnamese Prime Minister Pham Minh Chinh will attend the 43rd ASEAN Summit and Related Summits in Jakarta, Indonesia, from September 4-7 at the invitation of President Joko Widodo, according to the Ministry of Foreign Affairs.
Leaders of ASEAN member states will gather in Jakarta for the 43rd ASEAN Summit and Related Summits, including a summit of members of the regional Comprehensive Economic Partnership (RCEP), and an ASEAN business and investment summit.
Ahead of these summits, there will be a meeting of ASEAN Foreign Ministers, a meeting of the 27th ASEAN Political-Security Community (APSC) Council, and a meeting of the 34th ASEAN Coordinating Council (ACC), cited VOV.
ASEAN, fully known as the Association of Southeast Asian Nations, is comprised of 10 full-fledged member states, namely Brunei, Cambodia, Indonesia, Laos, Malaysia, Myanmar, the Philippines, Singapore, Thailand and Vietnam.
Vietnam, China promote friendship in border area
A Party and authority delegation from Dongxing city and Fangcheng of China visited Quang Ninh province's border city of Mong Cai on August 30 on the occasion of the 78th anniversary of National Day (September 2, 1945-2023).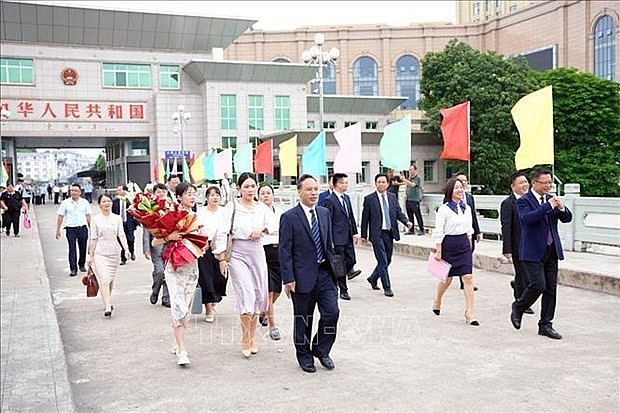 The Chinese delegation visits Mong Cai city, Quang Ninh province. (Photo: VNA)
At the reception for the Chinese delegation, the Chairman of the City People's Committee Ho Quang Huy noted that the Vietnam-China comprehensive strategic cooperative partnership as well as the traditional relationship between Mong Cai and Fangcheng have continuously been consolidated and promoted.
Mong Cai attaches importance to and makes efforts to maintain and enhance its cooperation and friendship with Dongxing and Fangcheng across spheres, he said.
Briefing his guests on Mong Cai's socio-economic development and external affairs, the official stressed that the coordination and comprehensive cooperation of Dongxing and Fangcheng have contributed to the Vietnamese city's achievements over the past time, according to VNA.
Huy expressed his hope that the sides will step up economic collaboration and trade promotion, and foster cooperation in cross-border crime, disease prevention and control, and border management.
Joint efforts should be made to remove difficulties for exporters and importers, and soon officially restore and upgrade the quality of border tourism, he continued.
The Chinese officials also noted their resolve to enhance the traditional relationship and cooperation, wishing that the friendship between Mong Cai and Dongxing and Fangcheng will be consolidated and grow further in the time ahead.
Vietnam highly values cooperative ties with Japan, says legislature leader
Vietnam highly values cooperative ties with Japan, and expects the two sides will further strengthen cooperation through all channels, including people-to-people exchanges, business connectivity and local cooperation.
National Assembly Chairman Vuong Dinh Hue was speaking at a reception for Kenta Izumi, leader of the Constitutional Democratic Party of Japan (CDP), in Hanoi on August 30, reported VOV.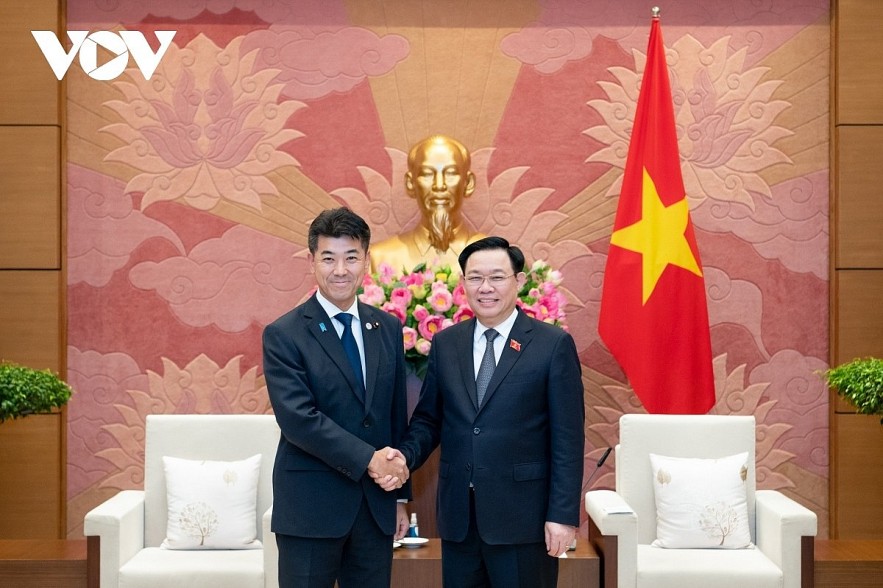 Vietnamese National Assembly Chairman Vuong Dinh Hue shaking hands with Kenta Izumi, leader of the Constitutional Democratic Party of Japan (CDP), in Hanoi on August 30.
He thanked Japan's political parties for supporting the strengthening of the strategic partnership for peace and prosperity in Asia between Vietnam and Japan over the years, serving as an important foundation for the two countries to further enhance their partnership in the coming decades.
He briefed his guest on Vietnam's major development targets till 2030 and especially 2045 when the country will mark its centenary independence, as well as its net-zero emissions commitments by 2050, saying to realize the targets, Vietnam, besides its resources and efforts, needs international support and assistance, including those from Japan.
Kenta Izumi for his part informed his host about the organizational structure of the Constitutional Democratic Party of Japan which is partly tasked with helping to improve the safe environment for the expatriate community, including Vietnamese nationals, in Japan.
He said his party would cooperate more closely with Vietnam as one of Japan's leading partners in realizing the goals set by the Communist Party of Vietnam.
Both host and guest shared the view that the two countries need to step up cooperation in the fields of high technology, climate change response, and socio-economic development, along with promoting cooperation in defense and security.
They also said Vietnam and Japan should continue to cooperate and share experiences in the fields of institution building, technological and financial cooperation in digital transformation and energy transformation.
Hue suggested that more Japanese MPs visit Vietnam to share experiences in legislation, supervision, and decision-making. He expected to receive Japanese MPs in Hanoi in September for the ninth Global Conference of Young Parliamentarians.
Meanwhile, Kenta thanked the National Assembly of Vietnam for supporting the signing of a memorandum of understanding on cooperation between the Communist Party of Vietnam and the Constitutional Democratic Party of Japan.
The two leaders affirmed that both Vietnam and Japan support ASEAN's common view regarding peace and stability as well as peaceful settlement of disputes in the East Sea, in accordance with international law, including the 1982 United Nations Convention on the Law of the Sea (UNCLOS).
HCM City to celebrate National Day with festivities
HCM City will host two fireworks displays to celebrate the 78th anniversary of the August Revolution (August 19) and National Day (September 2).
A high-altitude firework display will be held at the Thu Thiem Tunnel in Thu Duc City and a low-altitude display will be set off at the Dam Sen Cultural Park in District 11.
The 15-minute shows will begin at 9 pm on September 2.
A special music gala will be held at Nguyen Hue Pedestrian Street in District 1 from 8 pm on September 2.
The show will present songs praising the country, President Ho Chi Minh, and the city, featuring veteran singers such as Meritorious Artist Ta Minh Tam.
The night will present songs about youth and love with performances of Hien Thuc and Nguyen Phi Hung, cited VNS.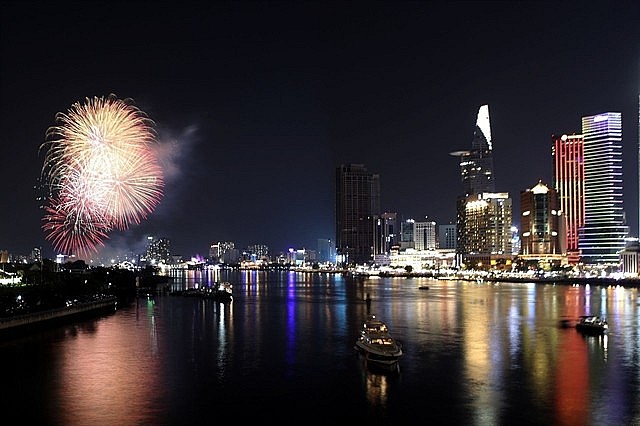 HCM City will host two fireworks displays on September 2 to celebrate the 78th anniversary of the August Revolution (August 19) and National Day (September 2). Photo: VNS
There will also be a showcase of hot air balloons above Thu Thiem Tunnel in District 2 on the morning of September 2.
Meanwhile, Nguyen Hue Pedestrian Street will be lit up with thousands of LED lights during the four-day holiday (September 1-4).
The city will also organize music and art performances to serve people and workers at industrial parks and export processing zones and in remote districts during the holiday.
From September 1-3, more than 30 circus artists from Vietnam and Laos will entertain the city's audiences with a special show called "Vu Dieu Rung Xanh" (A Dance of the Forest) at the Hoa Binh Theater in District 10.
The artists, who are graduates of the Vietnam Circus and Vaudeville School, will offer a variety of acts such as trampoline, trapeze, contortion, and stilt-walking.
The show will offer seven performances in three days. Tickets are available at the theater.
Vietnam's food map with 126 typical dishes to be unveiled in October
A food festival to honour Vietnamese culinary culture will be held in Ho Chi Minh City from October 20 – 22, during which Vietnam's food map will be unveiled with a record of 126 delicious dishes from all 63 provinces and centrally-run cities across the country.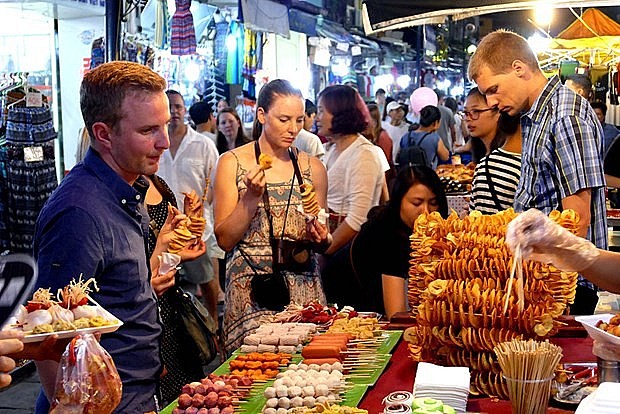 Foreign visitors enjoy street foods at Hanoi's night market. (Photo: thanhnien.vn)
The event also aims to highlight the culinary profession in the lead-up to World Chef's Day on October 20 and to set a national record for the culinary map.
Organized by the Ho Chi Minh City Tourism Association and organizations, the festival will see 100-120 booths introducing regional dishes, along with food demonstrations and a music program, VNA reported.
Visitors can taste a variety of regional specialties by chefs from five-star hotels and artisans of Ho Chi Minh City and localities across the country.
Nguyen Thi Khanh, Chairwoman of the Ho Chi Minh City Tourism Association, emphasized that Vietnamese cuisine has been increasingly popular among international friends thanks to its numerous delicacies.
Several local dishes have been introduced at international culinary competitions, helping to elevate Vietnamese cuisine's image on the world culinary map, she added.
The festival aims to honor generations of chefs, and artisans and encourage chefs who love their profession and talented female chefs.
The first food map of Vietnam made from typical dishes of all 63 provinces and cities was introduced in April 2022. The 20-metre S-shaped map was created with dishes prepared by 50 contestants of the competition's various editions and chefs in all regions of Vietnam.