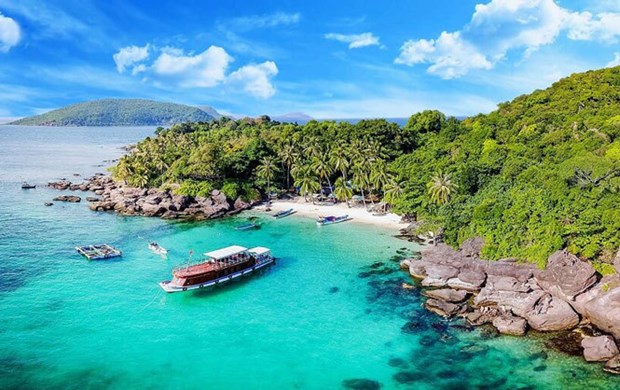 A corner of Phu Quoc.
It is part of a pilot plan on reopening tourism for the group, which will be implemented in two phases within the course of six months. After hosting the charter flights, the authorities will evaluate the plan's feasibility, make adjustments if necessary, and follow the official roadmap from December 20, 2021.
Accordingly, during the first phase from December 20, 2021 to March 20, 2022, Phu Quoc will welcome 3,000 to 5,000 tourists per month via charter flights and allocate private experiences within limited locations and areas for guests.
The second phase, from March 20, 2022 to June 20, 2022, will involve evaluation of the first phase and a scale of 5,000 to 10,000 guests per month if all requirements are met.
Allowed international tourists must come from countries and territories with high safety in COVID-19 prevention. They will enter Phu Quoc International Airport via charter flights with a certificate of full vaccination against COVID-19 or a proof of COVID-19 recovery recognised by relevant authorities in Vietnam.
Injection of their second shot must have been done at least 14 days before and no more than 12 months to the day of arrival. Visitors who have recovered from COVID-19 have to submit proof that their discharge from the hospital to the date they enter Phu Quoc do not exceed six months. In addition, an English certificate of negative COVID-19 test results via the RT-PCR method within 72 hours before departure must be prepared by visitors.
Earlier, on October 25, the Airports Council International (ACI) awarded the Airport Health Accreditation (AHA) certificate to the Phu Quoc International Airport./.
Source: VNA