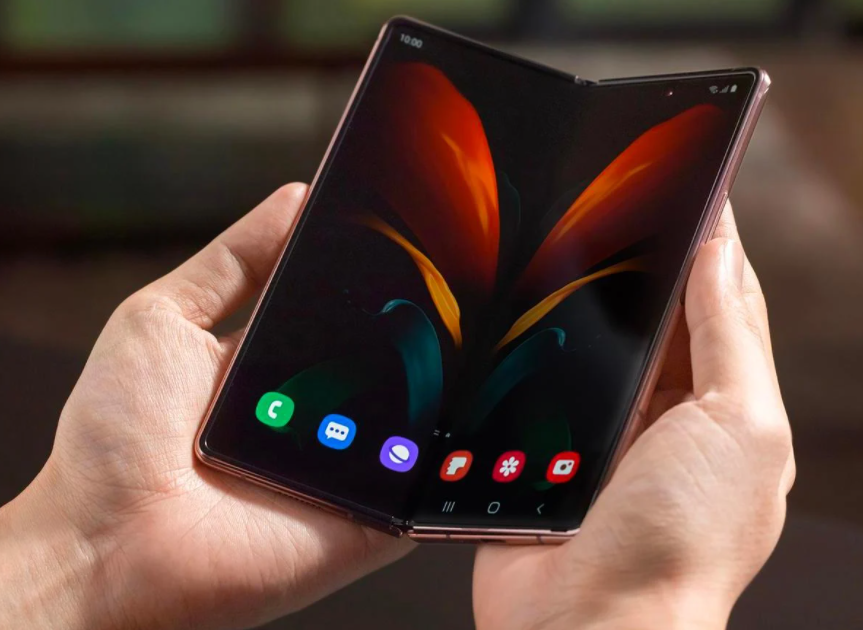 Photo: Tech Advisor
Samsung's new Galaxy foldable phones
The company just took the wraps off of the Galaxy Z Fold 3 and Z Flip 3 – two promising folding smartphones that look to improve on their predecessors with more durable designs, cool new features (like pen support), and prices that are slightly less eye-watering than before. But that's not all the South Korean tech giant is planning to do on the foldable front.
LetsGoDigital reports that a new German patent has surfaced covering a new rollable smartphone reportedly in development at Samsung. The patent reportedly describes every aspect of the phone's design in full detail. Judging by the documents, it looks like Samsung's rumored rollable smartphone could feature an outward rollable display panel, similar to the likes of the Oppo X 2021 and LG Rollable, the latter of which was shown off earlier this year, but discontinued when LG exited the phone business.
What's most exciting about Samsung's rollable take is that when extended, the overall display on Samsung's potential rollable could potentially increase by around 40 to 50%. There's also potential for a special dedicated button, which would expand or roll up the display when pressed. However, we've also seen reports that Samsung could use the power button for that same reason.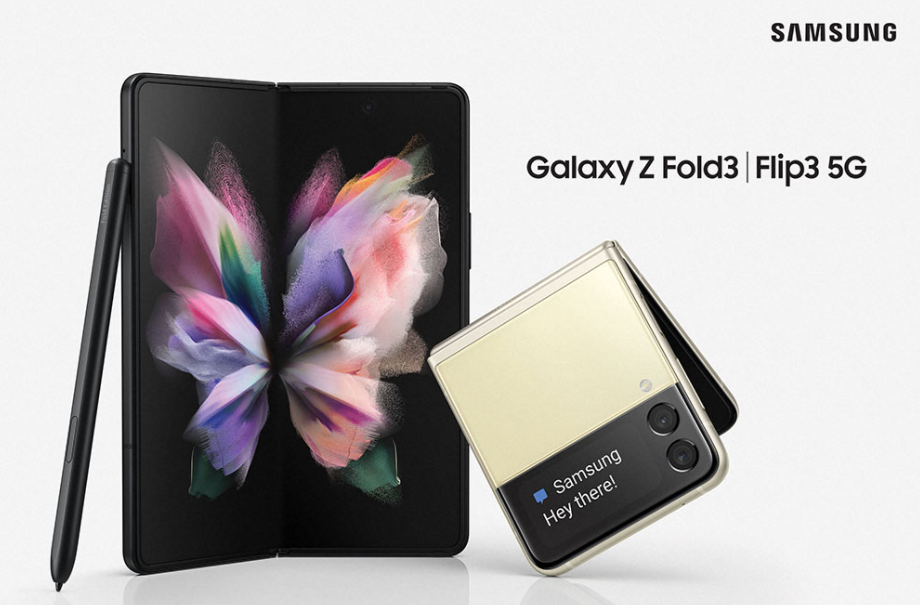 Photo: Samsung Newsroom
Galaxy Z Fold 3 and Z Flip 3 Preorder Instruction
Samsung's Galaxy Z Fold 3 is up for preorder now with a starting price of US$ 1,799 and is expected to ship on Aug. 27. If you preorder by Aug. 26, you'll get a $200 Samsung credit for use on Samsung.com. You can also trade in a device to make the cost of the Z Fold 3 lower, according to CNN.
Samsung Galaxy Z Fold 3 with 256GB storage (US$ 1,799; samsung.com)
Samsung Galaxy Z Fold 3 with 512GB storage (US$ 1,899; samsung.com)
The Galaxy Z Flip 3 is available for preorder now starting at $999 and will also start shipping on Aug. 27. Those who preorder by Aug. 26 will get a US$ 150 Samsung Credit. Similar to previous trade-in deals from Samsung, you can trade in up to four devices to lower the price of the Z Flip 3.
Samsung Galaxy Z Flip 3 with 128GB storage (US$ 999; samsung.com)
Samsung Galaxy Z Flip 3 with 256GB storage (US$ 1,049; samsung.com)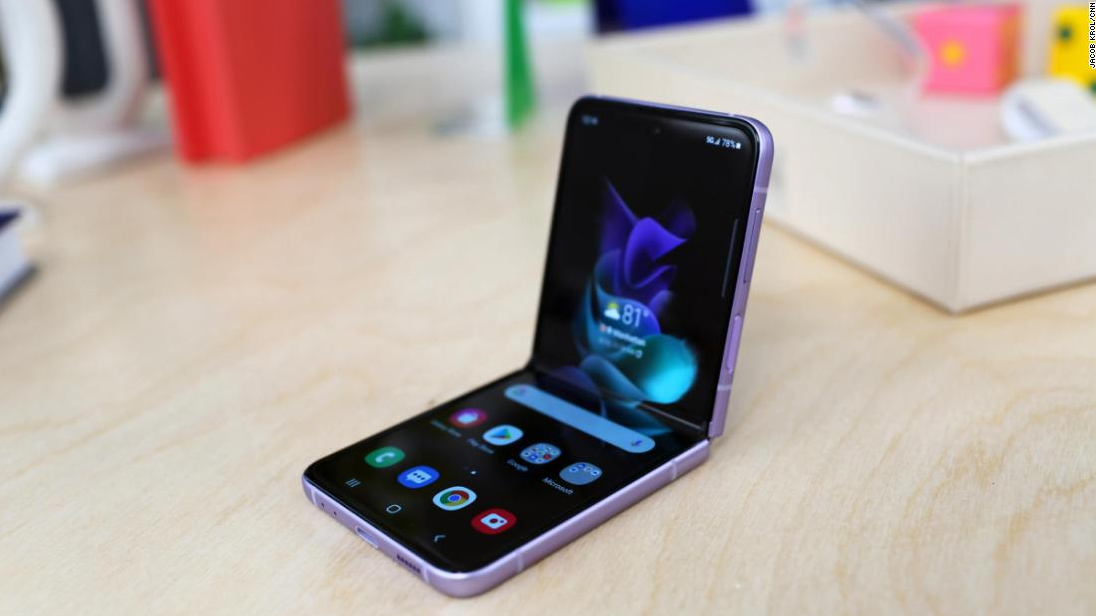 Samsung Galaxy Z Flip 3. (Photo: CNN)
Samsung Galaxy Z Flip 3 special features
The Galaxy Z Flip 3 is the first foldable phone under US$ 1,000. Samsung's foldable flip phone should be more durable, thanks to its iPX8 water resistance rating. The big change here is the outer display on the Galaxy Z Flip 3 – unlike the 1.1-inch strip on the original phone, the new screen is now 1.9 inches, making it easier to handle notifications without having to open the phone. Otherwise, the Galaxy Z Flip 3 looks a lot like its predecessor, though with new colors and a more powerful processor than before, according to Tomsguide.
In this latest generation, Samsung is delivering a build that feels sturdier with more refined design elements, a larger front screen, and more processing power. And for those who care about 5G, the new phone supports both of the core standards here in the United States.
The phone features a glass and aluminum build that feels solid in your hand. Opening and closing it doesn't result in a cracking sound like on the Motorola Razr and feels more fluid than the first generation. The Z Flip 3 comes in many colors: gray, white, pink, cream, green, lavender, and Phantom Black.
The front of the Z Flip 3, when closed, features a 1.9-inch Super AMOLED cover screen that's much bigger than the previous generation. It supports touch and can be used as a viewfinder for taking selfies, but it's also a lot more functional than before, with support for widgets from apps like Samsung Pay, music, and even the weather. And whatever you're using on the front seamlessly migrates to the main screen by just opening the device. Next to the screen, on the right, is a 12-megapixel wide and 12-megapixel ultrawide lens. And if these sound familiar, it's because these are the primary lenses on the S21 and S21+. We're expecting clear imagery out of these and it's a real flagship set for the price.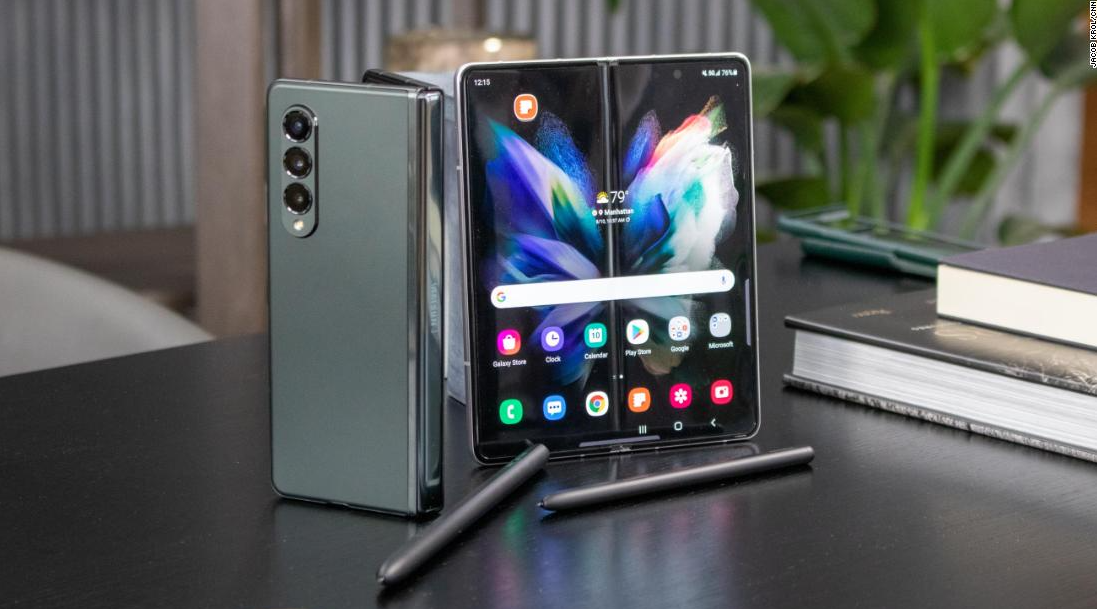 Samsung Galaxy Z Fold 3. (Photo: CNN)
Samsung Galaxy Z Fold 3 special features
The third version of Samsung's initial foldable device looks a lot like its predecessors, with a phone-sized device unfolding to reveal a tablet-style 7.6-inch screen. But Samsung made some critical changes to the Galaxy Z Fold 3 – both the interior and exterior displays have a faster 120Hz refresh rate, and the foldable adds support for Samsung's S Pen. The camera on the interior display is an under-display shooter, meaning it disappears from view when not in use. And Samsung looks to make its foldable phone more durable with an IPX8 water resistance rating.
You'll be able to pick from Phantom Green, Phantom Black or Phantom Silver. The Phantom Silver stood out as the most flashy in our brief hands-on time, while the Phantom Black and Phantom Green have a more subdued look. It's also still a pretty hefty phone, and Samsung didn't slim it down this year. The edges are a bit more refined, though.
The front of the phonestill features a 6.2-inch AMOLED cover screen and supports a 120 Hz refresh rate. There's also a pinhole notch at the top, which houses the 10-megapixel selfie camera. It's nearly the same setup as last year.
The Z Fold 3 isn't lacking on lenses to shoot with, as it features five cameras, including 12-megapixel wide, 12-megapixel ultrawide, and 12-megapixel telephoto cameras on the back. For the price, we're surprised Samsung didn't include one of its 50x or 100x telescoping zoom lenses here. There's a 4,400mAh battery cell inside, and there are two ways to charge the Fold 3. You can fast charge with a cord at up to 25 watts or wirelessly at up to 10 watts. The Z Fold 3 also supports reverse wireless charging on the back.