Accordingly, Capella Hanoi, located on Le Phung Hieu street, topped the list.
"The suites at our hotel beautifully showcase the lives and artistry of renowned artists and performers. In particular, our penthouse Hudson Rooms exude a sophisticated and modern atmosphere, perfect for the urbane traveler. Additionally, our teppanyaki restaurant, Hibana, offers an exquisite dining experience that is defined by precision and attention to detail."
Meanwhile, the second place went to Sofitel Legend Metropole. Established in 1901, Sofitel Legend Metropole Hanoi holds the distinction of being one of the oldest hotels in the capital and has had the privilege of hosting former US presidents, such as Barack Obama, during their previous visits to the country.
The hotel is known for its unique feature – a two-metre-high wartime bomb shelter that was unexpectedly discovered in 2011. This historical site served as a refuge for several notable individuals during the tumultuous period of the Vietnam War, such as actress Jane Fonda and author Tom Hayden, who were both renowned anti-war activists. During the relentless bombings in Hanoi, they sought solace within the walls of this shelter.
Travel + Leisure magazine also highly recommends trying classic Vietnamese cuisine like spring rolls and pho, as well as indulging in Western favorites like eggs benedict and French toast during your stay at the hotel.
Park Hyatt Saigon is proud to have earned the third position due to its elegant design, meticulous craftsmanship, and contemporary conveniences. Our Saigon restaurants and bars are a cut above, with Opera providing an authentic taste of Italy, Square One offering a delightful mix of Vietnamese and Western dishes, and Park Lounge catering to those seeking a refined afternoon tea experience.
Other beautiful city hotels in Vietnam featured in Travel + Leisure's list include The Reverie Saigon Hotel, Mia Saigon, InterContinental Saigon, New World Saigon Hotel, Hotel de la Coupole – Mgallery, Caravelle Saigon, and InterContinental Hanoi Landmark72.
to mark the 35th anniversary of Vietnam–China diplomatic ties
Capella Hanoi Celebrates 35 Years of Vietnam-China Diplomatic Relations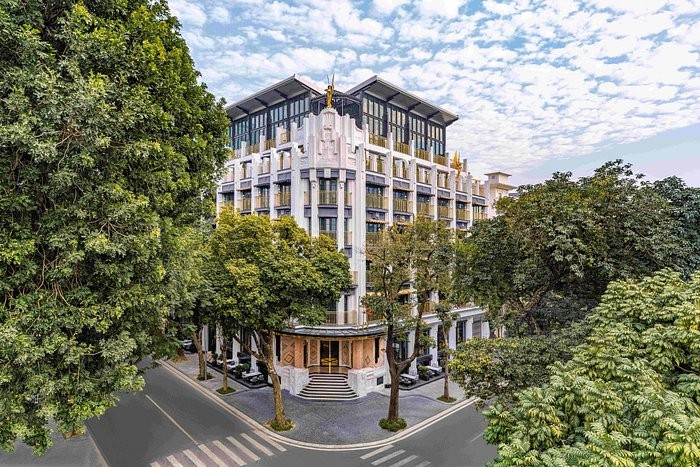 Photo: TripAdvisor
Located in the charming Old Quarter, Capella Hanoi is a French-inspired hotel that offers a truly magical experience. Surrounded by a vibrant array of restaurants, bars, shops, and markets, the hotel is perfectly situated near Hoan Kiem Lake. Designed by the renowned Bill Bensley, Capella Hanoi is a masterpiece of artistic flair and theatricality. From the moment you step foot into the hotel, you will be transported into a world of storytelling and immersive experiences. Every detail has been carefully thought out to provide guests with a unique and unforgettable stay. Are you ready to embark on this enchanting journey?
Many decades ago, before the war and all that preceded it, this quaint boutique hotel in Hanoi served as a charming haven for travelers wanting to experience the Opera. Its prime location, just steps away from the opera building, made it an ideal choice for guests. One particular guest was so captivated by the hotel's allure that he decided to purchase it, transforming it into the ultimate destination in Hanoi. Unfortunately, as the years passed, the hotel's fate took a turn. During war times, it was converted into a depot, with crates of dynamite replacing the elegant furnishings. The once opulent velvet chaise lounges and sparkling crystal chandeliers collected dust. However, fate smiled upon the hotel once again when it was acquired by a wealthy Vietnamese man who shared a deep love for opera. Under his ownership, the hotel's former grandeur was restored.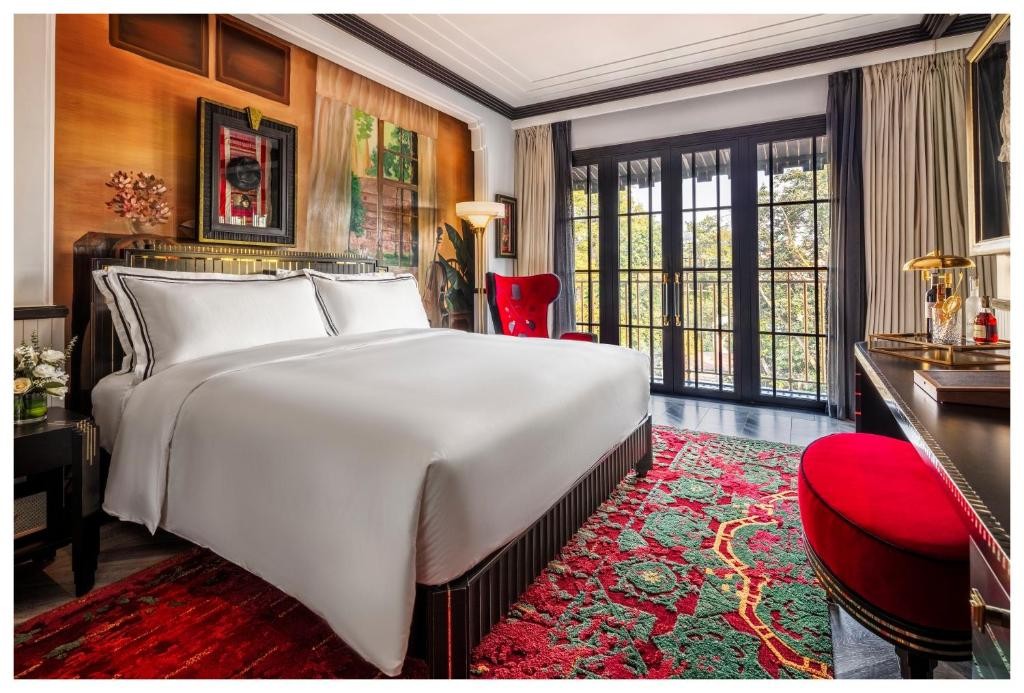 Photo: Booking.com
This gentleman embarked on a massive renovation project, revitalizing the building to regain its former grandeur as a luxurious five-star hotel infused with an air of sophistication and a touch of eccentricity. This exquisite palace serves as a testament to the remarkable journeys of 47 distinguished individuals, including actors, opera singers, composers, stage and costume designers, and avid audience members, who have graced the city of Hanoi over the past century and a half. Within its walls, every suite proudly showcases the captivating tales of the mischievous yet charming high society that once sought refuge within its doors. These fascinating stories come to life through an extensive collection of more than a thousand original artifacts, including costumes, theatre programs, photographs, set pieces, opera spectacles, and captivating portraiture art crafted by the immensely talented artist, Kate Spencer. Amidst these stunning displays, visitors can immerse themselves in the vibrant ambiance that once made this establishment the most renowned destination in all of Asia for revelry, merriment, and, as dawn approached, restful slumber.
Hanoi remains open
Sofitel Legend Metropole Hanoi Stays Open
Photo: Accor Hotels
The luxurious Sofitel Legend Metropole Hanoi is ideally located in the vibrant French Quarter, just a short walk away from the iconic Opera House and the breathtaking Hoan Kiem Lake. With its elegant French-inspired design, the hotel offers 364 impeccably designed guest rooms, each featuring luxurious amenities like minibars and complimentary Wi-Fi. For those seeking an extra touch of luxury, the suites come with a dedicated 24-hour butler service.
Indulge in a culinary journey at the hotel's three bars and three restaurants, each offering a unique dining experience ranging from exquisite French cuisine, authentic Vietnamese flavors, to savory Italian dishes. Guests can start their day with a sumptuous buffet breakfast, although please note that this is not included in all room rates.
One of the hotel's highlights is its outdoor swimming pool, perfect for a refreshing dip or simply lounging under the sun. For ultimate relaxation, guests can also enjoy the full spa and fitness center, featuring a wide range of treatments and state-of-the-art facilities.
Business travelers are well catered for with six meeting rooms, event spaces, and a fully-equipped business center. The Sofitel Legend Metropole Hanoi is, without a doubt, the top choice for luxury accommodations in Hanoi. However, for those looking for an alternative, the JW Marriott Hotel Hanoi offers a close second in terms of luxury, service, and amenities.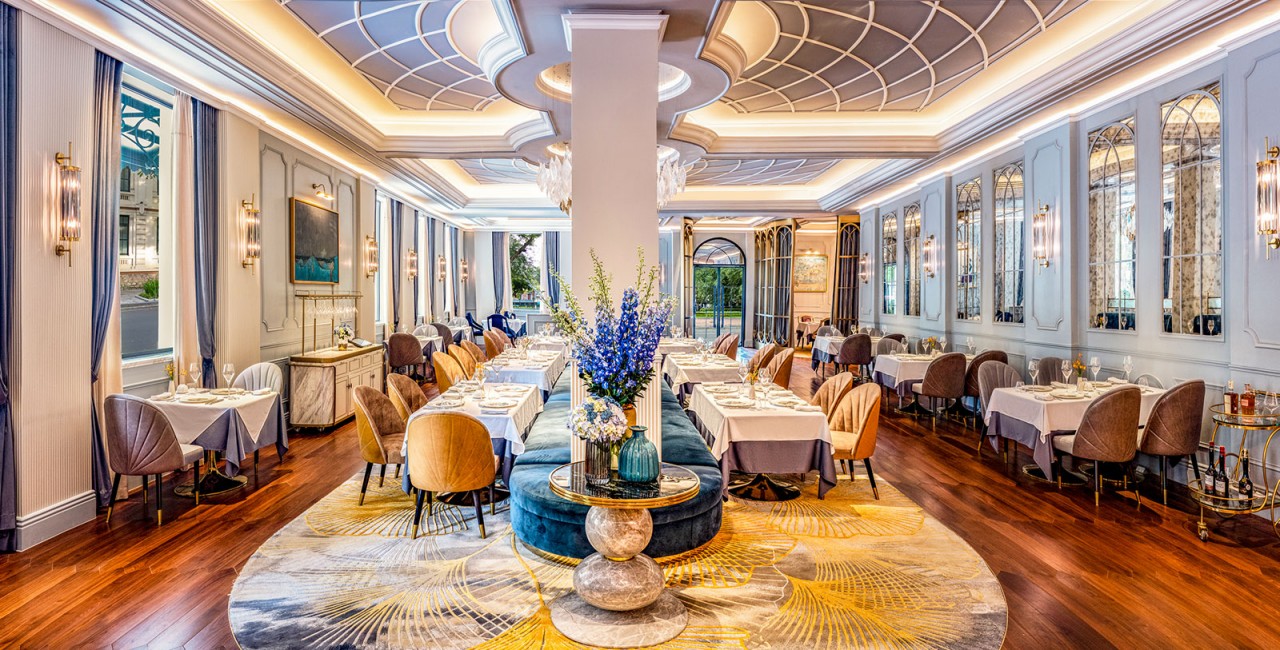 Photo: Historic Hotels of America
Housed in one of Hanoi's most luxurious landmarks, the Sofitel Legend Metropole Hanoi is a true embodiment of elegance and luxury. Built in 1901, this magnificent hotel showcases the original French Colonial grandeur both inside and out. Its white facade with an emerald green roof and window shutters exudes a timeless charm.
As you step inside the hotel, you'll be greeted by its stunning interiors adorned with antique French-inspired furniture and decor. The hallways are lined with black and white antique framed paintings, adding a touch of sophistication. The lobby is a perfect blend of comfort and style, with several lounge areas featuring brown leather sofas, soft lighting, and elegant decor.
The hotel's gardens are a sight to behold, reminiscent of a traditional French landscape. Lush lawns and overgrown vines creep up the walls and trees, creating a tranquil ambiance. You may even find a charming bench hidden within the greenery, providing the perfect spot for relaxation.
Each of the restaurants and bars at the Sofitel Legend Metropole Hanoi boasts its own unique design and atmosphere. From the bright and airy Le Club Bar to the dark and romantic Angelina Restaurant, every dining experience is a journey in itself. No matter which venue you choose, you can expect exceptional service and a delightful culinary experience.
This iconic hotel attracts a discerning clientele composed of high-end travelers, ranging from business to leisure travelers. The atmosphere is relaxed and inviting, allowing guests to feel at home while enjoying the utmost luxury.
In conclusion, the Sofitel Legend Metropole Hanoi is a haven of elegance and luxury in the heart of Hanoi. With its captivating architecture, timeless decor, and impeccable service, it offers an unforgettable experience for all who step through its doors.
Hosts "Discover Saigon" Family Staycation
Explore Saigon with the Family: Park Hyatt Saigon Offers Staycation
Park Hyatt Saigon is a luxurious hotel situated in the heart of Ho Chi Minh City, Vietnam. As a proud member of the esteemed Park Hyatt brand, this hotel offers an unparalleled level of service. The hotel's exquisite French colonial architecture adds a touch of elegance, making it a truly remarkable destination.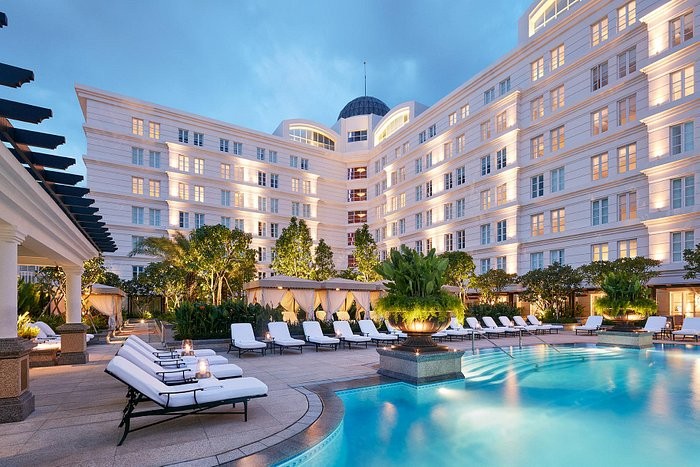 Photo: TripAdvisor
The Park Hyatt Saigon is situated in a prestigious location on Saigon's renowned square and Le Loi Boulevard. With its picturesque views of the Saigon Opera House, the hotel offers a truly elegant experience. Its close proximity to popular cultural and historical landmarks such as the Opera House, Reunification Palace, Ben Thanh Market, and the War Remnants Museum allows guests to easily explore the city's rich heritage.
Not only is the hotel positioned in District 1, the thriving business and commercial center of Saigon, but it is also conveniently located near the international airport. This makes it an ideal choice for both business and leisure travelers, ensuring a seamless journey to and from the hotel.
Whether you're a history enthusiast or a business traveler, the Park Hyatt Saigon provides a perfect base for your stay with its prime location and impeccable service.