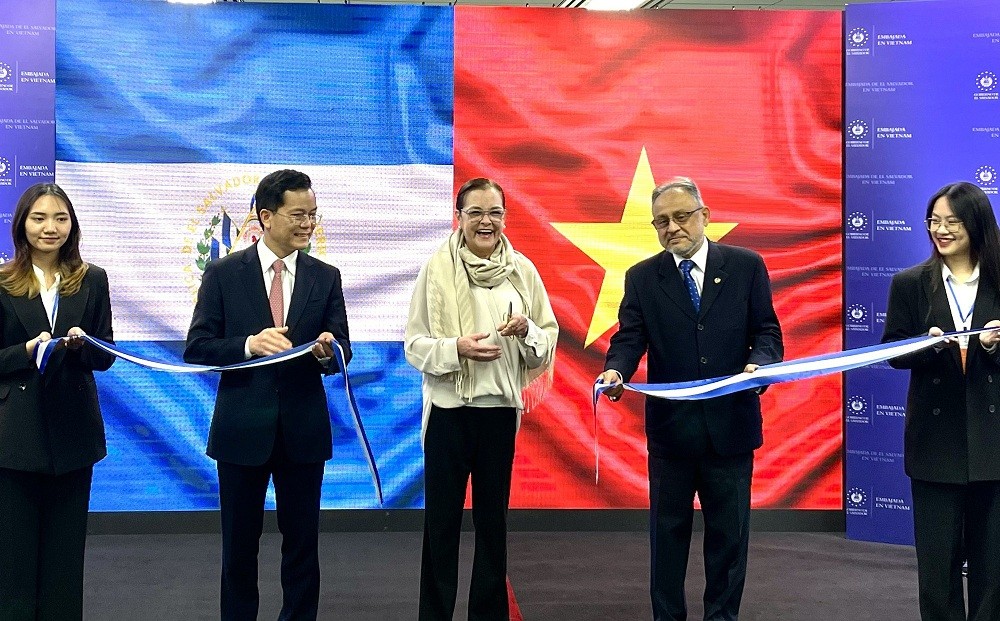 El Salvador's Minister of Foreign Affairs Alexandra Hill Tinoco (middle) and Vietnam's Foreign Deputy Minister Ha Kim Ngoc (second from left) cut the ribbon to open the El Salvador Embassy in Hanoi on February 15. Photo: VNA
El Salvador's embassy office officially opened in Hanoi on February 15, the first for the Central American country in Southeast Asia, VNA reported Thursday.
The opening ceremony was attended by El Salvador's Minister of Foreign Affairs Alexandra Hill Tinoco, Vietnam's Foreign Deputy Minister Ha Kim Ngoc and high-ranking guests from both countries.
In her opening speech, Tinoco said, "El Salvador recognises Vietnam's leadership and its potential to develop solid cooperation ties in fields of mutual interest."
"In this new stage of El Salvador's history, we have a very clear image of the type of country we want to inherit to current and future generations," she said.
"At the centre of our government policies, the well-being of the Salvadoran population is always present. Hence, by way of this Embassy, we will seek to expand our relations with Vietnam, identifying mechanisms for the mutual exchange of technical assistance and cooperation."
The El Salvadoran Foreign Minister said that her country recognises the recent socio-economic achievements that Vietnam has obtained, its commitment to safeguarding regional stability, and its open attitude to new markets and globalisation as a whole.
"Vietnam's efforts in the implementation of macro-economic policies, financial stability, and ways to address external challenges are common elements to El Salvador, too," she said.
She also expressed her hope and honor to welcome the Vietnamese diplomatic mission in San Salvador in the near future.
Vietnamese Deputy Foreign Minister Ngoc speaks at the event. Photo: Capital Place
Vietnamese Deputy Foreign Minister Ngoc admitted that despite the geographical distance between the two countries, Vietnam and El Salvador are very close to each other, sharing the same aspirations for independence, freedom, and peace, and a heroic history of struggle for national independence and development.
"Vietnam pursues a foreign policy of 'diversification and multilateralisation of external relations', in which Vietnam is 'a friend with all countries', and always attaches importance to the unity and traditional friendship with important friends and partners in Latin America," Deputy Foreign Minister Ngoc said.
He noted that Vietnam has diplomatic relations with all 33 countries in Latin America.
He added that in the 13 years since the establishment of diplomatic relations with El Salvador, the two countries have effectively utilized the political consultation mechanism and offered each other cooperation and support at multilateral forums, especially at the United Nations.
"The economic, trade, and investment relations between the two countries remain modest," Ngoc said. "There remains enormous untapped potential for bilateral cooperation, especially in such areas as agriculture, tourism, science-technology, and energy."
The El Salvador embassy is located on the 11th floor of the Capital Place Building, No.29 Lieu Giai street, Ngoc Khanh ward, Ba Dinh district.
El Salvador established diplomatic relations with Vietnam in January 2010. This is a country in Central America, located on the Pacific coast, between Guatemala and Honduras, with an area of ​​more than 21,000 square kilometers, a population of about 6.5 million people.
In August 2017, El Salvador opened an Honorary Consular Office in Ho Chi Minh City on the occasion of the visit of a Deputy Minister of Foreign Affairs of this country.
With El Salvador opening an embassy in Hanoi, there are now nearly 80 countries and territories with embassies/offices in Vietnam.
At the invitation of Foreign Minister Bui Thanh Son, the Foreign Minister of El Salvador, Alexandra Hill Tinoco paid an official visit to Vietnam on February 14-16. This was Alexandra Hill Tinoco's first visit to Vietnam as Foreign Minister of El Salvador.