Whichever place of Vietnam you drop in, it offers a rare blend of jaw-dropping natural scenery coupled with lovingly preserved authenticity. But perhaps, the best of all is captured in delightful tiny villages, straddling fast-flowing rivers, snow-capped mountains, or valleys. The shortlist of 10 most beautiful villages in Vietnam below has been drawn up for you to visit before the crowds do.
Cat Cat Village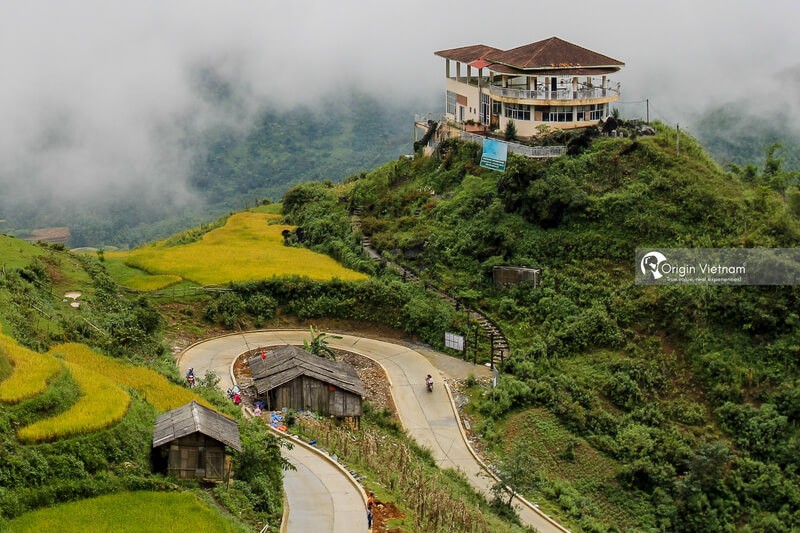 Photo: ORIGIN VIETNAM
Most tourists are not interested in the city—rather, they love exploring the tiny villages scattered around it. A particularly famous village is called Cat Cat, attracting tourists from all over the world for its distinctive customs and practices that have remained in the area, despite international influence.
Cat Cat Village is nestled at the bottom of Muong Hoa Valley, about two miles (three kilometers) from Sapa town. This village was formed in the 19th century, after various ethnic H'Mong and Dzao families came together from other mountainous areas in northern Vietnam. They started cultivating rice and corn in the region, as well as weaving fabric and creating handicrafts to get by.
Heading down to Cat Cat Village requires following one of the main Sapa roads until the trail begins. If you continue following this Cat Cat trail, you will start heading towards Mount Fansipan on the most difficult of the three famous trails. The trip is picturesque and stunning, but rather arduous. Luckily for you, getting to the village isn't as difficult, as you will mostly come across paved paths and steps.
Cua Van Floating Fishing Village
Photo: Lan Ha Bay Cruise
Halong Bay, a UNESCO-recognized Natural World Heritage Site, has gained a name for picturesque scenery of coast and islands, but have you ever heard of Cua Van floating village as a precious gem to be found alongside the shoreline? If the answer is "No", don't hesitate to come by Cua Van for a visit at no time.
Cua Van floating village has been ranked among the most beautiful ancient villages on the planet. Within minutes, its distinctive cultural pattern and tradition are guaranteed to make a lasting impression on tourists from all over the globe.
Cua Van floating village belongs to one of Halong Bay's tourism development programs, including other famous tourist attractions like Ba Ham Lake, Tieng Ong Cave… To be more specific, the village is situated 20km away from the Tuan Chau Island nearby, which is equivalent to an approximately 2-hour trip by boat.
Pom Coong Village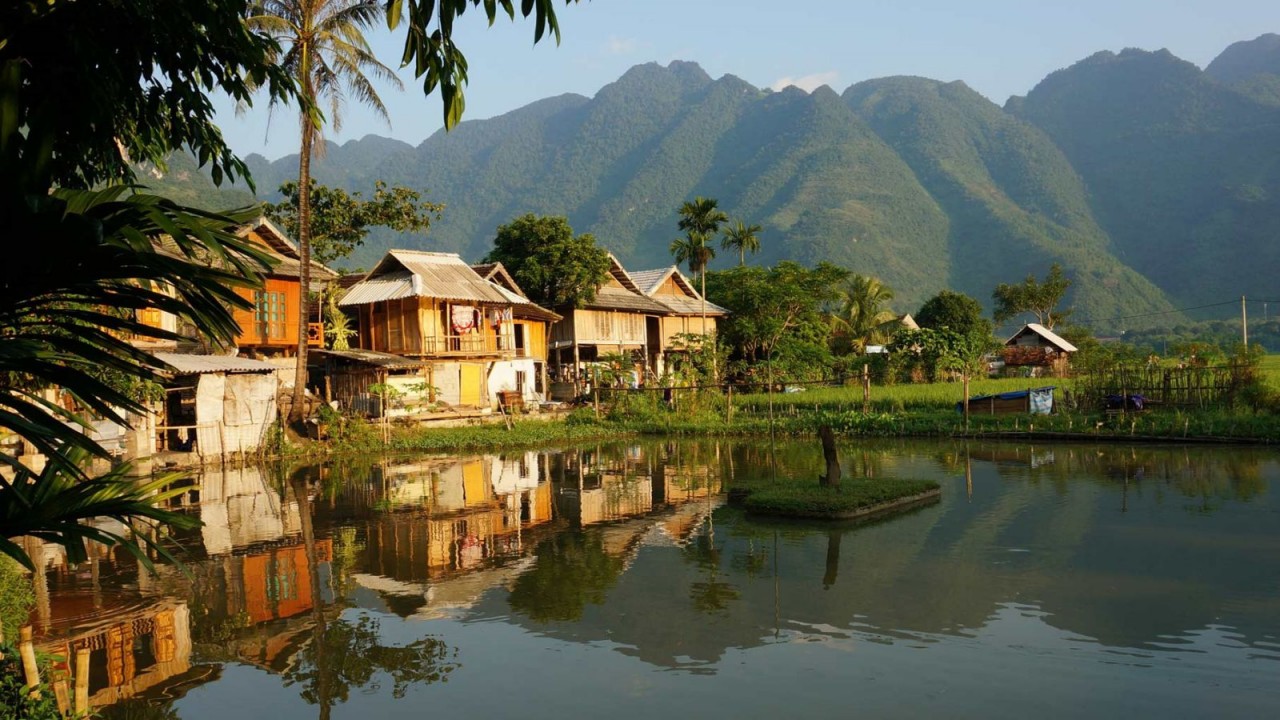 Photo: Asianway Travel
Perch on a hilly area of Mai Chau Town, Pom Coong Village throwbacks chalet architecture and pastoral countryside. The mountainous village is mainly inhabited by Thai ethnic minority in their bamboo stilt houses with the roof is either thatched or covered by red bricks. This glamorous, car-free village is reachable by foot or motorbike. Get your blood pumping on a rocky trail and hike through green hills, stretching paddy fields to feel what paradise could be!
More than a great base for summer treks, Pom Coong Village draws culture enthusiasts with 'xoe' dancing – a traditional dance of Thai tribe and 'mua sap' (bamboo dancing). The best way to experience this isolated village is to stay in a homestay and get acquainted with the people. Also, don't refuse a chance to taste 'Can' wine and bring back home homemade embroidered bags, scarves, and other decorative items.
Bat Trang Village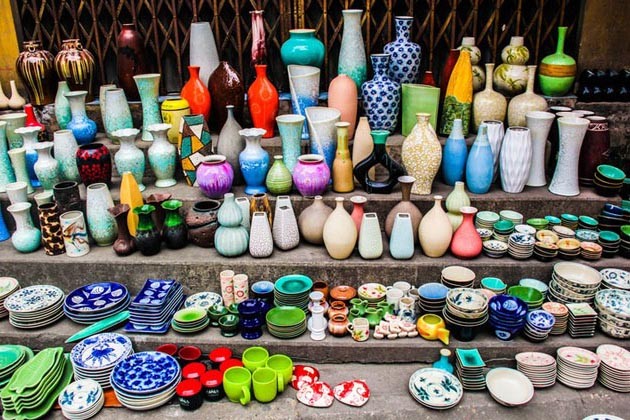 Photo: Viet Vision Travel
Located in an area rich in clay, the village has advantage of ingredients to create fine ceramics. Moreover, lying besides the Red river, between Thang Long and Pho Hien, two ancient trade centers in the north of Vietnam during 15th-17th century, Bat Trang's ceramics were favorite products not only in domestic market, but also foreign ones thanks to Japan, Chinese and Western trading boats that passed by.
In the18th and 19th century, due to restricting foreign trade policy of Trinh, Nguyen dynasty, it was difficult for pottery products in Vietnam to be exported to foreign countries, and some famous pottery making villages like Bat Trang, or Chu Dau ( Hai Duong province) went through a hard time. Since 1986, thanks to economic reforms and development, more attention has been vested in the village and the world gets a chance to know more about Vietnamese porcelain through many high quality exported Bat Trang's ceramic products.
Duong Lam Village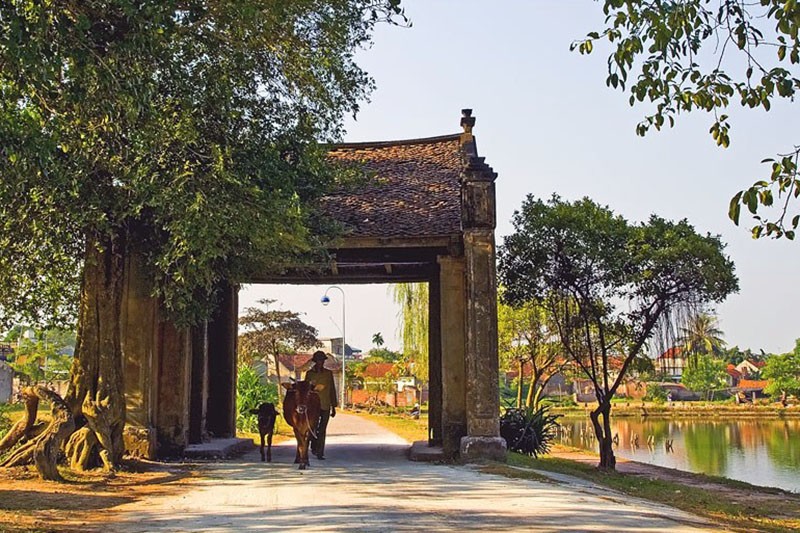 Photo: Hanoi Local Tour
After the recognition of Hoi An ancient town, Hanoi old quarter, Duong Lam village in Son Tay Town (some 60km to the west of Hanoi Capital) is the first ancient village recognised as a national relic by the Ministry of Culture and Information.
Two of Vietnam's kings, Phung Hung (761-802) and Ngo Quyen (896-944) were born in Duong Lam, giving the village its prestige. Both men led resistance wars against northern invasion and after winning national independence, were crowned kings. After their deaths, the local people built temples in their honour.
Cam Thanh Village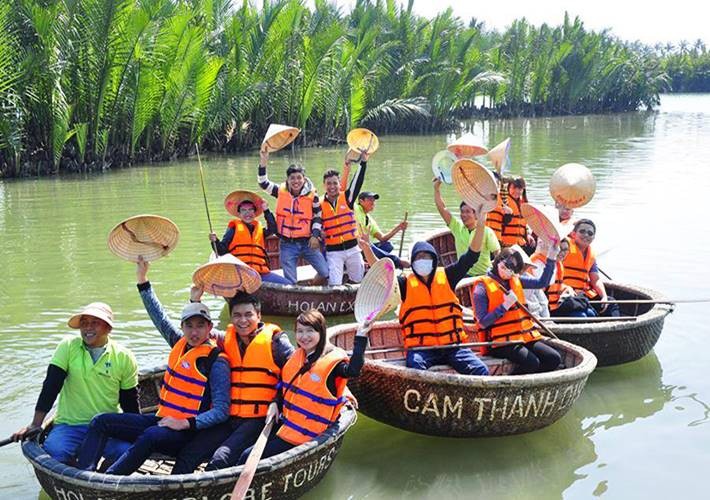 Photo: Asianway Travel
Hoi An ancient town is one of the most famous tourist attractions in Central Vietnam. Not only is this city famous for its ancient streets with antique yellow houses in Japanese style but Hoi An also consists of various places of interest that give visitors wonderful moments when they see themselves in nature. Cam Thanh Village is a destination like this. An eco-tour to Cam Thanh will be an ideal journey for the weekend with your friends and family.
Cam Thanh Village is about three kilometers to the southeast of Hoi An old town. The most well-known feature of this village is the 84-hectare palm forest, also known as Bay Mau palm forest. The forest is an unique trait of Cam Thanh Village, which has attached to the daily life of the locals there for more than hundreds of years.
Thanks to Bay Mau palm forest, the residents in Cam Thanh Village have developed traditional handicrafts, which creates products serving their life as well as souvenirs for tourists coming to Cam Thanh Village. In this landscape, you will have an opportunity to experience the culture with friendly people, admire the immense palm forest and enjoy creation activities with your group. A visit to this village is an escape from the hustle and bustle of modern life in order to discover a new destination.
Thuy Bieu Village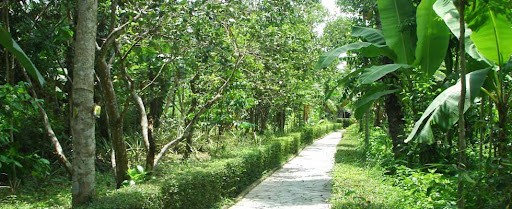 Photo: Hidden Land Travel
Hue boasts a treasure trove of tranquil villages spilling down the banks of Perfume River and Thuy Bieu is marked at the top list. Not yet overwhelmed with tourists, the village is characterized by serene surroundings and grey-hued hundred-year-old houses. Stroll down the cobbled streets to soak up the old-world citadel glamour and have a glimpse into the lives of village inhabitants. Not only is Thuy Bieu village a delight to wander around, but the village's Vong Canh hill is also the best spot to admire splendid scenery of the Perfume River and the peaceful fields of Hue City.
Well-known for Thanh Tra grapefruits, though at its best during the blossom season of pure white grapefruit flowers, the village is beautiful all-year-round and appealing to food lovers with the wonderful taste of this fruit.
Sinh Village
Photo: Vntrip
Along with the annual wrestling festival, traditional paintings in Sinh Village gains an increasing prevalence across Central Vietnam. The craft has been in thriving existence for almost 400 years and requires plenty of skillful hands, creativity, and precision, making itself a brilliant adoration of local artisans.
Only 10 km from the center of Hue City, Sinh is unquestionably a village of artists where you come across ubiquitous individuals pressing enchanting pieces of painting against engraved woodblocks. Prepare yourself for a sensory overload with a variety of quintessential religious paintings and unique folk paintings. At present, Sinh craft village becomes especially crowded with tourists craving for a firsthand experience of creating a painting in summer.
Sa Dec Flower Village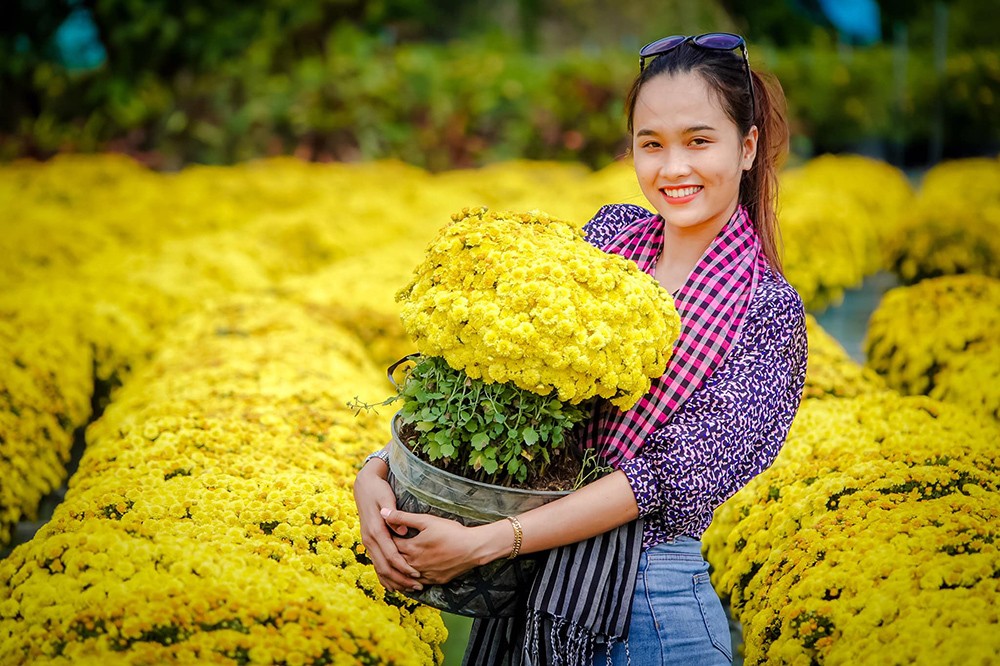 Photo: Vietnamnet
As prominent heaven for flowering plants in Southern Vietnam, no less than a hundred genres of flowers and bonsai with gorgeous colors and aromas are recorded in Sa Dec Flower Village. This 500-ha village is best to marvel at during the Tet holiday when all flowers burst into bloom and are transported nationwide.
Easy accessibility by road (150km southwest of HCMC) draws flock of flower lovers and amateur florists alike to Sa Dec Flower Village in Dong Thap Province to witness nature's great spectacles every spring. Highlights include posing spectacular photos in Vietnamese traditional dress against a multi-colored backdrop of flowers, getting an insight into the 100-year-old village and its people, and purchasing some of the most exquisite bunches of flower.