Giving up his career at a beverage company in London, Chris Thompson followed his father to Vietnam to build their own business. After 10 years of living in Ho Chi Minh City (HCM City), Chris shared all the things he is passionate about in this place that he considers his second home.
Vietnam is an ideal destination to live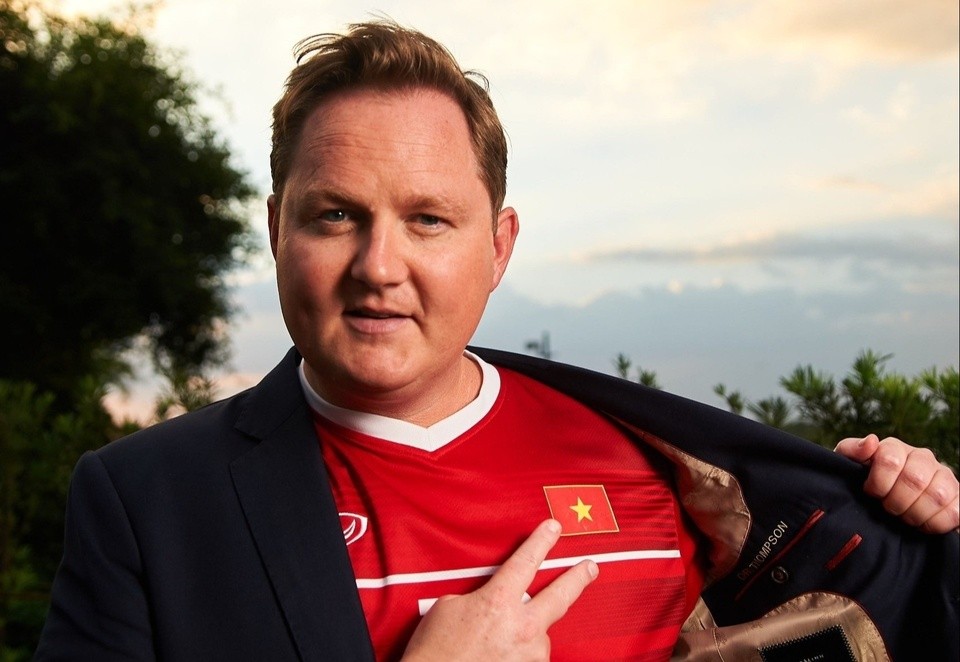 Chris with his immense love for Vietnam. Photo: Chris Thompson
From the moment he first arrived in this country with his father for business, Vietnam has become Chris's second home. When asked if he ever wanted to return to the United Kingdom, he didn't hesitate to respond, "Only when I miss my family back home. The biggest downside for expats living in Vietnam is the homesickness they experience."
According to Chris, Vietnam is one of the most welcoming countries in the world. The vibrant and colorful life in Ho Chi Minh City (HCM) is a huge draw for tourists from all over the world, eager to discover and experience its unique culture. The city's warm and pleasant climate makes it a great place to settle in for foreign visitors, who can find their own peaceful place here. Ho Chi Minh City's many attractions make it an ideal destination for an unforgettable holiday.
"The balmy climate, the delicate fragrances, and the buzz of the noise all come together to form an exhilarating concoction, topped off with the hope that tomorrow will be brighter than today," Chris declared.
Like any other developing city, Ho Chi Minh City (HCMC) is not immune to difficulties such as overcrowded airports, traffic congestion, and poor air quality. Nevertheless, Chris remarked that this is a part of Vietnamese culture, and this is still a great country to work and live in.
Fall in love with Vietnamese cuisine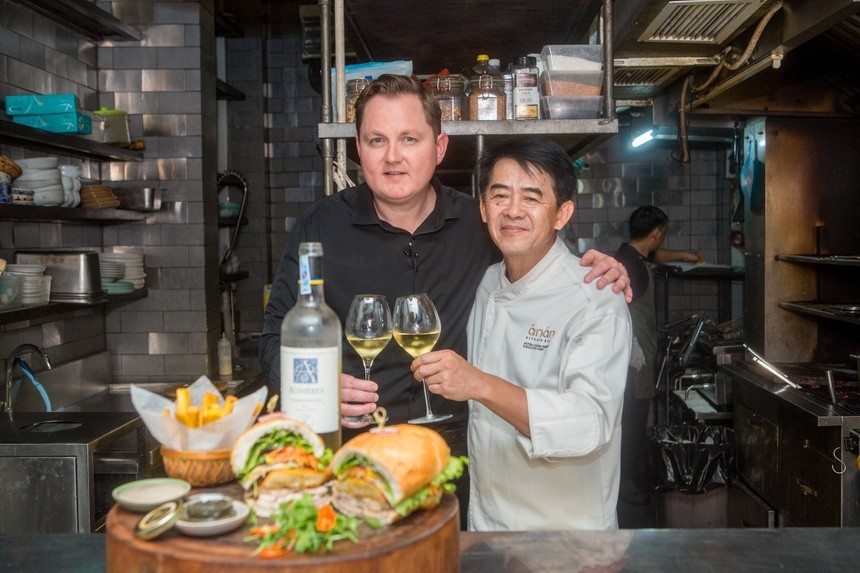 He spends a lot of his time discovering Vietnam cuisine. Photo: Chris Thompson
One of the things that draws Chris to this city is its diverse and alluring cuisine, which offers a variety of preparation techniques and uses fresh ingredients. Renowned British chef Gordon Ramsay has made multiple trips to Vietnam to film his culinary shows and has even described the quality of ingredients, particularly seafood, as being of world-class standard.
Chris shared that he enjoyed the vibrant eating culture of Vietnamese families. Whenever he has time, he loves savoring traditional home-cooked meals at his friends' houses. Unlike Western countries, where each person usually has their own individual serving, Vietnamese people gather around and share a meal after a hard working day, creating a warm and inviting atmosphere.
Chris was impressed with the way people celebrated the Tet holiday. "Everyone spent time with their loved ones, and it was quite emotional to sit together listening to Tet songs while enjoying a delicious piece of Chung cake," he said.
Some of his favorite dishes include Bun Cha, Khot Cake (Banh Khot), Crab Paste Vermicelli Soup (Bun Rieu), Grilled Beef In Lolot Leaf (Bo La Lot), and Quang Style Noodle Soup (Mi Quang). However, for foreigners, Vietnamese street food can be a bit of a challenge due to the small tables and chairs. Nevertheless, it is an experience worth trying, as the food is simply delicious.
Chris commented, "Due to my height and weight, sitting on the tiny chairs out in the heat on the sidewalks is very uncomfortable for me. That's why I prefer to go to restaurants that serve traditional dishes and have air conditioning. Fortunately, there are many such places in Vietnam now."
Impressed by the creativity of Vietnamese chefs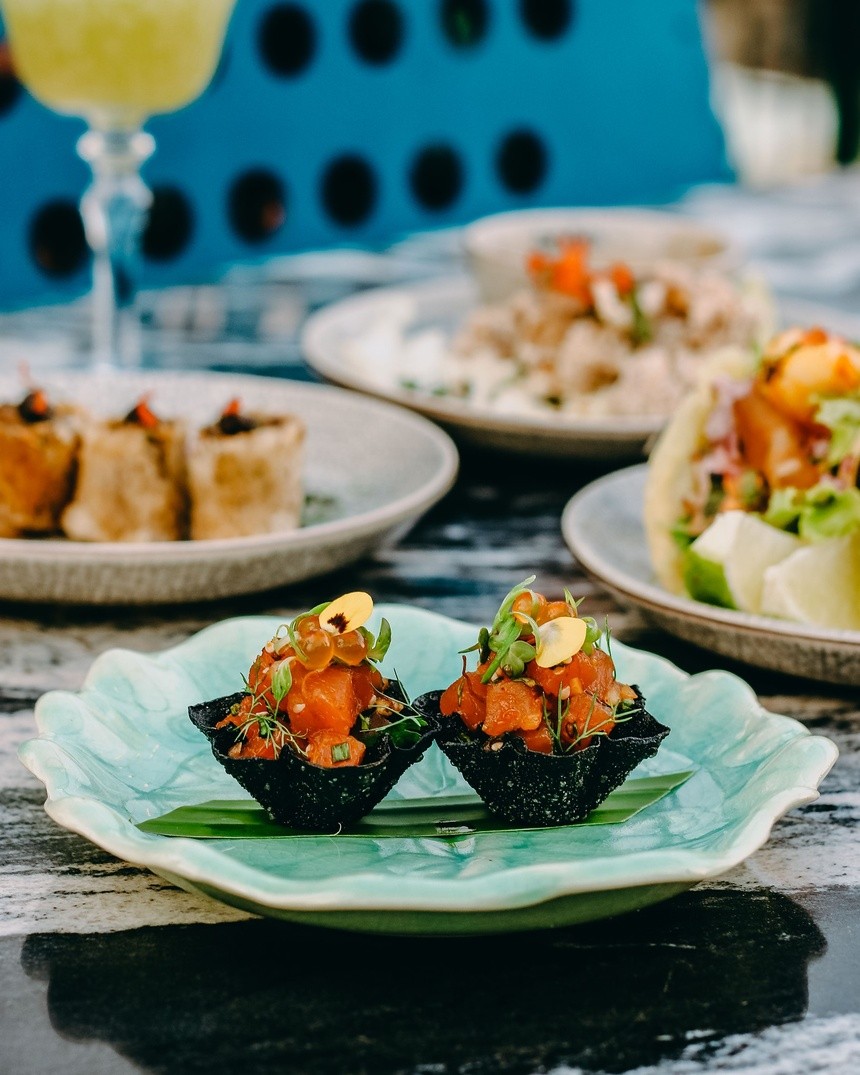 Photo: Anan Saigon
Chris's main job is related to food, so he has the opportunity to visit the best bars and restaurants in Vietnam. He states that Vietnamese cuisine is becoming increasingly enriched by the creativity of chefs, who are introducing high-end ingredients such as foie gras, caviar, and wagyu beef to their menus. This offers diners a more luxurious and enjoyable experience.
Most of the upscale eateries in Vietnam offer an atmosphere of luxury and creativity, complemented by impeccable service. Their designs bring to life an air of sophistication and opulence, enabling diners to truly experience the best of the country's culinary scene.