Deputy Prime Minister Trinh Dinh Dung and participants at the launching ceremony of the Vietnam National Plastic Action Partnership (NPAP) and the "Mitigating marine plastic debris in Viet Nam" project, Ha Noi, December 23, 2020 – Photo: VGP/Nhat Bac
The Vietnam National Plastic Action Partnership (NPAP) was launched in Hanoi on December 23 as the partnership between the Government of Vietnam and the Global Plastic Action Partnership (GPAP), aiming to rally efforts in plastic pollution reduction and transition to circular economy.
Launching the programme, Vietnam is among the first three countries in the world, together with Indonesia and Ghana, to apply a special model promoting action to reduce plastic waste.
Vietnam among top five plastic polluters
Vietnam has been listed as one of the top five plastic polluters in the world. The discharges about 22 million tons of solid trash annually, including 10 percent plastic waste and the figure is on the rise.
Through the NPAP, international organisations will support the Vietnamese Government in lessening plastic waste discharge and developing a roadmap towards eliminating single-use plastic and nylon bags, especially in urban areas, coastal tourist areas and marine protected areas.
Addressing the event, Deputy Prime Minister Trinh Dinh Dung asserted that the launch of the NPAP demonstrated the Government's consistent stance of not trading the environment for economic growth.
He stressed that unsubstainable production and consumption of plastic products have resulted in serious problems to the environment. Plastic waste has become pressing issue in the world in general and in ASEAN in particular, VGP reported.
Plastic waste, mostly untreated, is buried or released into the environment, causing serious pollution and negatively affecting marine ecosystem and public health, Dung added.
He emphasized that it is high time for drastic and effective actions to shift to more sustainable and environmentally-friendly production and consumption of plastic products.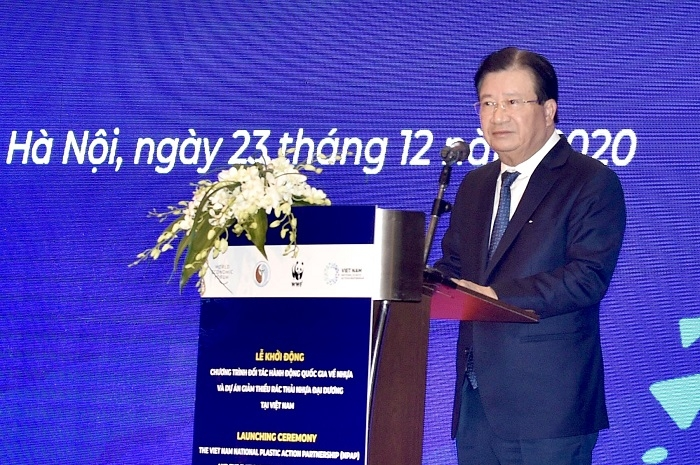 Deputy Prime Minister Trinh Dinh Dung speaks at the launching ceremony. Photo: VGP
Dung expressed his belief that the NPAP will bring together management agencies, businesses and communities in a united effort to improve the effectiveness of handling plastic waste, thereby contributing to the realisation of ASEAN's commitments enshrined in the Bangkok Declaration on Combatting Marine Plastic Debris in ASEAN Region.
Regarding upcoming major tasks, Dung underlined the need to design national-level legal framework and mechanisms on extended responsibility of plastic producers as well as standard system on plastics.
He also called for more efforts to improve communities' awareness of smart and sustainable plastic consumption while stepping up international cooperation in this area.
The Government of Viet Nam will create favorable conditions for successful implementation of the NPAP in Vietnam and take drastic and responsible actions in reducing plastic waste in the region and the world, Dung affirmed.
Director of the Global Plastic Action Partnership, Kristin Hughes was cited by the Vietnam News Agency as saying at the ceremony that a member of the World Economic Forum, the partnership aims to conduct circular models that are more sustainable and bring benefits to Vietnam's abundant ocean ecosystem.
Strong actions taken to tackle plastic waste pollution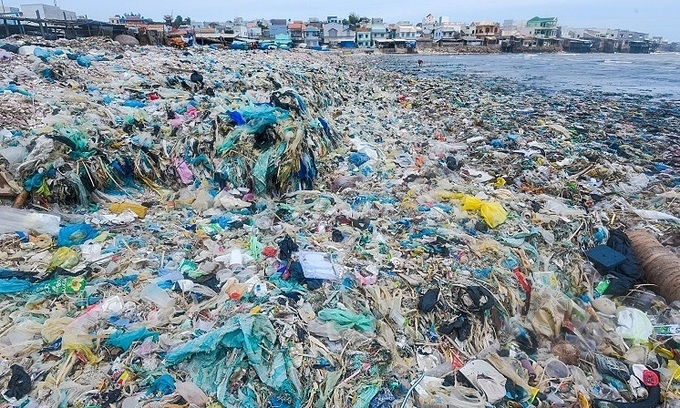 Plastic waste along the coast of Tuy Phong District, Binh Thuan Province in central Vietnam in 2018. Photo by Nguyen Viet Hung.
Right from 2018, in response to the UN initiative "Addressing plastic and nylon pollution", the Government of Vietnam has actively participated in and proactively proposed global and regional cooperation mechanisms on plastic waste reduction in many forums and international cooperation mechanisms such as the G7 Summit 2018 in Canada, the World Economic Forum on ASEAN 2018 in Vietnam and the World Economic Forum Annual Meeting 2019 in Davos, heard the ceremony.
In addition, Vietnam has taken the lead in implementing many strong action programmes to tackle plastic waste pollution, which have been actively responded to by all strata of people in the society, according to Nhan dan (People) newspaper.
In particular, the National Assembly of Vietnam recently adopted the revised Law on Environmental Protection with additional regulations on minimising, reusing, recycling and disposing plastic waste; restricting the use of single-use plastics and undegradable nylon bags; and encouraging the production of environmentally friendly products to replace traditional plastic products./.
According to the United Nations, about 300 million tonnes of plastics, including billions of tonnes of plastic bottles and more than five billion plastic bags, are produced globally every year.
Only 27 percent of plastic waste is recycled each year worldwide. The rest is thrown out and ends up in our seas. It takes hundreds of years for the waste to decompose. Plastic waste is also poisonous for marine animals.
Scientists estimated there would be more plastic waste in the oceans than fish by 2050.