Hanoian people go to the market to buy flowers for Tet decoration. Photo: Thanhnien
Quang An Market is always a favorite place for many people, especially Tet coming. On the days of approaching New Year's Eve, many people come here to visit and choose most favorable flowers for themselves, making the atmosphere more bustling.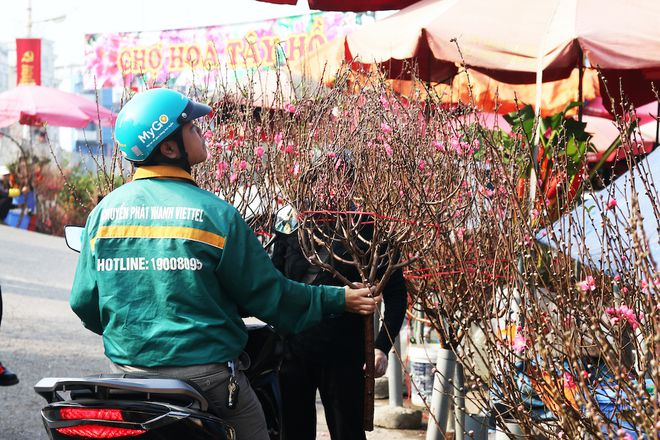 At present, people choosing peach blossoms quite a lot, as Viet tradition in Tet. Photo: Thanhnien
Considered as the largest flower supplier in Hanoi and the market along the Au Co dyke, the flower market attracts both merchants and retail customers. Like every year, all kinds of flowers are sold in large quantity, many types such as: cherry/peach blossoms, lilies, chrysanthemums, snow-chery blossoms, … On the days of Tet, the market is open all nights with bright lights to serve people with increasing demand.
Mr. Tran Xuan Hung (62 years old, small trader in Quang Ba market) has been doing flower business at the market for over ten years. Hung said that from the full moon of December, the number of visitors coming to buy flowers started becoming more and more, this year, peach blossomes in early bloom causing many people go to buy earlier before Tet for the enjoyable atmosphere.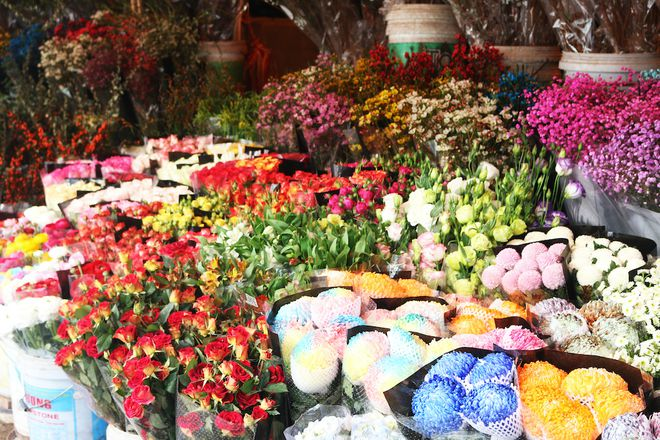 The special flowers sold at Quang An flower market can be mentioned as: rose, chrysanthemum, snowflake, snow-cherry… Photo: Thanhnien
"This year, the peach blossoms sold at the market are more expensive compared to the previous years because the colder weather makes them bloom slowly, requiring more care. I think due to the Covid-19 influence, people seem limit to buy huge, expensive ornamental plants, but popular and reasonable flowers are more preferable. Tet-enjoying flowers are still sold well because buying flowers for Tet is a traditional pleasure for many years of Vietnamese which is not easy to give up "said Mr. Hung.
Just watering to keep the flowers fresh, Ms. Vu Thi Thanh (46 years old, small trader of Quang An market) said that on days close to Tet, she stayed at the market 24 and 7 to supply flowers to customers. Flowers are often taken by her throughout the surrounding areas such as Tay Tuu, Me Linh, Dong Anh,….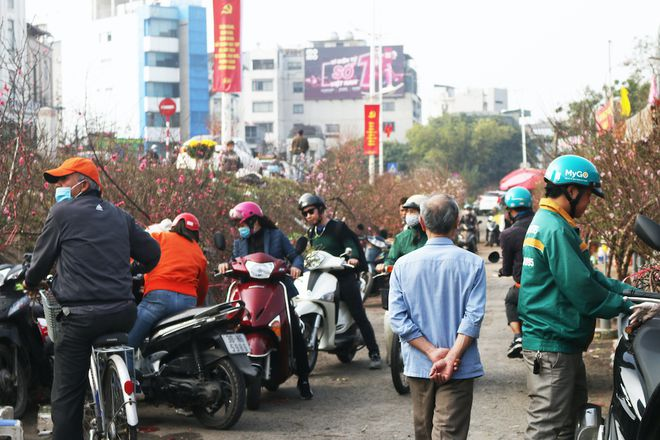 The closer the Tet, the more people come to the flower market to watch and choose to buy. Photo: Thanhnien
This year, many people choose to buy flowers with affordable prices. Compared to normal days, the flower price is a little higher, but the number of visitors also increases because they buy for Tet. The closer to Tet, the more visitors are ", Ms. Thanh shared.
According to traders at the market, this year flowers' prices do not change much compared to previous years, but until Tet, prices will be higher than normal. Lyly flowers are sold for VND 200,000/ bunch of 10 stems (USD 9), apricot blossoms VND 130,000 / bunch (USD 6), chrysanthemum VND 5,000 (USD 0,2) / branch, peach blossom depending on shape and size.
Ms. Thanh Binh (58 years old, lives in Tay Ho district), with her husband choosing to buy "mini" peach branch to decorate her house before Tet for the enjoyable atmosphere, shared that from now until Tet, she will come to the flower market often because she buys Tet flowers as habit for many years. "Every year I go to the flower market because there are many varieties, easier to buy, and comfortable to watch flowers. Now, I am going to buy some in advance for the 23rd December of lunar month. I often buy peach blossoms to enjoy Tet coming atmosphere and they are beautiful for a long time ", said Ms. Binh.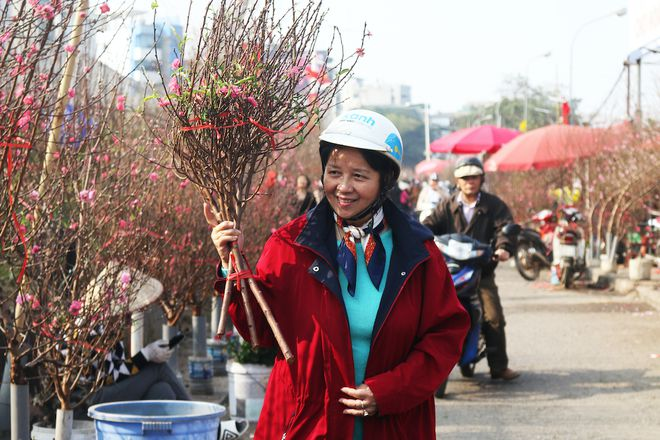 Ms. Binh choses to buy 3 "mini" peach blossom branches for VND 90,000 (USD 4). Photo: Thanhnien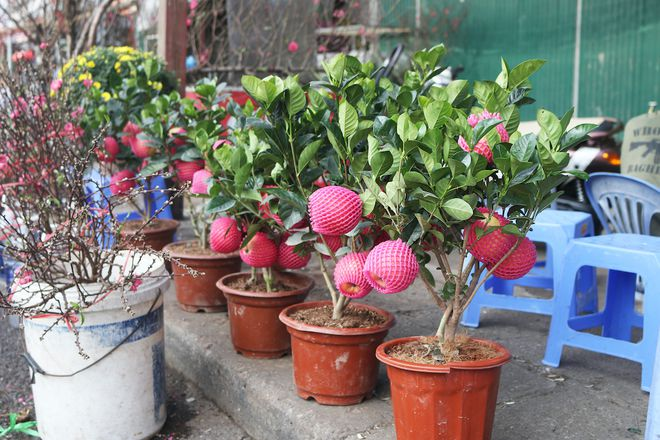 This "mini" apple tree costs VND 250,000 per tree (USD 10). Photo: Thanhnien