At the meeting, Tran Quoc Cuong, Secretary of Dien Bien Provincial Party Committee introduced geographical features, socio-economic development situation, potentials and advantages of Dien Bien province. He also highlighted investment fields that the province encourages and prioritizes such as industry and trade, agriculture cooperation, travel and tourism, education and training, and health care.
Cuong hoped that the Dominican Ambassador would introduce to the business community and Dominican investors about the strategy of attracting investment in Dien Bien. He also expressed his wish that Dien Bien would soon establish the sisterhood with a locality of the Dominican Republic.
At the same time, Secretary Cuong highlighted the Ambassador's role in facilitating and promoting connection for the delegation of Dien Bien province to visit, survey and explore cooperation opportunities in the field of strength with the provinces of the Dominican Republic. He also wished that Dominican Ambassador would pay more attention to create favorable conditions for Vietnamese students to study in Dominica, especially learning Spanish.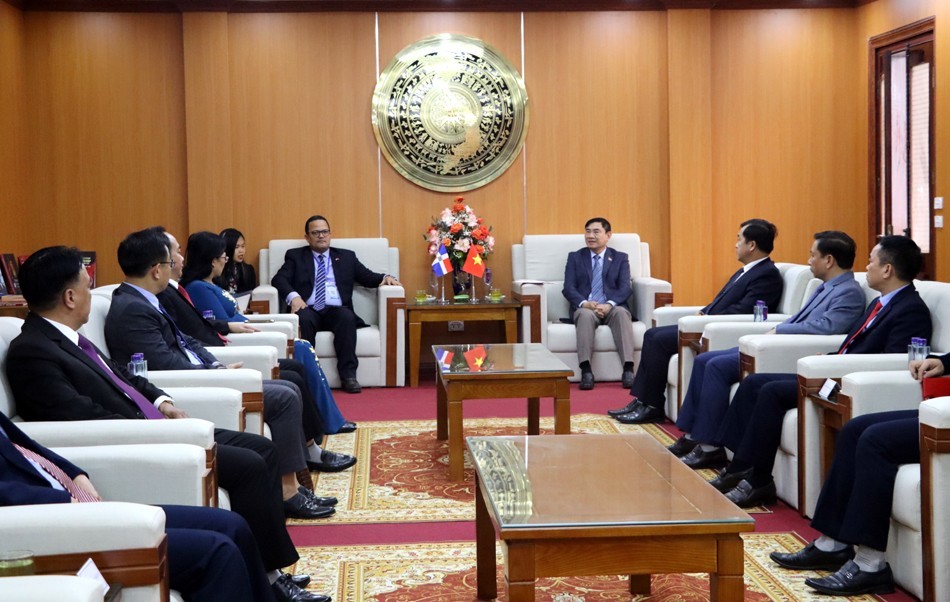 Leaders of Dien Bien province met with Ambassador Extraordinary and Plenipotentiary of the Dominican Republic to Vietnam Jaime Francisco Rodríguez.
With the Dien Bien Airport completed and put into operation in the coming time, it is projected that the prospect of cooperation will be more positive when many typical products of the province will have the opportunity to export to many parts of the world, initially to the Americas, especially to the Dominican Republic. At the same time, Dien Bien also expects to welcome more visitors from Latin American countries.
According to Ambassador Jaime Francisco Rodriguez, the Dominican Republic and Vietnam in general and Dien Bien province in particular share many similarities in terms of geopolitics and socio-economic development. Assessing that Dien Bien province has a lot of potential and advantages for socio-economic development, the Ambassador expressed his desire to cooperate in the coming time, opening opportunities for Dominican businesses to invest and develop in Dien Bien province in areas of mutual interest.
Speaking of the sisterhood between Dien Bien and a similar locality of the Dominican Republic, Ambassador Jaime Francisco Rodriguez believed the relationship would contribute to building and developing the friendship and sustainable cooperation between the two countries.