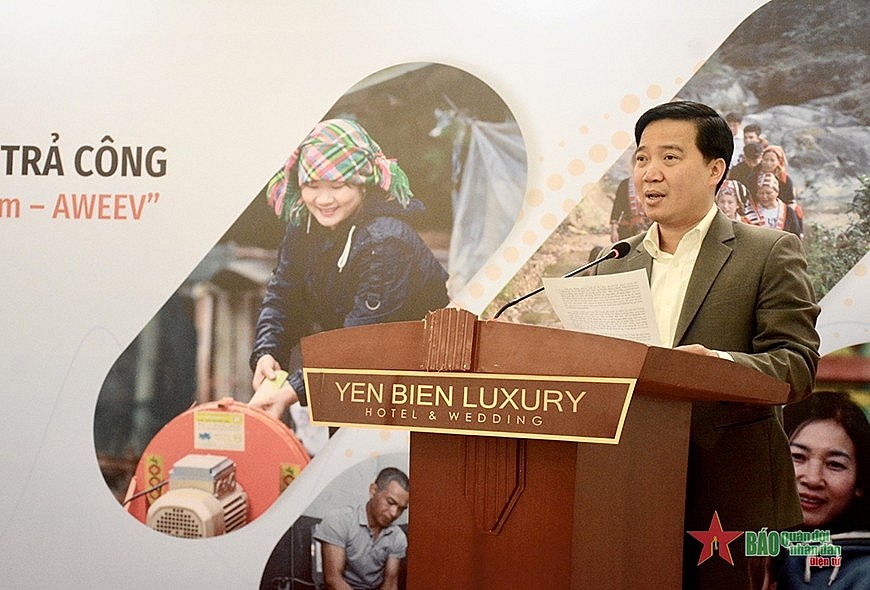 Deputy Director of Ha Giang province's Department of Agriculture and Rural Development Vu Van Hieu speaks at the meeting. Photo: qdnd.vn
It was jointly organised CARE International in Vietnam, the Canadian Embassy, CARE International in Vietnam, and project management agencies in Ha Giang and Lai Chau provinces – the two targeted provinces of the project.
In his remarks, Deputy Director of Ha Giang province's Department of Agriculture and Rural Development Vu Van Hieu noted that over the past years, the Vietnamese Party and State have rolled out many programs and policies aiming to promote gender equality and spur socio-economic development in ethnic minority-inhabited and mountainous areas.
Such programs and policies have significantly contributed to improving the living standards of ethnic minorities, he said.
However, ethnic minority women have still faced many disadvantages, along with barriers in accessing and benefiting from development outcomes, the official pointed out.
Funded by the Canadian Government, AWEEV is a gender-responsive and integrated project designed to contribute to increased economic well-being for ethnic minority women in Vietnam. It is assumed that if increased economic well-being and quality of life are achieved, this would also contribute to reducing poverty among ethnic minority women and their households, according to CARE International in Vietnam.
The project would target 2,635 ethnic minority women and men in nine communes of two districts across Ha Giang and Lai Chau.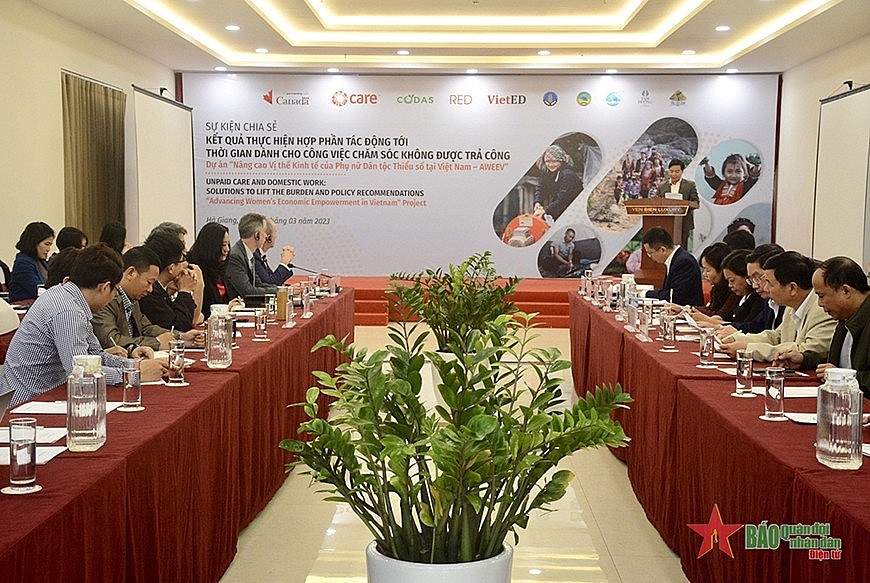 An overview of the meeting. Photo: qdnd.vn
AWEEV has been designed in full alignment with Global Affairs Canada's (GAC) Feminist International Assistance Policy (FIAP). The design is underpinned by a rights-based approach to addressing gender inequalities with some of the poorest and most marginalized women in Vietnam. In relation to government strategies and plans, AWEEV would directly support the National Target Programme on Socio-economic Development in Mountainous and Ethnic Minority Areas for 2021-2030 which focuses on assisting livelihoods and improving the living conditions of ethnic minority groups in the 1,400 poorest communes in nationwide.
AWEEV would also directly contribute to the implementation of the National Gender Equality Strategy 2021-2030.
Since it was launched in Quang Binh district, Ha Giang province, in September 2021, the project has helped upgrade 10 kindergartens, supported local households with livelihood models, and organized various community activities to promote gender equality, directing benefiting thousands of households in the locality.
According to a research study conducted by CARE among ethnic minority groups in 2021, ethnic minority women spend about five hours each day on unpaid care work, nearly doubling men.
The research also showed that the heavy burden of unpaid care activities and inequality have prevented many working-age women from getting decent work.
A farming model under the AWEEV project in Tan An hamlet, Yen Binh town, Quang Binh district, Ha Giang province. Photo: congthuong.vn
Graham Dattels, Director of Southeast Asia Division II, Global Affairs Canada, said the Canadian Government is developing a program to help reduce the burden of unpaid care work and improve the working conditions of these groups of laborers.
This approach is based on Canada's Feminist International Assistance Policy that seeks to eradicate poverty and build a more peaceful, inclusive and prosperous world. Canada firmly believes that promoting gender equality and empowering women and girls is the most effective approach to achieving this goal./.