In recent years, Vietnam has been a mecca for adventurous vloggers who wish to broadcast their travels to online audiences. A quick search on Youtube will reveal hundreds of travel vlogs detailing practically every inch of the country. Unfortunately, as of result of the Covid-19, there has been fewer and fewer travel vlogs set in Vietnam.
This has not stopped one British expat from creating a Youtube channel dedicated to his many adventures on two wheels. An avid motorbike rider, Sean Nolan has driven in 29 countries and hopes to explore even more.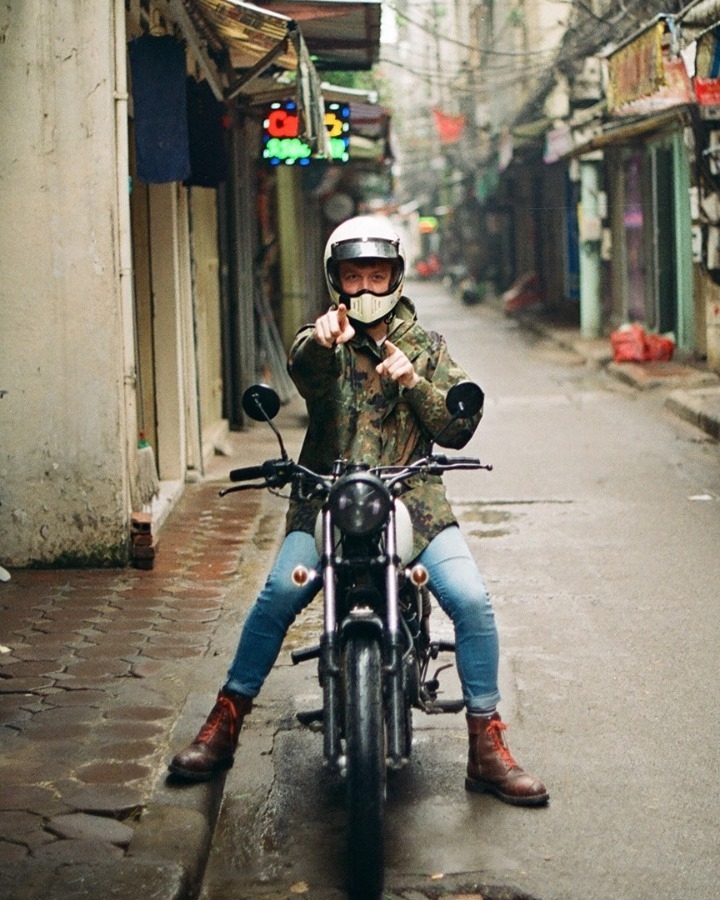 Sean "Big Red" Nolan has been on the back of various motorbikes for the past 17 years. Photo by Sean Nolan.
"My favourite bike trip was a two-month adventure to Morocco in 2015," said Nolan. "I bought a 1986 Honda Rebel 250 for £500 a week before I left, and spent the next two months patching it up as it fell apart on the way to the Sahara Desert and back. On the very last day it actually caught fire. We got all the way back to the hostel and the bike never started again. I don't believe in fate, but I can't help but feel that bike knew that it had to get me home, and destroyed itself in the process!"
For the past two and a half years, Nolan has made Vietnam his new home. Thanks to the country's previous success with handling the virus, Nolan and his friends were still able to venture out on epic motorbike trips. Since last year, Nolan has broadcasted his travels in Vietnam on his Youtube channel dubbed Big Red Productions. While only existing for a few months, his channel features more than a dozen cinematic travel vlogs.
"Big Red Productions is one of those things that only existed in my head for years," explains Nolan. "I met motorcycle filmmakers like Spencer Conway and Austin Vince and was so impressed with their attitude and mindset, towards adventure but also towards proving to people that motorbike travel really isn't as hard as it's made out to be. That's the aim of Big Red Productions – to show people that you don't need the biggest bike, the biggest bank account or the biggest opportunity; you just need to leave the house!"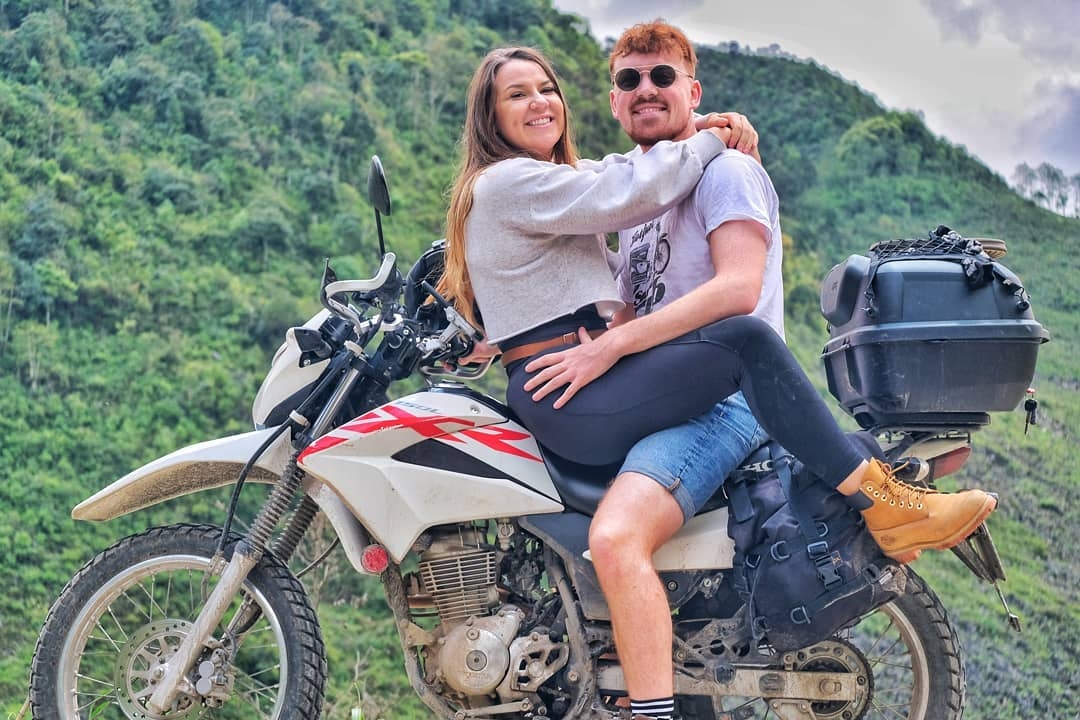 Nolan and his girlfriend in mountainous Hai Giang. Photo by Seán Nolan.
The name Big Red Productions refers to Nolan's large frame and stark red hair. In his various photos and videos, the thrill seeking Brit can't help but cracking a wide smile as he drives into lush Vietnamese backcountry. Although Nolan stands out in Vietnam, he is still welcomed by curious Vietnamese citizens he meets along the road.
In one video, while driving the famous Hai Giang Loop, Nolan and his South African girlfriend, Teegan Page, encountered a group of small children. Rather than driving off, the kind foreigners gave candy and plenty of high-fives to the curious children. In return, the children taught them how to play a simple countryside game. The heartfelt scene is a happy memory of the open road for the both of them.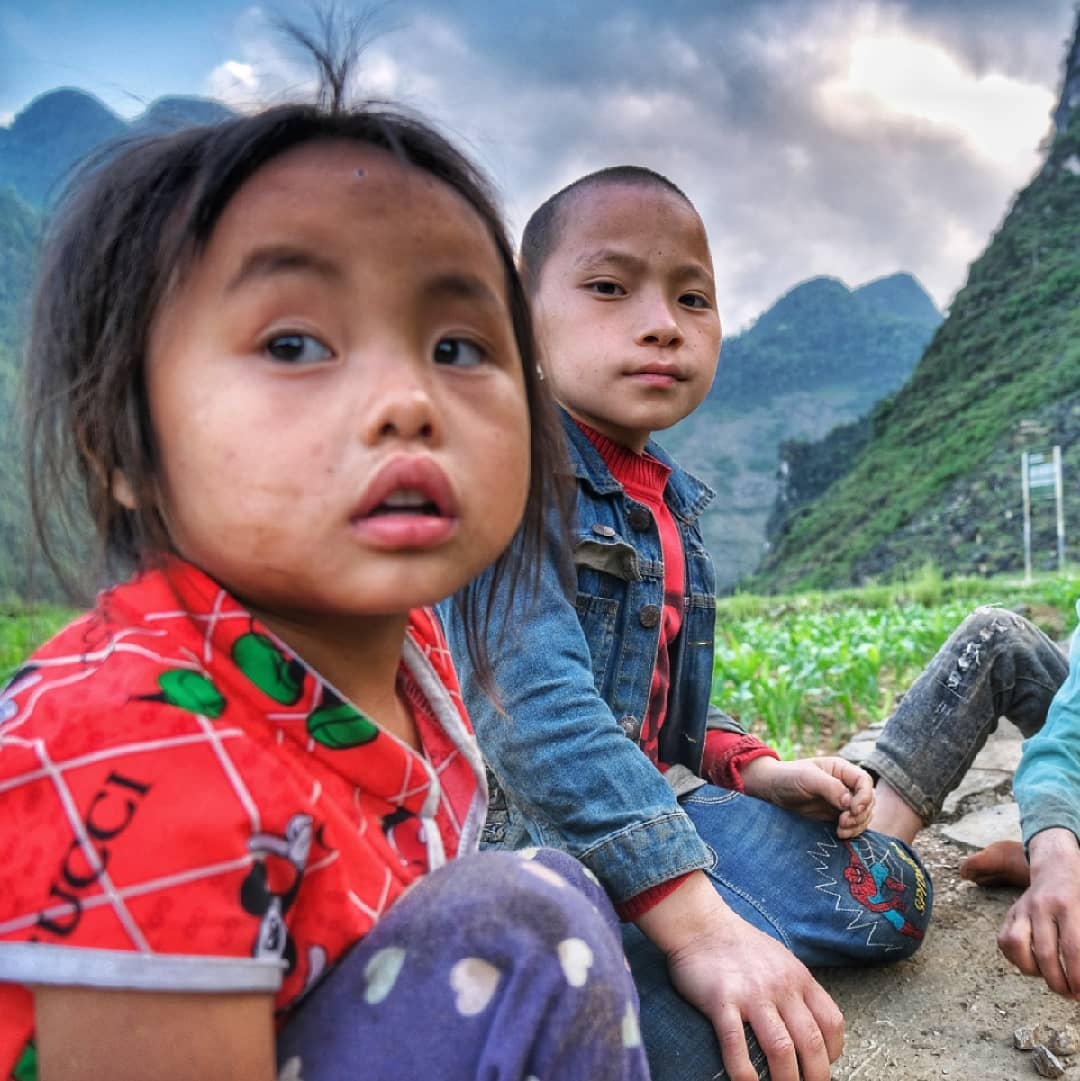 Cute mountain children playing with rocks on the side of the road. Photo by Seán Nolan.
Sadly, Nolan's motorbike rarely leaves the garage these days as Hanoi remains in strict lockdown. However, Nolan's creativity is still at work. Using his drone, Nolan captured the quiet bliss of a socially-distanced Hanoi. Entitled "From Above," Nolan's drone footage begins from his swanky Tay Ho apartment, complete with a rooftop pool. From there, the drone smoothly hovers over the silent city, following the once crowded lakeside roads.
The video highlights the joys of living in Tay Ho; shady trees over hot asphalt, ancient pagodas neighboring modern highrises, and a beautiful, magical lake large enough to get lost in. The effects of the lockdown are well observed. The chaotic Hanoian traffic is nowhere to be seen. The roads are solely used by frontline workers and desperate shoppers.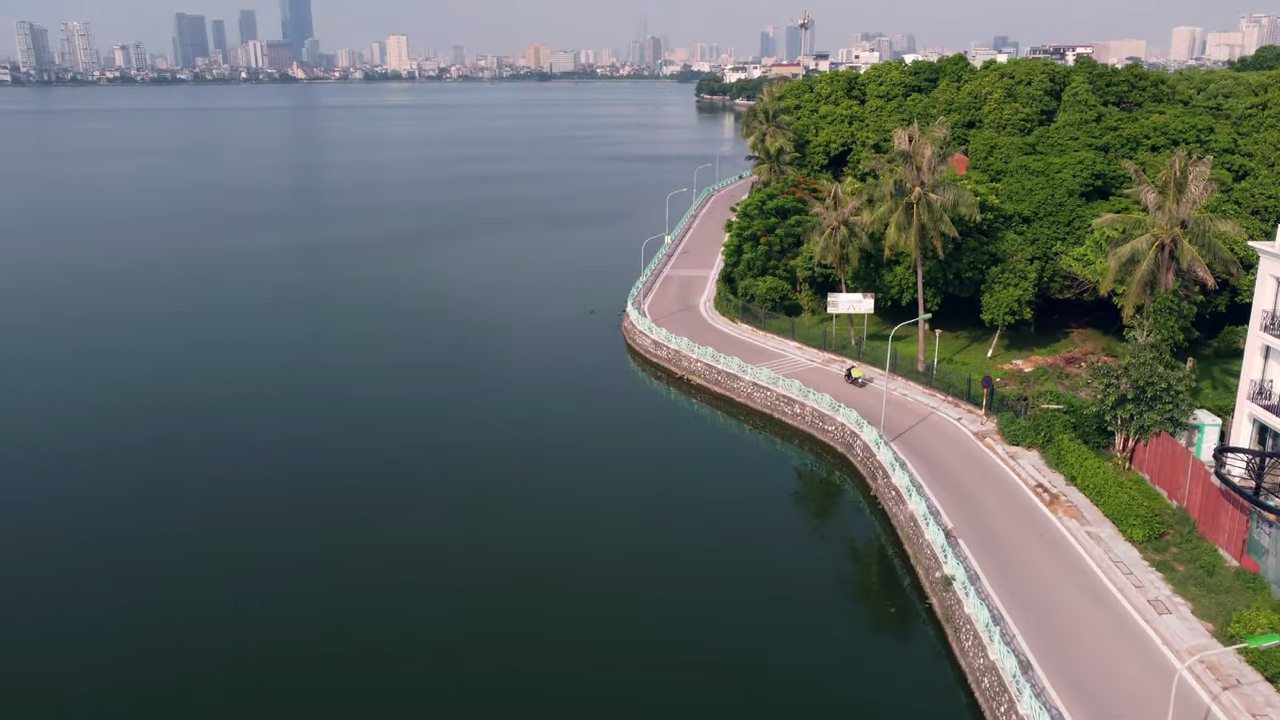 A lone motorist drives besides the undisturbed lake. Photo by Seán Nolan.
Nolan filmed "From Above" with a DJI Mavic Mini 2, his first ever drone. Learning how to pilot the drone was an experience full of trial and error. Controlling it like a Playstation, the operator can see what the drone sees by clipping a smartphone to the device. While simple to set up, Nolan did have some issues when first operating the drone.
"If the drone is out of sight, it's pretty nerve-wracking at first," admits Nolan. "All you have to go off is what the drone's camera can see, but you'd be surprised how quickly trees, buildings, even mountains can sneak up on you!"
He recounts a daunting moment in Hai Giang when his drone lost signal after flying around a mountain. The drone crash landed in the wilderness, causing Nolan to frantically search for it. Fortunately, for his most recent drone flight, Hanoi's clear summer skies made for a pleasant shoot.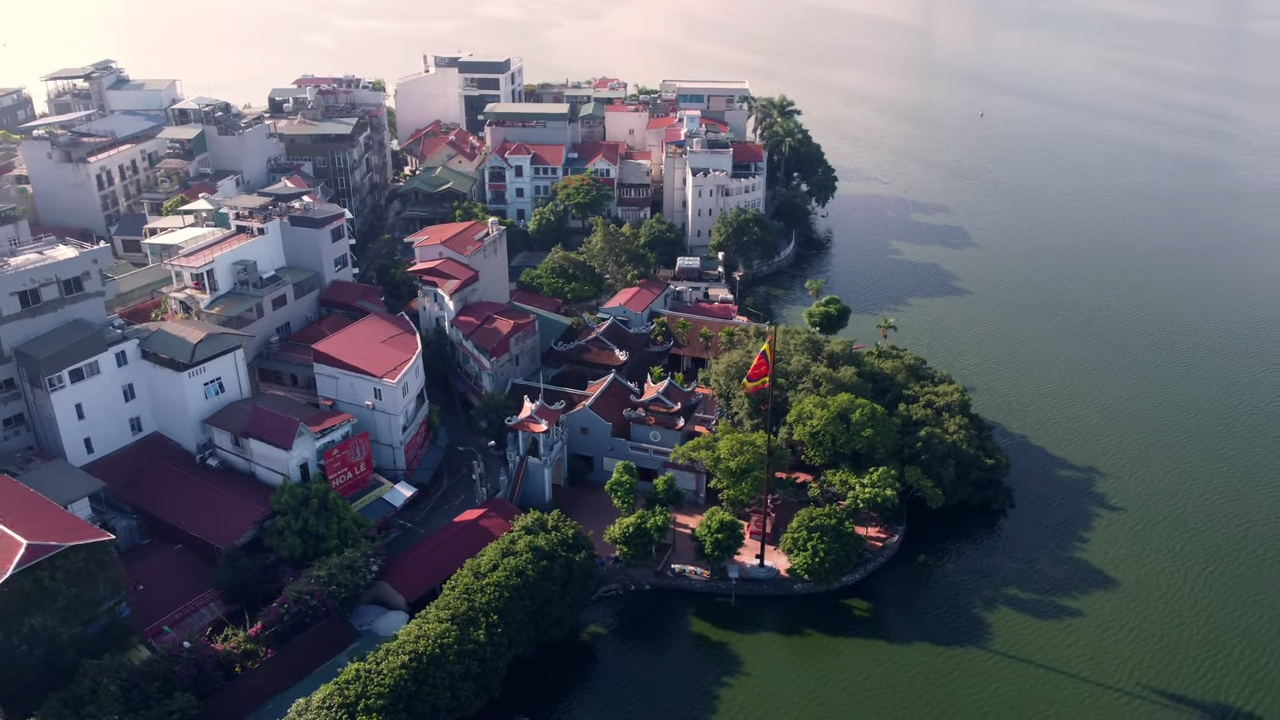 The stressful experience resulted in some beautiful shots of Tay Ho. Photo by Seán Nolan.
The project was a nice distraction from the doldrums of lockdown life. Yet, Nolan is still aware of how the pandemic has altered the world forever. New variants and vaccine passports will make travel vlogging more difficult.
"As with pretty much everything else, the pandemic has definitely changed the future of travel and vlogging," said Nolan. "I do think that in the next few years things will develop into some sort of normality, but it won't be the same as it was pre-2020."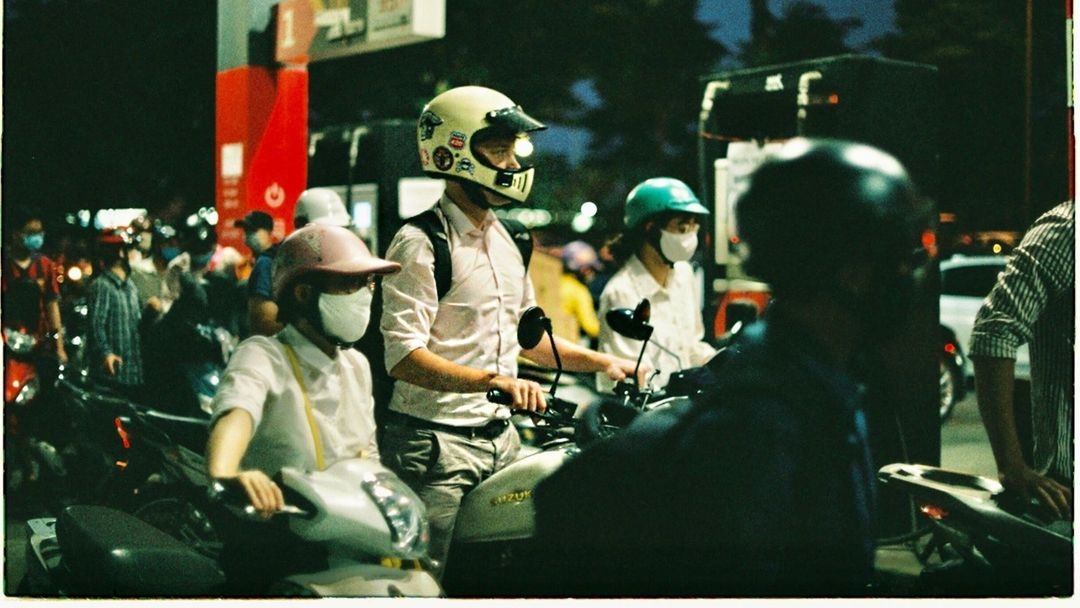 Before the pandemic, Nolan's height made him stick out on Vietnam's crowded roads. Photo by Seán Nolan.
Despite the unpredictiability of the Covid Era, Nolan believes travel vlogs will continue to entertain audiences. His video proves modern devices offer creative work arounds for filmmaking whilst complying with social distancing measures.
"Like every other industry vlogging will adapt. The rate at which new technology is being released, I'm really excited to see what the future holds – just five years ago you'd have needed a helicopter and an expensive camera to shoot what I managed in half an hour with the drone around Tay Ho."
While the pandemic has kept Nolan at home, he remains busy with his other film projects. Currently, he is editing another lockdown film which he hopes that others bored at home will find relatable. He is also writing a book about his travels in the Sahara Desert. With all his projects to complete, Nolan is content with staying at home.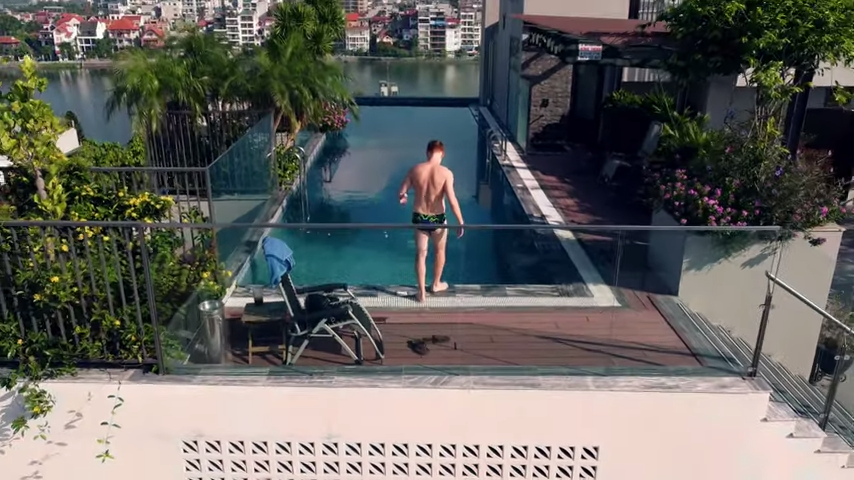 Luckily, Nolan's rooftop pool makes staying at home a bit easier. Photo by Seán Nolan.
"If the past 18 months has proven anything it's that making plans too far in advance is a fool's errand," said Nolan. "The next big trip will probably be something spontaneous, seizing an opportunity that presents itself before the window closes. I'm not a big fan of saying "one day" because that's usually too far away. For now, I'm sitting tight and staying creative."
Bored staying at home? Watch Nolan's video to virtually fly around Tay Ho's big lake and sunny skies.