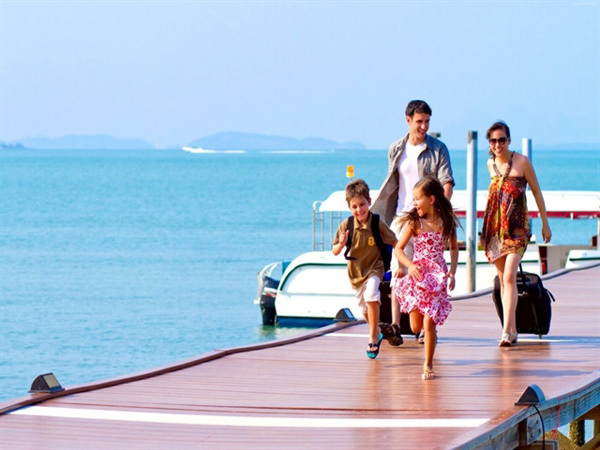 Small groups of tourists visit Phu Quoc Island in Kien Giang Province. Photo kynghiviet.vn
The pandemic has caused travellers to pay more attention to health, safety, hygiene, travel insurance, and avoiding crowds, pushing demand for luxury accommodation with isolated spaces, travel to nearby places and shorter vacations.
According to surveys, people pay attention to safety rather than price and choose high-quality travel products.
Demand for marine and nature tourism products is increasing rapidly.
Customers make direct online bookings on websites of tour operators.
The tourism market is expected to shift from outbound domestic tours, and so tour companies need to have quality accommodation at reasonable prices to meet this demand.
They need to quickly grasp market trends to redesign tourism products, focusing on luxury resort tourism, eco-tourism, health tourism, and adventure travel.
They should improve the quality of products and services so that tourists stay longer and spend more, the most important goal in the long term.
Minister of Culture, Sports and Tourism Nguyen Van Hung said domestic travel plays a key role in tourism now.
"It is high time for the whole sector to review, find new approaches and change methods as well as the thinking among tourism workers to revive the travel market."
The sector should focus on a market of nearly 100 million people who like to go on holidays when the pandemic is under control, he said.
He suggested introducing more products suitable for them.
The Civil Aviation Authority of Vietnam reported a surge in demand during the Reunification Day (April 30) and Labour Day (May 1) holidays to almost 1.5 million bookings, up 30 per cent from 2019 in the pre-COVID era.
On April 29 Tan Son Nhat Airport set a record for a holiday weekend by handling over 108,000 passengers, a number made even more notable by the fact that the country's borders remained closed.
Demand for domestic travel is significant.
Phung Quang Thang, director of Hanoitourist, said sustainability would be key going forward, and a small group of tourists would play an important role.
"Travel agencies should focus on quality rather than quantity, road travel will expand, people will travel nearer to home than before."
He said travel agents should pay more attention to sustainable tourism, enhancing their own role in community tourism, push for digital transformation and caring more about markets, tourism products and promotions.
Pham Ha, chairman of Lux Group, said before the pandemic outbreak 99 per cent of his company's customers had been foreigners and revenues were growing by 30 per cent a year.
But with the epidemic keeping out international visitors, his business was forced to change to become more flexible in terms of domestic tourism, he said.
Lai Minh Duy, vice chairman of the HCM City Tourism Association and general director of TST Tourism Company, said localities and travel agents should focus on exploiting golf tourism, MICE tourism and driving tours, and enable customers to book online.
Viettravel general director Nguyen Quoc Ky said it is necessary to focus on the domestic market, and tourism businesses should be encouraged to respond to the stimulus programme to enable the market to revive. 
The support policies of taxes and fees reduction will help tourism businesses have more capital to maintain operations. Photo nld.com.vn
Nguyen Thi Khanh, chairwoman of the HCM City Tourism Association, said tourism businesses suffer heavy losses when they have to postpone tours since they still have to pay service providers.
Besides, most have no revenues but have to pay interest and other expenses, and so rents should be waived for them in 2021 and 2022 and they should be offered loans at zero interest rates to retain employees, she said.
Their bank loans should be rolled over so that they do not default, and international and domestic travel business licences and tour guide cards should be reissued free of charge in 2021, she added. 
Safety tour
Short-haul tours to safe destinations is likely to be preferred after the pandemic.
Bui Ta Hoang Vu, director of the city Department of Tourism, said: "For now the HCM City tourism sector will focus on domestic travel."
Travel agencies and tour operators who meet COVID-19 safety standards based on a set of evaluation indicators would be allowed to operate, he said.
As businesses resume operations, preventive measures to ensure the health and safety of customers are a priority, he said.
City tourism authorities are gearing up for intensive promotions to encourage travel.
Room and ticket booking via online booking platforms without any form of physical contact would be a prominent trend in travellers' behaviour this year, experts said.
Free independent travellers will tend to visit less-crowded destinations, while group travellers want to join smaller groups and complete their trip within two or three days to limit the risk of infection.
Tourism authorities need to improve products to improve the travel experience and adopt data and technology solutions for tourism promotion and marketing.
Tourism businesses and destinations need to prioritise health and safety to guarantee visitors are completely safe.
The tourism industry needs to research international markets and tourists' behaviours to develop appropriate and effective communication programmes to prepare for the resumption of international travel.  
VNS