Vietnamese workers work at Carry System joint stock company in Japan's Ibaraki prefecture. Photo: VNA
Vietnamese nationals account for 25.4% of the total 1.82 million foreign workers who were working in Japan as of the end of October last year, VNA reported, citing the Japanese Ministry of Health, Labour and Welfare.
The ministry's data released on January 27 showed that a record 1,822,725 million foreign workers were working in Japan as of the end of October 2022, a rise of 5.5% from the same period of 2021.
A Japan's labour ministry official noted that growth has slowed since the start of the pandemic in 2020.
Of the total foreign worker population, there were 462,384 Vietnamese nationals, 385,848 Chinese nationals, and 206,050 Filipinos, which made them the top three biggest communities.
Data also showed a new high of 298,790 workplaces employed foreign workers, an increase of 4.8%. Businesses with fewer than 30 workers, which make up more than 90% of firms in Japan, accounted for 61.4% of the employers with foreign workers.
By residency status, holders of specialist and engineer visas were up 21.7% to 479,949 people. Working holders of visas such as permanent residents and spouses of Japanese nationals were up 2.6% to 595,207 people.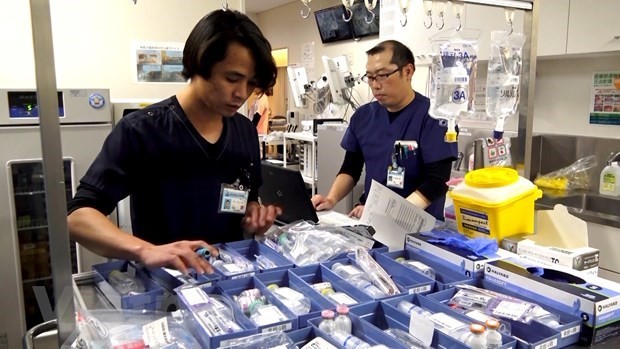 A Vietnamese man working as caregiver at Japan's Saitama Medical University Hospital. Photo: VietnamPlus
Meanwhile, the number of technical interns fell 2.4% to 343,254 people, marking the second consecutive year of lower numbers, partly because of border control measures that the Government of Japan applied during the Covid-19 pandemic.
Geographically, Tokyo was home to the most foreign workers with 500,089 people, followed by Aichi prefecture with 188,691 individuals, and Osaka prefecture with 124,570 people.
The number of Vietnamese in Japan has continuously risen in recent years, nearly 500,000, with over 20 associations and groups operating in different localities.
The Vietnamese community in Japan, especially youths and students, show their delight at Vietnam's strong economic recovery post Covid-19 thanks to the sound decisions of the Party, State and Government.
They also have expectations that in the new year, the country will develop steadily and the Vietnamese community in Japan will grow stronger.
Nguyen Hong Son, head of Liaison Board of the Union of Vietnamese Associations in Japan, said he is very pleased to hear that Vietnam's economy has grown at the highest rate in the past 10 years.
Sharing the same opinion, Nguyen Dinh Nam, Chairman of the Vietnamese Youth and Student Association in Japan (VYSA), said he expects Vietnam to develop further and have its position improved in the international arena.
Vietnamese labourers working in Japan earn higher incomes and have the opportunity to access advanced techniques and technology and a professional working environment. They have also contributed to Japan's socio-economic development and production and business activities, helping the country fix its labour shortage.
Japan is a favourite destination for Vietnamese workers.
In recent years, the number of Vietnamese labourers sent to Japan accounts for 50% of the total workers working abroad every year. Moreover, this is one of the markets with the best working conditions and incomes.
Vietnam sends labourers to Japan through five channels: technical internship training programme; programmes to send nurse and caregiver candidates to Japan to work under the Vietnam-Japan Economic Partnership Agreement (VJEPA); specific-skilled labour programmes; technical labour and interpreter programmes; and construction and shipbuilding worker programmes.