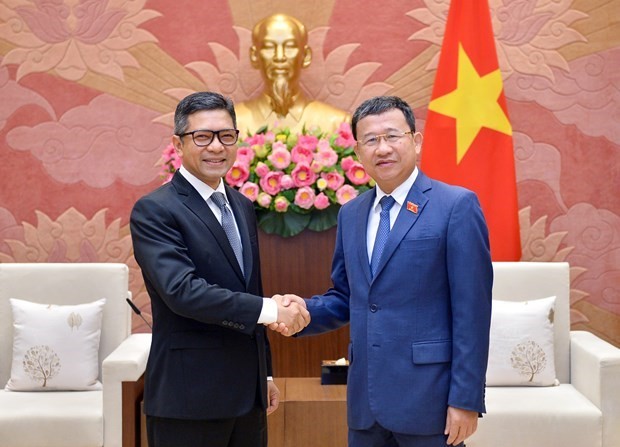 Chairman of the National Assembly's Committee for External Relations Vu Hai Ha (right) and Ambassador of Indonesia to Vietnam Denny Abdi. Photo: NA Television
Chairman of the National Assembly (NA)'s Committee for External Relations Vu Hai Ha hosted a reception in Hanoi on June 29 for the Ambassador of Indonesia to Vietnam, Denny Abdi, VNA reported.
Ha said the countries, sharing a bilateral traditional friendship which was upgraded to strategic partnership in 2013, have boosted their high-level and all-level exchanges, maintained and promoted their effective cooperation mechanisms, and coordinated policies in line with Indonesia's priorities for the region, especially during its 2023 ASEAN chairmanship.
He stressed that the Vietnamese NA wishes to deepen and enhance the strategic partnership between Vietnam and Indonesia via further strengthening cooperation with the legislative bodies of Indonesia, particularly in delegation exchanges and teamwork between the sides' specialised committees and friendship parliamentarians' groups.
The Vietnamese NA also looks forward to promoting the exchange of information and experiences with the Indonesian parliament on law building and inspection work related to post-Covid socio-economic recovery and global issues such as digital transformation, he added.
The official said in the time to come, Vietnam and Indonesia need to continue improving the legal framework for cooperative activities and maximising the effectiveness of their joint committee on economic, scientific, and technological cooperation to facilitate trade and investment flows.
The two countries should explore and seek opportunities for collaboration in such new areas as digital transformation, clean energy, capitalising on the opportunities brought by the Fourth Industrial Revolution.
For his part, the Indonesian diplomat stressed that Indonesia values its strategic partnership with Vietnam and is committed to making every effort to promote their friendly cooperation.
Chairman of the National Assembly's Committee for External Relations Vu Hai Ha (right) and Ambassador of Indonesia to Vietnam Denny Abdi. Photo: NA Television
Agreeing with Ha's assessment regarding the strong ties between the two countries in various fields, the ambassador suggested that the Vietnamese and Indonesian legislative bodies further promote these cooperative relations and increase their exchange of high-level delegations.
Last month, Vietnamese Ambassador to Indonesia Ta Van Thong told VNA in an interview that the action programmes signed between the two sides have deepened bilateral partnership in all fields, from politics, diplomacy, defence-security to economy, tourism, culture, and people-to-people exchange. They have finalized a joint action programmes for the 2024-2028 period for signing at an early date.
Meanwhile, other cooperation mechanisms such as committee for bilateral cooperation at the deputy foreign minister level, and joint committee for economic, science-technology cooperation have also been implemented.
Indonesia was the first country in Southeast Asia with which Vietnam established official diplomatic relations in 1955. In 1990, Indonesian President Suharto became the first head of state from Southeast Asia and the South Pacific to visit Vietnam after 1975. The partnership between the two countries experienced rapid growth following Vietnam's accession to ASEAN and the establishment of a Comprehensive Partnership in 2003. Vietnam remains the only strategic partner of Indonesia in Southeast Asia, a testament to the significance of their relationship since the elevation of ties in 2013.
The strong political ties and deep-rooted friendship between Vietnam and Indonesia are highly valued by senior leaders and the people of both countries, and they are committed to preserving and promoting these valuable assets, the Vietnamese diplomat highlighted.