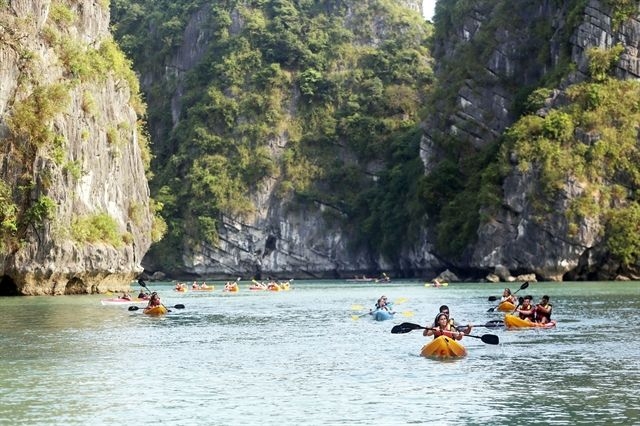 Tourists visit Hạ Long Bay in the northern province of Quảng Ninh. – VNA/VNS
Tours to the northern provinces saw strong demand for the Tết holiday as visitors from the tropical south sought to experience cold weather in the north.
A representative from Saigontourist said that customers were told about tour cancellation and postponement policies when they booked tours.
Most customers from HCM City with tours to the northeast and northwest regions chose to cancel their bookings, while other customers switched destinations to Phú Quốc and Côn Đảo islands in the south and to Đà Nẵng, Nha Trang and Phú Yên in the central region, the representative said.
A representative from Fiditour- Vietluxtour said that customers in HCM City had agreed to shift to short-distance destinations such as Vũng Tàu, Phan Thiết and the Cửu Long (Mekong) Delta to replace their cancelled tours.
Most travel firms have put in place different scenarios depending on the duration of the Covid-19 crisis, and are offering different policies on tour cancellations and postponements.
Nguyễn Ngọc Tấn, general director of Saco Travel, said demand for tours from HCM City to the northeast region for Tết holiday have been strong due to stronger tourism cooperation between HCM City and the northeast region.
The outbreak in the north, however, has resulted in many cancelled tours or changes to other places, Tấn said.
Most customers asked travel agencies to refund their cancelled tour and some group tours agreed to switch to a more appropriate time to travel, he said.
Nguyễn Nguyệt Vân Khanh, deputy director of the marketing department at Vietravel, said the company has prepared plans to adapt to any Covid-19 development.
Customers are advised to change their destinations or ask for travel vouchers that will be valid to April 30, Khanh said.