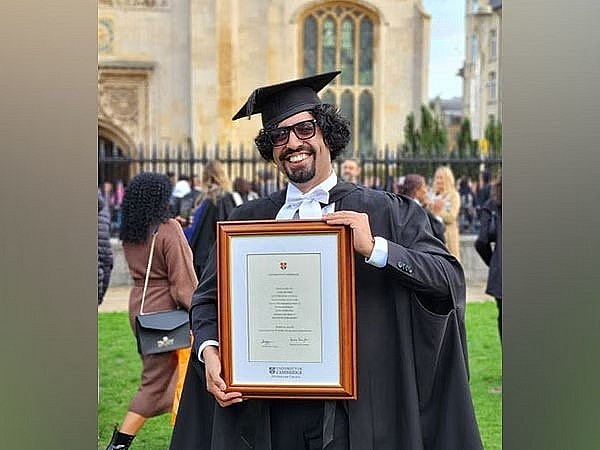 Taha Mughal, born in Srinagar, awarded with world's prestigious Fulbright Scholarship(Photo/ANI)
Taha's incredible journey from Minto Circle School in Kashmir to Tyndale Biscoe School and then to some of the world's most renowned universities is a testament to his dedication and the unwavering support of his mother.
Despite facing numerous challenges, Taha's relentless pursuit of education paid off when he received offers from esteemed institutions such as the University of Cambridge, Harvard University, and the University of Pennsylvania.
Within two years, he has now earned a Master's in Science of Design (Historic Preservation) from the University of Pennsylvania and an MPhil in Heritage Studies from the University of Cambridge.
Taha remembers, "I completed my thesis for Cambridge while I was studying at the University of Pennsylvania, even though I had to have surgery and was ill for more than two months. It ended up being a great thing that my courses overlapped in that way."
Taha's outstanding academic accomplishments garnered the attention of renowned international organizations. He was offered the highly sought after Chevening Scholarships and Commonwealth Scholarships, yet he opted to accept a contract with the British Council's Charles Wallace India Trust. This decision enabled him to continue his studies in the United States and realize his aspirations.
To secure his place at Cambridge, Taha's hard work on the "History and Culture of Bhaderwah," written by Bashir Bhaderwahi, made a big impact. He put in countless hours of research and translation over the course of six years, and it paid off.
This ambitious project is set to be his first major literary and scholarly contribution.
Taha's impressive work on INTACH Kashmir's book "Architectural Ornamentation in Shrines and Mosques of Kashmir", edited by Qamoos Bukhari, featuring his intricate drawings, was a major factor in his acceptance to Cambridge.
Before leaving for Cambridge, Taha was awarded the world's prestigious Fulbright scholarship, cementing his place among the world's brightest minds.
Soon Taha was in a fix when he had to choose between offers from Harvard University and the University of Pennsylvania, both Ivy League and among the world's most reputed.
Ultimately, he chose the University of Pennsylvania, as it offered a more practical program, while still feeling confident that he could eventually pursue Harvard further down the line in his academic career.
Taha has completed his Fulbright-sponsored program with distinction at the University of Pennsylvania. He has now started a short-term research position at the Center for the Preservation of Civil Rights Sites in the United States. During his research, he will explore the historical importance of the Civil Rights movement at various sites in Alabama, listen to people's stories, and document their lived experiences.
As an architect and writer, Taha has the chance to combine his hobbies and make a positive impact on protecting history.
Taha, a preservation architect and heritage practitioner, has achieved success through education from some of the world's best institutions. He seeks to address complex issues of identity, memory and politics in his designs, with the aim of creating spaces that evoke a sense of belonging. According to Taha, "All art should be made for belonging. We have enough forces which separate us from each other as humans."
When questioned about his future aspirations, Taha replied that he will carry on discovering opportunities at his own speed. He maintained that he will remain devoted to his individual progress and specialist growth, regardless of whether he works with entities like UNESCO or the Aga Khan Foundation or pursues extra studies. (ANI)