Vladimir Moiseenko, director of the Napalkova cancer centre in St. Petersburg – one of Russia's leading cancer diagnosis and treatment establishments, expressed his interest in further enhancing collaboration in cancer treatment with Vietnam at a recent interview with VNA.
Moiseenko, also a member of the Russian Academy of Sciences, said cancer is on the rise in every country, particularly in developing nations like Vietnam. Successful cancer treatment largely depends on early detection, and it is crucial to focus on identifying tumors at an early stage.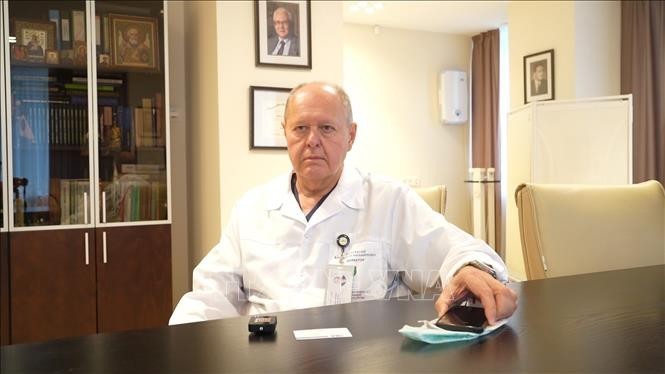 Vladimir Moiseenko, Director of the Napalkova cancer centre in St. Petersburg. Photo: VNA
According to the oncologist, Russia has been actively implementing early detection programmes, and over 50% of patients diagnosed in the early stages can be completely cured. When the disease reaches its later stages, treatment mainly aims to prolong life or ensure a better quality of life for patients.
The Napalkova cancer centre, equipped with modern facilities following international standards, conducts over 40 surgeries and provides radiation therapy to 350 patients daily.
Napalkova is ready to treat Vietnamese patients on a paid basis, Moiseenko said, adding that the centre has been cooperating with oncology hospitals in Vietnam for the past five years.
The sides' collaborative approach involves discussions and information exchanges on treatment for specific patients, and the doctor expressed his desire to further strengthen joint works with his peers in Vietnam, particularly regarding remote consultations for surgical cases.
In 2021, a memorandum of understanding to establish a Russia-Vietnam biomedical science and technology research centre, a project that covers joint cooperation in proton radiation therapy in cancer treatment, has been signed at the Vietnamese business forum held as part of the 14th St. Petersburg International Innovation Forum.
According to the World Health Organization, every year, there are nearly 20 million new cases of cancer globally and more than 10 million deaths from the disease, and two-thirds of patients are in developing countries.
Liver cancer is responsible for the highest number of deaths among cancer patients in Vietnam with the total number topping 26,000 each year.
The number accounts for 21% of the deaths caused by cancer in the country. The data was revealed by the Vietnam National Cancer Hospital at a recent event named "Correct understanding of liver cancer".