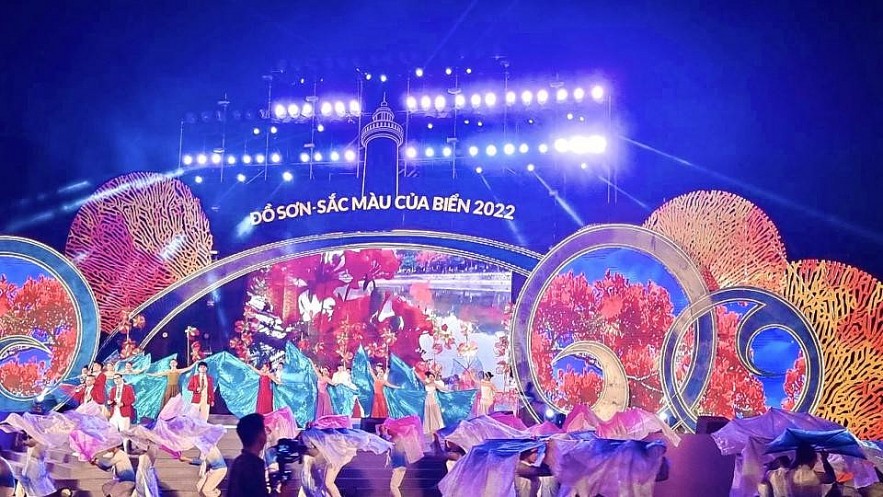 Art performance of the 2022 Do Son Festival.
The Vietnam Sea and Island Folklore Festival will be co-organised by the Communist Review, the Party Committee and People's Committee of Hai Phong, and the Ministry of Culture, Sports and Tourism.
This will be an opportunity for Hai Phong to promote its image and economic potential to both domestic and international friends, and honour and preserve values of traditional culture, said Vice Chairman of the municipal People's Committee Le Khac Nam.
The festival is also intended to raise public awareness of the role, strategic position, and immense potential of Vietnam's sea and islands, as well as of exploiting and protecting the economic values of these bodies of water and defending the country's sovereignty over its sea and islands, he continued.
The highlight of the event will be an elaborate art performance at the Doi Rong international tourist site square – Dragon Beach, in Do Son district on April 29. The performance will feature creative ideas, captivating art, and stunning stages.
Notably, a stunning firework display, which will last from 10-15 minutes, will conclude the programme and mark the beginning of a new tourism season in Do Son.
The Communist Review will coordinate with the municipal Department of Culture and Sports to organise a national symposium on Vietnam's sea and islands on April 28, featuring the participation of many scholars and researchers.
On April 29th, six teams from Hai Phong, Quang Ninh, Nam Dinh, Khanh Hoa, Nghe An, and Ho Chi Minh City will compete in a variety of traditional island and sea folk games, including dragon boat racing, beach volleyball, and tug of war. Spectators will be able to watch the exciting competitions as the teams battle it out to become the ultimate champions. With teams from all over Vietnam, this is sure to be an event you won't want to miss!
More than 300 athletes from 10 coastal cities and provinces are expected to take part in the upcoming competitions.
Data from the Hai Phong Statistics Office revealed that in the first quarter of this year, the city welcomed over 1.38 million visitors, which is a 17.86% increase compared to the same period in the preceding year. Notably, the number of foreign visitors to the city was 226,700 – a six-fold increase compared to the first quarter of last year.
Hai Phong City is making concerted efforts to develop innovative tourism products and improve the quality of services to ensure visitors have the best experience during the upcoming peak tourism season. From new attractions to improved hospitality, the city is determined to provide an unforgettable experience to all holidaymakers.