Hajipur (Vaishali),
Bihar In March this year, six women living in villages in Vaishali district of Bihar started a Farmer Producer Organisation (FPO) that produces yarns from discarded banana stems. The banana yarn is then used to make various products such as bags, sanitary pads, paper, and decorative items. The FPO, named Kera Jeevika Mahila Kela Resha Kisan Utpad Company, is the first banana waste processing unit in the state, supported by the Government of Bihar's Jeevika project. The project aims to empower rural women socially and economically. Asha Devi, Renu Devi, Kumari Krishna Sinha, Susheel Kumari, Sonam Kumari, and Lalita Kumari are the co-founders of the FPO. Asha Devi, who has been a part of Jeevika since 2017, said, "At present, we are only making about Rs 6,000 to Rs 7,000 a month from the company, but we are confident that soon our earnings will go up a lot more."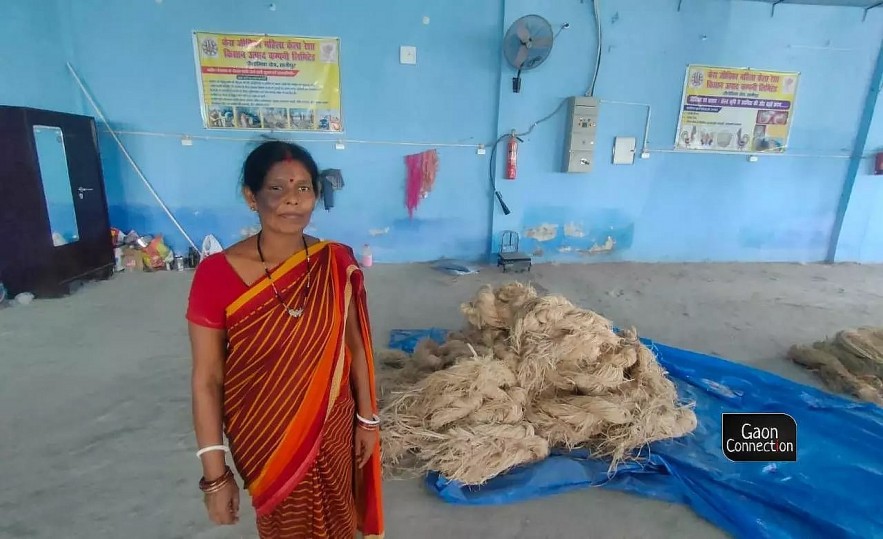 Apart from the six co-founders, there are 15 to 20 women from Jeevika working as laborers at the processing unit. The unit also employs a few male workers who transport the banana stems from the farms. The women extract the fibers with the help of special machinery at the unit. Savita Devi, a Jeevika community coordinator, said, "So far we have manufactured about 1,200 kilograms of banana fiber, and as the demand rises, we will increase production." The women work for about seven to eight hours a day and are paid Rs 250 per day. The banana fibers produced by Kera Jeevika Mahila Kela Resha Kisan Utpad Company are priced between Rs 150 and Rs 200 per kg.
Through the Chief Minister Entrepreneur Scheme (Mukhya Mantri Udyamik Yojana), the six women received an interest-free loan of Rs 10 lakh each to start and run the company. They were chosen based on their work with Jeevika. Renu Devi, one of the FPO members, said, "Of the Rs 10 lakh, we have already received about Rs 4 lakh each. The government is extending a lot of support. I can't believe that even six years ago, my world was confined to the four walls of my home and now it is all so different."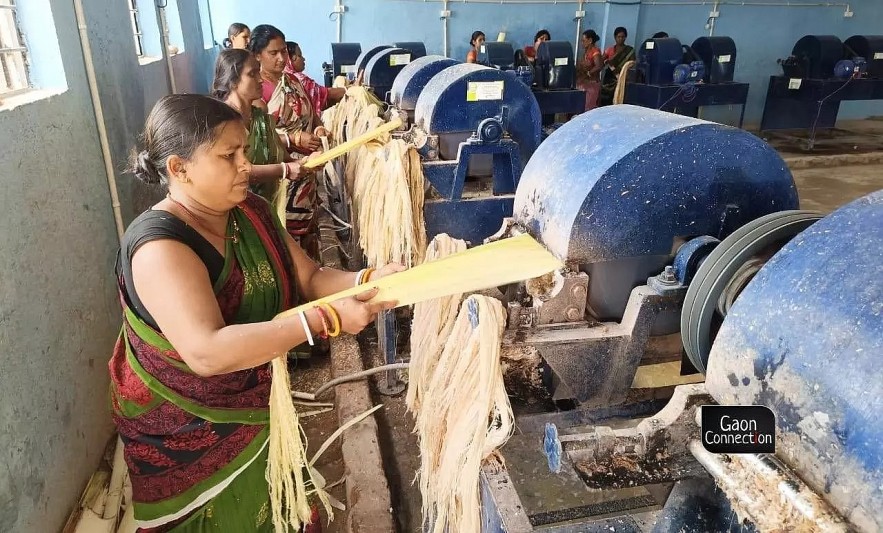 Hemlata Pandey, a Jeevika member from Madhubani district, said that training programs have been conducted to teach women how to extract fibers from banana plants and create useful products. She mentioned that many women in the villages are making handicrafts and edible items such as chips and bananas using the fibers. Sanni Kumar, a resident of Ganpatganj in Supaul district, said that he and his wife Pragya Bharathi have been making handicrafts out of banana fiber since February 2021. They make grow-bags, rakhees, and other items with the fibers, which are first separated from the banana stems and then dried and made uniform in appearance. The fibers have absorbent qualities and are strong enough to be used as ropes.