If being in Moc Chau town, you should wake up at 4:30 am, ride a motorbike to Hang Kia – Pa Co, the junction of Mai Chau district, Hoa Binh province and Van Ho district, Son La province. This place is located about 40 km from the center of Moc Chau town (about 1 hour to move) towards Hanoi to be able to catch the sunrise in time from 5 am – 6 am.
Traveling along Highway 6 from Moc Chau, tourists turn to Pa Co market and go another 7 km to reach the cloud hunting spot. In case of being afraid to move early in the morning, you can choose to stay at a homestay near Hang Kia – Pa Co.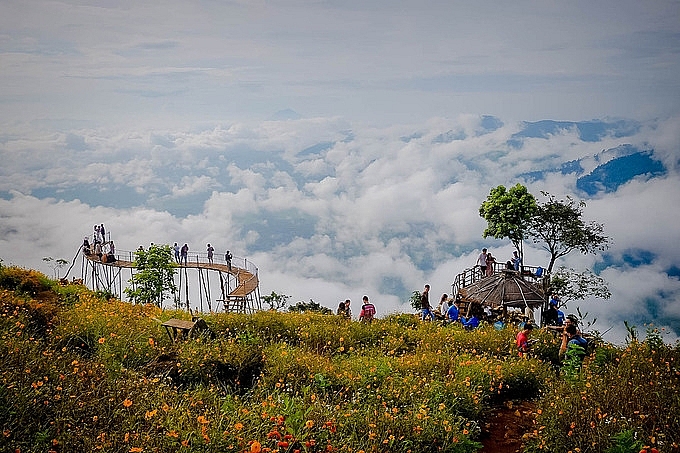 Photo: Vn Express
Not having to walk long distances, climbing mountains for a long time like cloud hunting spots in Pha Luong, Ta Xua, Lao Tham … Tourists can ride motorbikes, cars to near the cloud hunting spot and walk about 200m. The most suitable time to hunt for clouds is from September to April every year.
On beautiful days after raining, the ideal weather appears with sea of white clouds, the sky changes from pink at dawn to clear blue. Tourists can combine to take photos of clouds with spreading butterfly petals, wooden swings or small scenes built by locals for tourism. Ticket price is about 0.64 USD, including parking for motorbikes.
Photo: Vn Express
Being passionate about photography, visitors should spend 2-3 hours enjoying the scenery from dawn and take time to rest. Leaving Hang Kia – Pa Co around 9 am, tourists can go to Pa Co market for breakfasts and explore the local people's life before returning to Moc Chau town.
There are many accommodation establishments for tourists to rest in Moc Chau town. MAMA's House is a homestay that is familiar to many young people who want to find a quiet and suitable garden for relaxing and taking pictures.
After checking in the homestay, you can leisurely walk through the pine forest of Ang village located just a few hundred meters away, go to the garden to harvest vegetables with the owner to prepare a meal, or simply sit under the plum canopy to read book, relax in the lovely campus of the house.
Photo: Vn Express
In addition, Moc Chau also has many other homestay addresses for tourists to choose such as The November Homestay, Nha ben suoi Homestay. Room charges for two people vary from 12.9 USD/night. Meals at homestay are priced at 2.15 – 6.47 USD/person depending on the menu.
From the center of Moc Chau, tourists can watch the immense tea hills right at Nong Truong Moc Chau town. At the top of the tea hill is an abandoned reservoir. Visitors can stand from here and see the immense space of the tea hills on a September afternoon.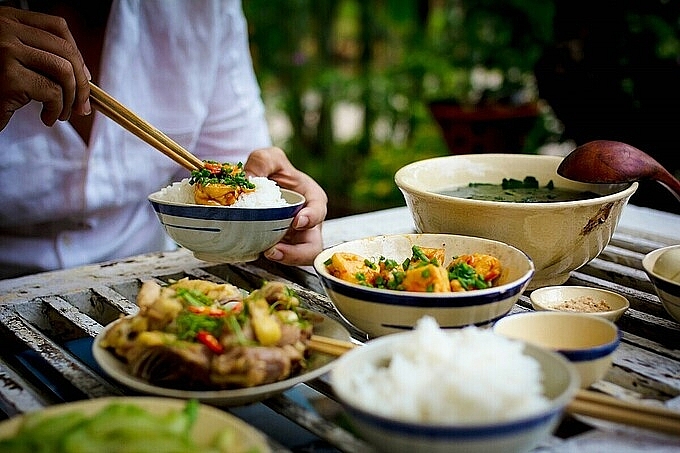 Photo: Vn Express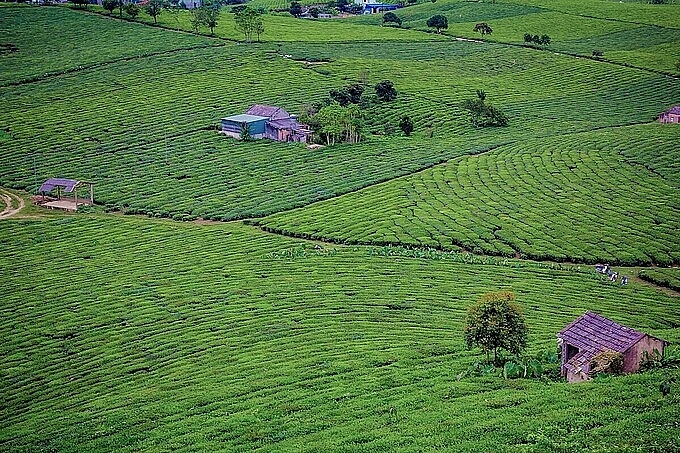 Photo: Vn Express
It is noted that you will definitely see dark green and smoother appearance of oolong tea hills than snow shan tea. Compared with famous spots such as the heart tea hill, this place is not too crowded and less commercialized, so you will feel a closer and more natural Moc Chau. Visitors to the farm tea village have no entrance fee.
When sunset falls, you can climb to the top of the mountain where Moc Chau TV radio station is located at the intersection of Moc Chau town, at the foot of 75 slope. From here, the scene of Moc Chau town and the pine forest in Ang village appear amazingly in yours eyes.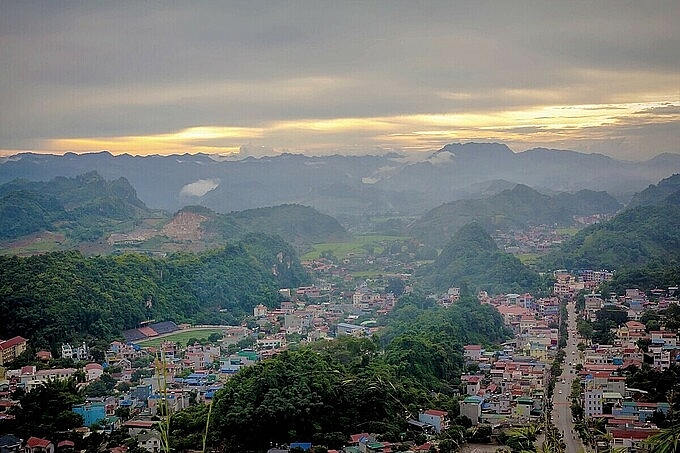 Photo: Vn Express
On clear days, from the top of the mountain you can also see Pha Luong peak hidden on the Laos border. At the end of a short 24-hour Moc Chau journey, visitors can choose a Limousine to Hanoi with the latest trip at about 7:00 p.m., ticket price is about 9.49 USD/person.