GW90 Series Eye-care Monitors
Experience premium eye-care technology with our GW90 Series Monitors. Designed with ergonomics in mind, these monitors offer a comfortable viewing experience. Equipped with USB-C data transfer and charging capabilities, as well as an integrated USB-hub connection, these monitors are ideal for productivity. They also feature a unique coding mode that enhances programming efficiency and visual comfort. Upgrade your workspace with the GW90 Series Monitors today.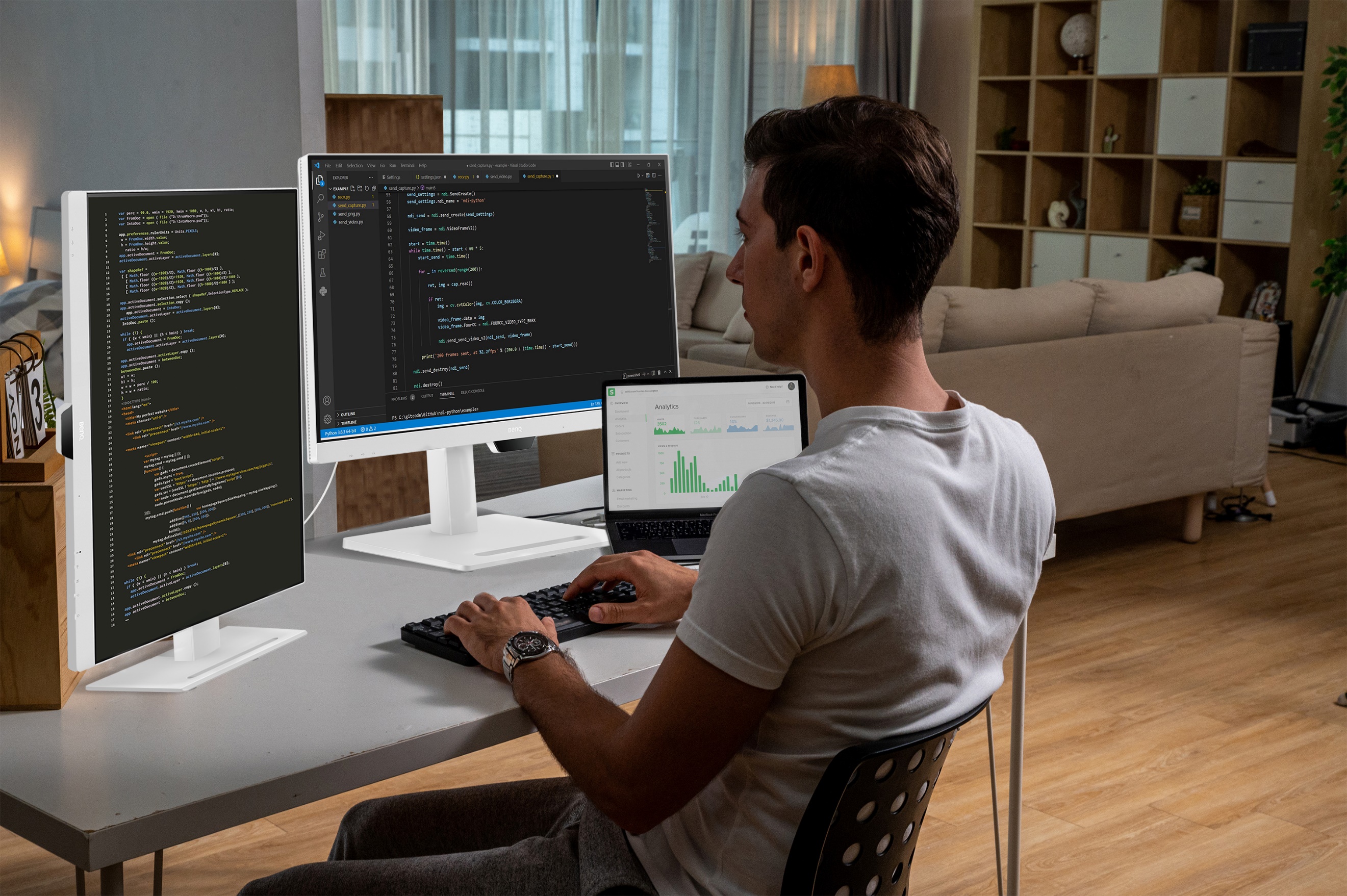 In Singapore, over 90% of employers offer flexible work arrangements, making the country a top advocate for hybrid work. In response to this new era of workplace flexibility, BenQ aims to enhance the work-from-home experience for hybrid employees and desk workers by providing comfortable and productive setups.
"According to Conway Lee, the President of BenQ Corporation, the GW90 Series monitors are designed to cater to the needs of modern hybrid-working lifestyles. With their USB-C architecture, these monitors offer simplified multitasking productivity in various work environments, including traditional offices, homes, and even on-the-go. Software developers can take advantage of the specialized coding mode, which ensures eye comfort and improves work efficiency. Furthermore, the GW90 series promotes remote collaboration with its noise-cancelling communication feature and offers holistic well-being through its eye-care function and appealing aesthetic features."
Introducing the Exclusive Coding Mode
Enhance your programming experience with our exclusive coding mode. By optimizing the contrast and saturation of dark mode, users can expect increased productivity and visual comfort. With its distinguishable shades of color, coding mode is designed to support software developers by allowing them to focus more on their work and relieving eye strain in any workspace or dimly lit surroundings.
We're pleased to announce that the coding mode has received rave reviews on Amazon and other e-commerce platforms since its introduction in the previous version of our GW85TC series. Users have left numerous positive comments, highlighting how it has reduced eye strain symptoms and helped them work for extended periods of time.
At BenQ, we are proud to offer pioneering Eye-Care innovations that prioritize the health and well-being of our customers. Our cutting-edge technologies, such as TUV Rheinland-certified Flicker-Free and Low Blue Light Technologies, and Brightness Intelligence Gen2, which incorporates customizable settings for auto optimization of screen brightness, set us apart.
In addition, our Eye-Care software, BenQ Eye-CareU, also provides easy access to features such as color weakness mode compensation and simulated e-paper reading mode, ensuring convenient and prolonged vision health protection.
Choose BenQ for the ultimate in eye comfort and care.
GW2790QT and GW3290QT are monitors designed to promote work-life balance and well-being. These monitors offer height adjustability and pivot rotation, allowing users to arrange their screens vertically for easy coding and the use of multiple daisy-chained monitors. By offering comfortable and productivity-enhancing orientations, these monitors help to improve the overall work experience.
The GW2790QT and GW3290QT monitors are designed with professional functionality in mind. They feature a USB-C connection that allows for seamless data and video transmission, as well as up to 65 watts of power delivery for convenient charging of laptops and phones. With an integrated USB hub and a range of HDMI, DisplayPort, USB, and audio ports, these monitors offer fast and easy switching between peripherals and smart devices. Additionally, the monitors are equipped with Integrated Noise Filter Speakers and a Noise Cancellation Microphone, ensuring clear and high-quality remote conferencing capabilities. These features make the GW2790QT and GW3290QT monitors versatile tools that enhance productivity and efficiency.
You can ensure a neat and organized workspace for your desktop devices, cables, and office materials with the optional GC01 base cover kit. This kit includes two base cover inserts: a stylish light grey cover with grooves and niches to keep your smartphones, cables, pens, and other office accessories in place, as well as a vibrant green studded platform that allows for the creative display of building blocks and brick figures.
BenQ GW90 Series monitors are designed to assist professionals in decluttering and seamlessly transitioning between work and leisure. These monitors prioritize the improvement of both physical and mental well-being by offering ergonomic designs that cater to the demands of modern, fast-paced lifestyles.
The BenQ GW90 Series is now available for sale, offering a range of impressive features and excellent monitor sizes to choose from. The 27-inch monitor is priced at $479, while the 32-inch monitor is priced at $639. Additionally, there is a base cover available for $29.
For those interested in purchasing the GW90 Series, it can be found on popular online platforms Shopee and Lazada starting from 1 March. Don't miss out on the opportunity to enhance your viewing experience with these top-of-the-line monitors.
Technical Specifications
Model
GW2790QT
GW3290QT
Product Colour
White
White
Panel Type
IPS
IPS
LCD Size (in)
27″
31.5″
Aspect Ratio
16:9
16:9
Resolution
QHD (2560X1440)
QHD (2560×1440)
Display Area (mm)
596.74 x 335.66
698.11 x 392.69
Pixel Pitch (mm)
0.2331(H) x 0.2331(V)
0.2727(H) x 0.2727(V)
Typ. Brightness (cd/m2)
350
350
Typ. Contrast
1000:1
1000:1
Viewing Angle (L/R; U/D)
(CR>=10)
178°/178°
178°/178°
Refresh Rate
75Hz
75Hz
Display Colors
16.7 million
16.7 million
Color Bit
8 Bits
8 Bits
Color Gamut
99%sRGB
99%sRGB
Color Mode
Standard / Coding / Care Mode / M-Book / Movie / Game
/ ePaper / User
Standard / Coding / Care Mode / M-Book / Movie / Game
/ ePaper / User
Dimensions & Weight
Dimensions (W x H x D)
14.7 x 24.2 x 2.4 inch

The dimensions of the item are 372.3 x 614.0 x 62.0 mm.










Welcome!

Thank you for visiting my professional website. Here, you can find information about me and my work. Feel free to explore and reach out if you have any questions or would like to collaborate on a project.

About Me

I am a professional web developer with years of experience in creating dynamic and user-friendly websites. My skills include HTML, CSS, JavaScript, and various frameworks such as Bootstrap and React. I am passionate about creating visually appealing and functional websites that meet the needs of businesses and individuals.

My Work

Throughout my career, I have worked on a variety of projects for clients in different industries. From e-commerce websites to portfolio websites, I have experience in developing websites that are tailored to the specific needs of each client. I always strive to deliver high-quality work that exceeds expectations.

Contact Me

If you would like to get in touch with me, please fill out the contact form on this website or send me an email at [email protected] I am always open to new opportunities and collaborations. Thank you again for visiting and I look forward to hearing from you!




16.9 x 28.1 x 2.5 inch

The dimensions of the object are as follows:

Length: 428.7 mm

Width: 714.6 mm

Height: 62.6 mm











Contact Us





Net Weight
8.4 kg
18.52 lbs
10.1 kg

The weight of the object is 22.2 pounds.

Net Weight without Stand
5.5 kg

Weight: 12.13 lbs

7.2 kg

This HTML content contains a numerical value of "15.8 lbs".

Gross Weight
10.5 kg

The weight of the item is 23.15 pounds.

12.6 kg






Weight Conversion

The weight is 27.8 lbs.




I/O
Built-in Speaker
2Wx2
2Wx2
HDMI Input (1.4)
Yes
Yes
DP in (1.2)
V
V
DP out (MST)
V
V
USB C
Upstream PD 65W x1 (DP alt)
Downstream with BC1.2
charging x1
Upstream PD 65W x1 (DP alt)
Downstream with BC1.2
charging x1
USB 3.2 gen1
Type A x3
Type A x3
Headphone Jack
V
V
Other Accessories
– Power cord (1.5m)

– USB-C Cable (1.5m)

– HDMI 1.4 Cable (1.5m)

– Power cord (1.5m)

– USB-C Cable (1.5m)

– HDMI 1.4 cable (1.5m)

Ergonomic
Height Adjustment
Base + 110mm
Base + 110mm
Tilt (down/up)
-5˚ / +20˚
-5˚ / +20˚
Swivel (left/right)
20˚ / 20˚
20˚ / 20˚
Pivot
-90˚ / +90˚
-90˚/ +90˚
BenQ Corporation is a multinational technology company headquartered in Taipei, Taiwan. Established in 2001, BenQ is a leading provider of innovative consumer electronics, computing devices, and communication solutions.
With a commitment to delivering cutting-edge products and services, BenQ has earned a reputation for excellence in design, quality, and performance. Our diverse portfolio includes products such as monitors, projectors, gaming devices, displays, and digital signage solutions.
At BenQ, we aim to enhance the digital lifestyle and empower our customers to achieve their full potential. Through constant innovation and a customer-centric approach, we strive to bring people closer to the world of technology and entertainment.
As a socially responsible company, BenQ is dedicated to sustainability and environmental stewardship. We embrace eco-friendly practices throughout our manufacturing processes and product lifecycles.
Whether it's for work, education, entertainment, or communication, BenQ is your trusted partner in the digital age. Discover the possibilities with BenQ today!
BenQ Corporation, a global leader in human technology and solutions, is dedicated to enhancing and enriching the lives of consumers. Our corporate vision, "Bringing Enjoyment 'N' Quality to Life," drives us to prioritize what matters most to people today – lifestyle, business, healthcare, and education. By offering innovative solutions in these areas, we aim to empower individuals to live better, improve their efficiency, increase their well-being, and enhance their learning experience.
Our extensive range of products includes a diverse assortment of people-centric products and embedded technologies. These offerings encompass digital projectors, monitors, interactive large-format displays, digital cameras and camcorders, mobile computing devices, and lighting solutions. Every product in our portfolio is designed with utmost care, as we understand the importance of delivering quality solutions.