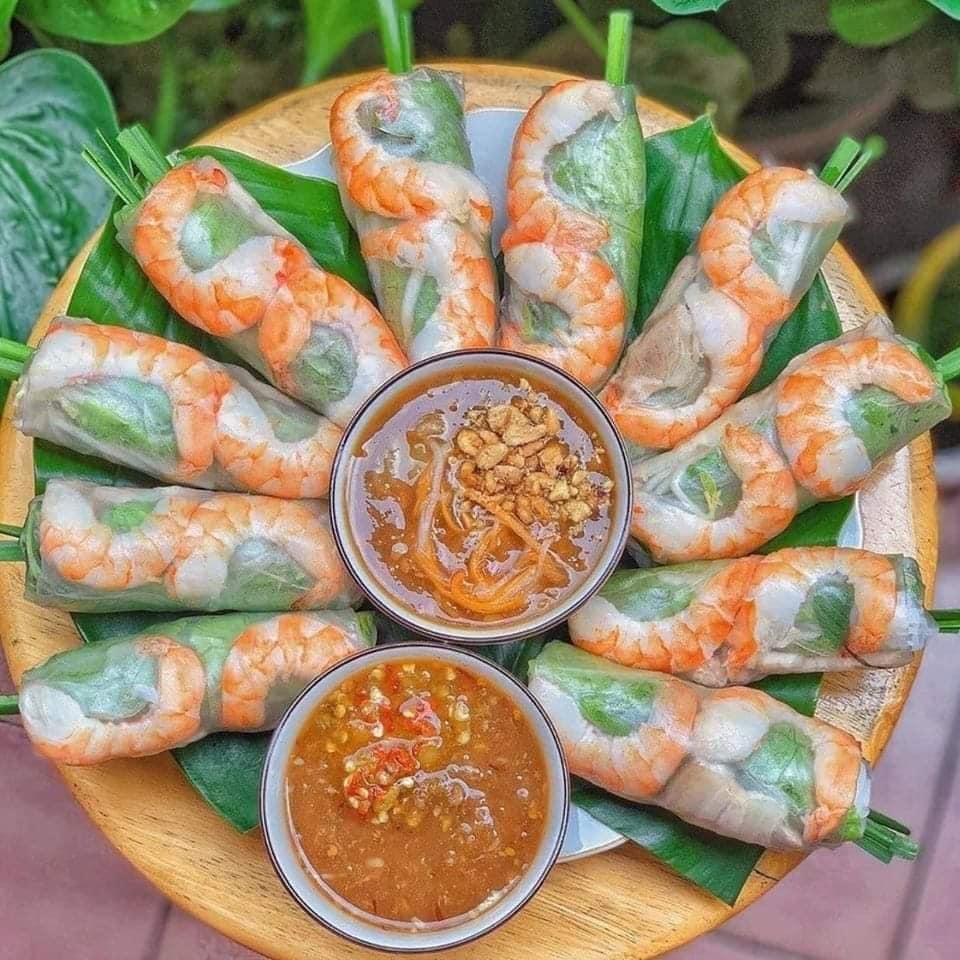 Wrapped in rice paper, gỏi cuốn is convenient to eat on the go. Not only is it fun to eat, it's also just as fun to make.
Goi cuon, or fresh summer rolls, are a popular snack in the south Vietnam. Rice paper is usually wrapped around pork, shrimp, herbs and rice vermicelli, and the dish is best served after being dunked in sweet and sour fish sauce or a thick peanut dip.
The sauce (or nước mắm) is a blend of salty, sour, and made of fish, salt, water, sugar, chili, fresh lime or lemon juice. The peanut sauce is a thick, creamy peanut-based sauce that is complemented with hoisin sauce and sugar.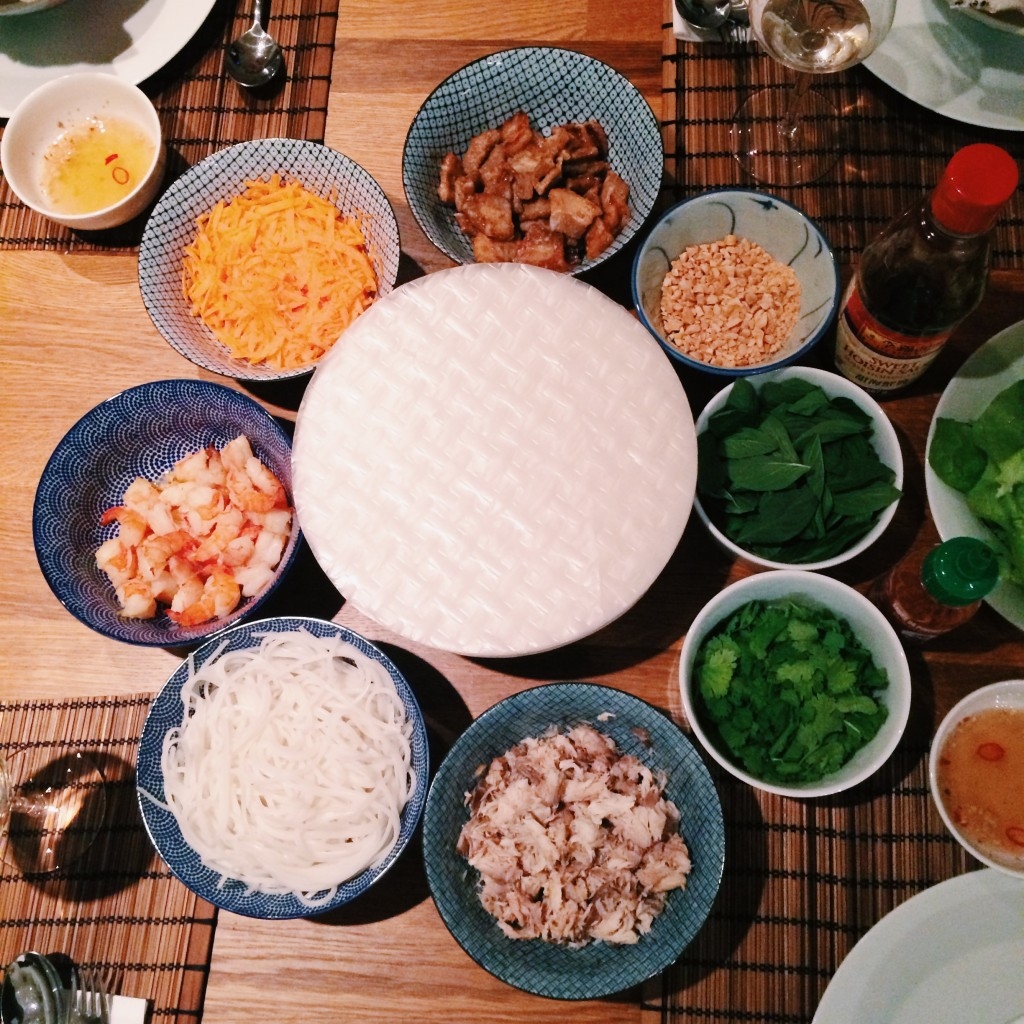 Vietnamese salad rolls, also known as spring rolls, summer rolls, or rice paper rolls are basically like a roll that are not fried. The key components in a salad roll are rice wrappers, noodles, protein, vegetables, and fresh herbs.
Let's try a differen versiont replace pork and shrimp with perch. Requiring almost no cooking, the Vietnamese perch summer roll serves 4 people, but you can easily increase the ingredients accordingly to make more. Recipe of chef Cameron Tait/Outdoor Canana.
Makes about: 8 rolls or 4 servings
Prep time: Less than 1 hour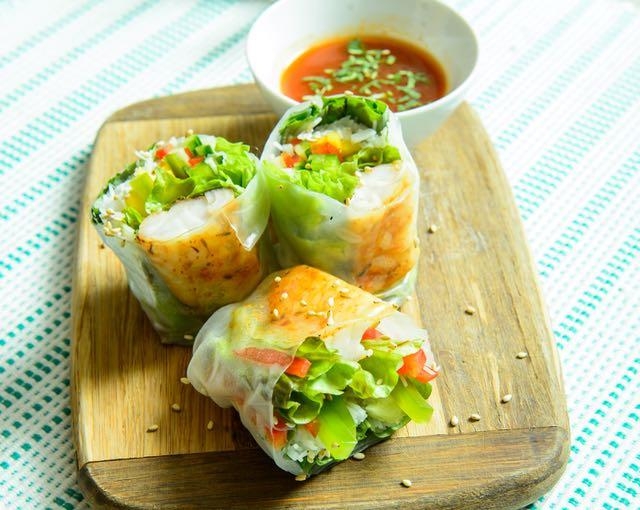 Summer rolls are super easy to make and require very little "cooking". 100 Acre Woods Photography
Ingredients
Dipping fish sauce
6 tbsp water
2 tbsp sugar
2 tbsp fresh lime juice
2 tbsp fish sauce
1 tsp chili sauce
1 tsp chopped cilantro
Peanut dipping sauce
8 tbsp of hoisin sauce
2-3 tbsp of peanut butter
1 can of coco soda (natural coconut flavored soda)
Sambal chili paste (optional)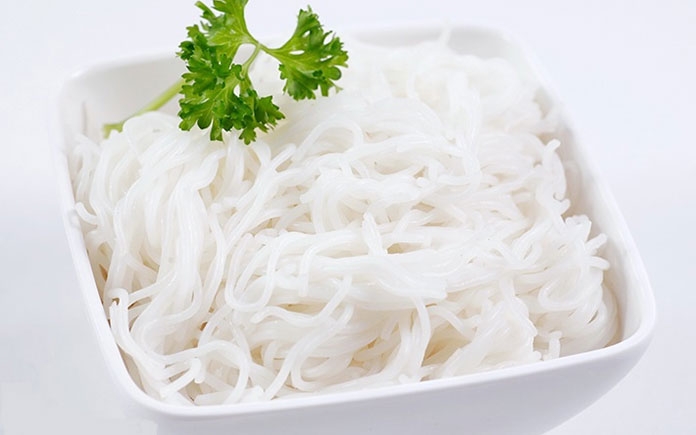 Vietnamese Bun vermicelli used in the filling.
Rolls
1 lb perch fillets
1 tbsp canola oil
Salt, black pepper and paprika, to taste
2 cups rice vermicelli (bún)
1 cup julienned red, green and yellow peppers
½ cucumber, julienned
1 tsp each chopped ginger and garlic
Salt and pepper, to taste
1 tbsp sesame oil
8 rice papers (bánh tráng)
8 red leaf lettuce leaves
1 mango, peeled and julienned
½ cup chopped cilantro leaves
8 whole basil leaves
8 whole mint leaves
1 tbsp toasted white sesame seeds
Instruction
– Slice fillets into 8 3-inch strips and season with salt, pepper and paprika. Cook in canola oil in a frying pan on medium heat for 1 minute each side, then set aside.
– Toss peppers and cucumbers with ginger, garlic, salt, pepper and sesame oil, then set aside.
– Organize remaining ingredients into separate piles, at the ready.
– To assemble rolls, soak one rice paper at a time in cool water until soft, then place on a cutting board.
– Have a plate of warm water available to dip your rice paper in before making each roll. Dip each sheet in until the entire surface is soaked. Remove it before it gets too soft to handle and place it on clean plate or cutting board to roll on.
– Place one fillet strip, ¼ cup vermicelli, one-eighth of pepper-cucumber mix and one-eighth of remaining ingredients in the centre of the rice paper.
– Fold both ends over the ingredients, then roll them up (be careful not to tear the rice paper wrap). Repeat with remaining rice papers and ingredients.
Note: Place a damp paper towel on top of the completed spring rolls to prevent them from drying out before serving. When ready, serve with dipping sauce.
Making dipping fish sauce
Add fish sauce to bowl then sugar and water.
Add lime or lemon juice to taste.
Top with garlic, chili and chopped cilantro (optional).
Stir and serve.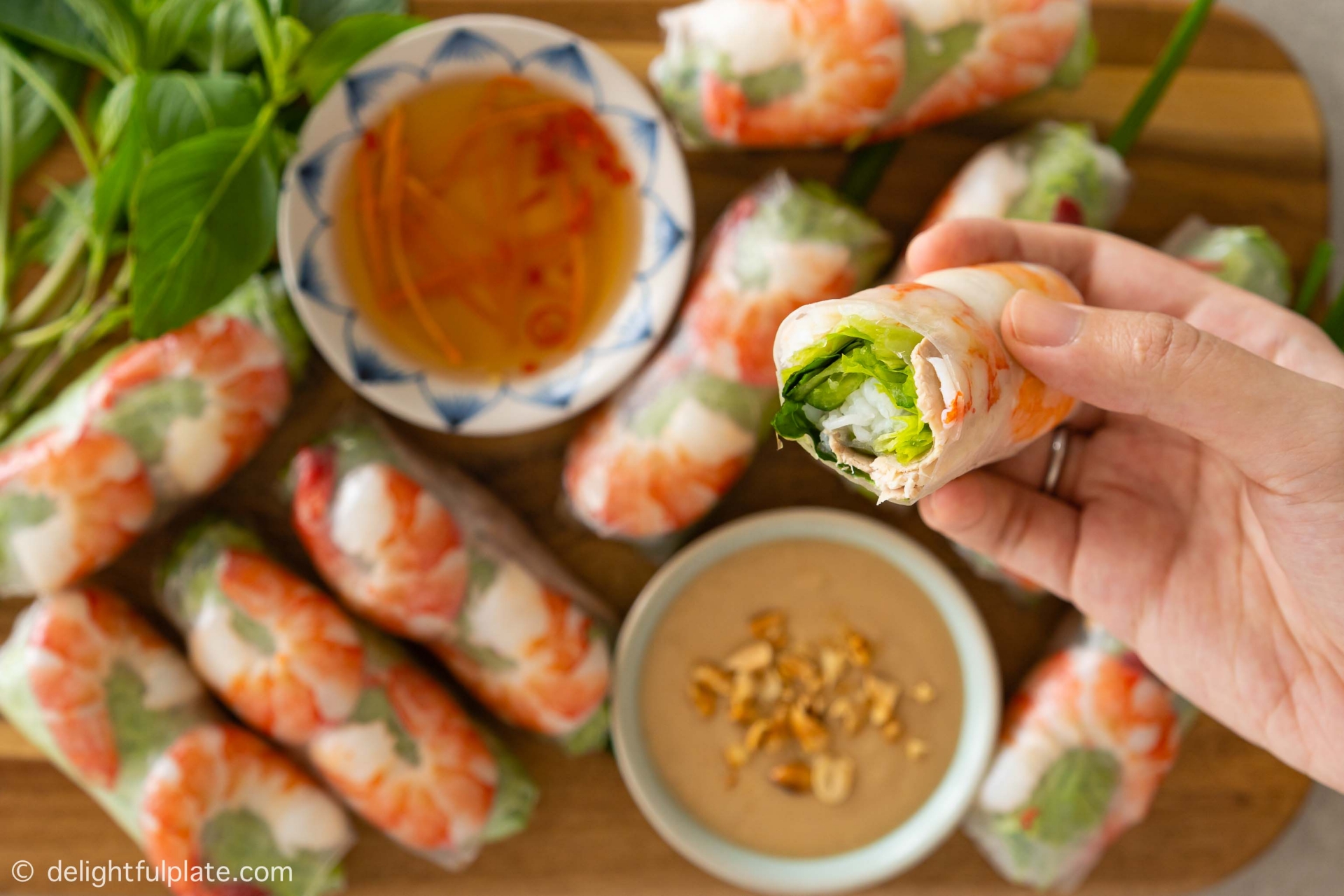 The traditional recipe with a filling of rice noodles, fresh veggies, lean meat, and shrimp. Source: delightfulplate.com
If you don't like fish. You can try the traditional recipe with a filling of rice noodles, fresh veggies, lean meat, and shrimp.
Source: foodwithzen / IG