The lanterns have not only become an iconic symbol of the Hoi An streets but also a favoured souvenir for tourists to the city.
The craft of making lanterns has been practiced for over four centuries in Hoi An. According to research from the Hoi An Centre for Relic Management and Preservation, the craft first appeared in Hoi An in the 17th century when the city was a vibrant trading point welcoming businesses from Japan, China and Europe.
The custom of using lanterns as decoration during festivals, holidays and major celebrations has long been observed by local people.
Since 1988, Hoi An city authorities have encouraged locals and management boards of temples and shrines to turn off their electricity and replace it with soft lights from the lanterns every 15th day of each lunar month, creating a unique tourist product in the city while contributing to boosting lantern production.
Millions of lanterns are made in Hoi An every year to serve domestic and export demand to Japan, Singapore, and European countries.
Hoi An is considered the cradle of authentic Vietnamese lanterns, distinguishable from those made in China, Japan and Thailand thanks for their unique manufacturing techniques and the materials used.
While lanterns made in those countries are covered with nylon and paper, making them easy to tear and go on fire; Hoi An lanterns are covered with cloth, such as flax and silk, promoting the durability and captivating colours of the products.
Hoi An craftspeople have not only exerted great efforts to preserve and promote the making of lanterna but also worked out initiatives to renovate the product to make it more marketable.
For example, Meritorious Artisan Huynh Van Ba created a foldable frame for traditional lanterns, making it easier in terms of packaging and transportation. For his part, young craftsman Vo Dinh Hoang developed his own lantern brand, Dé Lantana, and his products have met five-star standards under the One Commune One Product (OCOP) Programme of Quang Nam province.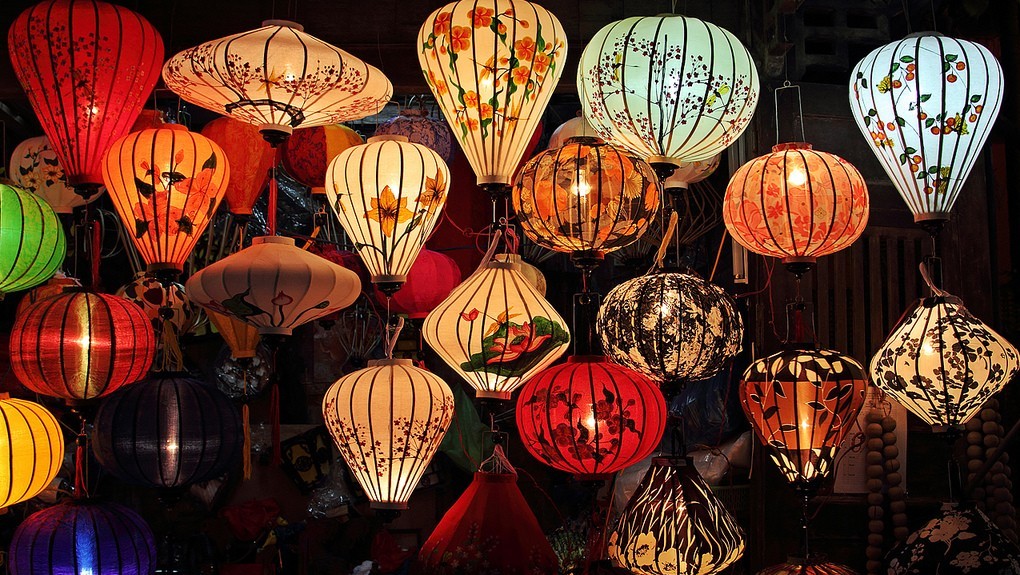 Lanterns have not only become an iconic symbol of the Hoi An streets but also a favoured souvenir for tourists to the city.
The making of a lantern involves a lot of time, skills and indulgence of craftspeople. The frame of the lantern is made from bamboo aged for least five years. The bamboo is dried, split into bars, and then soaked in water to prevent termites and finally left to dry again before being bent into a frame. The bamboo frame is then attached to two wooden rings at two ends and these are tied together using string. The frame varies in shape, with circles, octagons, hexagons, and diamonds being favourites, but also unusual designs such as dragon or fish shaped products.
Meanwhile, the making of the cover involves spreading glue and wrapping the fabric around the frame, the most difficult task fully stretching the fabric over every angle of the frame. Depending on the type of fabric, the lanterns will glitter in response to different light shade.
The price of a lantern varies from dozens to millions of Vietnamese dong, depending on the size and shape of the product.
Hoi An currently has more than 30 lantern workshops and 200 shops. Ha Linh workshop is one of the most established lantern makers in Hoi An city, where visitors can explore every step in the making process and try their hands at creating their own products.
During this lunar New Year, although the COVID-19 pandemic restricted people from travelling, Hoi An streets and houses were still illuminated with colourful lanterns.
It is believed that hanging lanterns in bright colours such as red or yellow, decorated with words and sentences such as "Happy New Year", "Prosperity", "Luck", and "Longevity" can bring about blessings and a peaceful new year.
Nhan Dan