while enjoying a tranquil and peaceful atmosphere away from the busy city.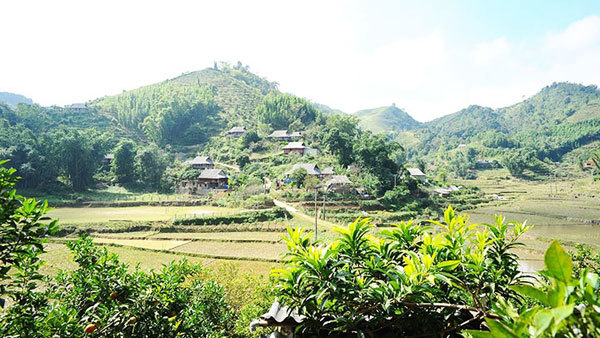 Tan Lac District in the northern province of Hoa Binh is an ideal place for those who want to enjoy a tranquil and peaceful atmosphere.
Surrounded by high mountains, Chien Hamlet in Nam Son Commune and Buoi Cai Hamlet in Phu Cuong Commune are popular community-based tourist attractions in Tan Lac district, hailed as "living museums" of the Muong ethnic people's cultural space.
Every object inside the traditional stilt houses of the locals has its own story with a strong attachment to the traditions of the family and village. These objects can include a set of Muong gongs hanging on the wall, traditional costumes for traditional festivals, and bundles of bamboo poles at the foot of the stilt house, used for jubilant bamboo pole dances.
Visitors to the houses are also introduced to the tangible and intangible cultural heritage of the Muong ethnic group, such as Mo Muong, a job and also a performance practiced at funerals, religious festivals, and life cycle rituals by the Muong ethnic community, and Chieng Muong, the gong culture of the Muong people.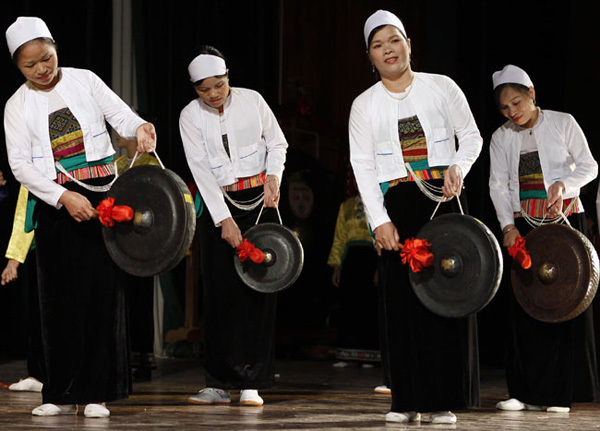 Muong ethnic women performing gongs. (Photo: VNA)
Most of the villages of the Muong people in Tan Lac are located in the valley. In the low-lying areas, local people cultivate rice and on the hills they grow fruit trees.
Visitors to Tan Lac are welcomed by the friendliness and hospitality of locals, willing to open their doors to their guests and join tourists to pick bamboo shoots in the forest and go catching fish in the streams for a delicious meal together like a family.
Notably, visitors to Tan Lac shouldn't miss the Lung Van market, held every Tuesday about a kilometer from Chien Hamlet. Lung Van Market is a popular meeting place for locals in Tan Lac District and neighboring districts to trade and host cultural exchange events.
Tourists to the market can not only experience the atmosphere of a rural market but also shop for brocade items and traditional jewelry made by the skilled hands of the Muong ethnic women.
Source: Nhan Dan