Several restaurants in the capital city of Hanoi offer this type of cuisine. Different parts of a duck will be cooked in different ways. Normally half of it will be grilled or fried, and the other half boiled. 
Pork, spices and herbs will be stuffed into the neck to make sausages, and the bones will be used to make a noodle soup.
Vit 53 on Nam Ngu Street is one such restaurant. Despite having been open for only eight years, it's one of the most popular places in the capital city offering assorted duck dishes.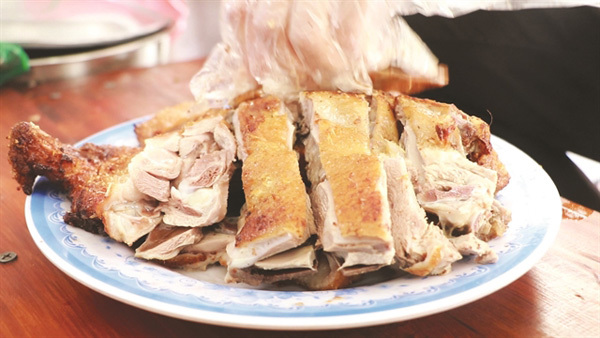 GOLDEN BROWN: Grilled duck meat has always been customers' favourite. VNS Photos Van Nguyen
"We have grilled duck, boiled duck, duck fried garlic, duck fried with salt. They are served with bamboo shoot soup and noodles or porridge," said owner Nguyen Thi Hue.
She added: "Grilled and boiled duck are the favourites of many customers. Normally for one order, we serve one dish of grilled duck, one dish of boiled duck, one bowl of bamboo shoot soup, and one bowl of fresh rice noodles. It will be easy for customers to eat."
"We specialise in grilled and boiled duck meat, which is dipped in a homemade sauce," Hue said. "We place the soup and noodles in separate bowls so customers can have them however they want. We don't combine them into bowls of noodle soup in advance like other places."
Hue has her own way of preparing the meat so it has the best flavour.
"I marinate it with lots of herbs and spices, like onions, spring onions and lemongrass. They are not really special herbs but they help the meat taste better," she said.
She grills the ducks in ovens to make sure the meat is tender.
"We use ovens so the meat won't be dry," Hue said. "If we use charcoal, the meat will be so dry. Ovens help it become more tender and juicy.
"It is also cleaner to use ovens. We are in the downtown area so we can't use charcoal, because it will create smoke and affect our neighbours."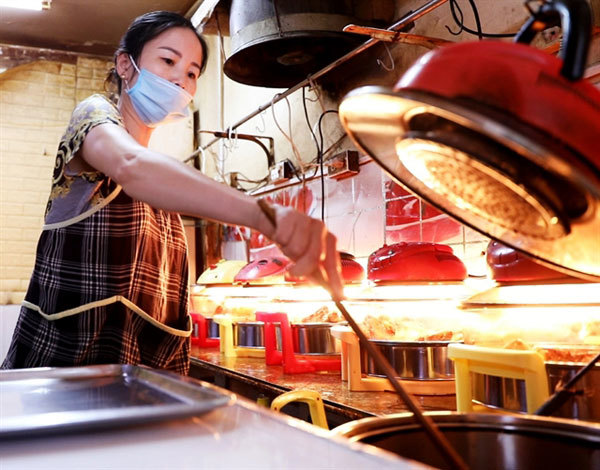 THE RIGHT HEAT: Nguyen Thi Hue uses ovens to grill ducks to make sure the meat is tender and juicy.
For some customers, the meat's texture is the most important thing.
Nguyen Hoang Long said: "I ordered duck fried with garlic, grilled duck and duck sausages. I like grilled duck the most, it has always been my favourite.
"The dipping sauce is really good and the duck meat is tender, not as dry as other places."
Nguyen Thi Huong added: "The duck meat is tender. The dipping sauce and bamboo shoot broth are also good. It's an affordable place so we come here often." 
Not only is the meat cooked to perfection, the dipping sauce – made of fish sauce, sugar, vinegar, garlic, and chilies – is also mixed so well it enhances the flavours of the meat dishes.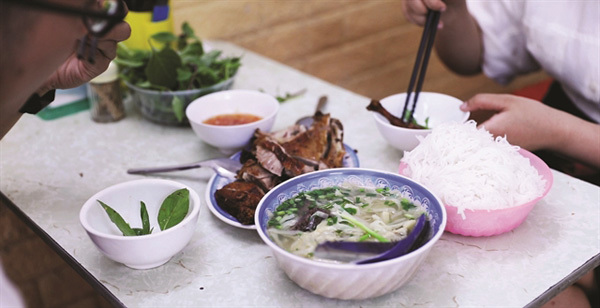 SIDE DISHES: Fresh noodles and noodle soup made from duck bones and bamboo shoots are served with the meat.
"Fish sauce with garlic is a must-have for these duck dishes. I don't know how to describe it, but the sauce has all the right flavours," Long said.
Huong added: "It's sweet, it's sour, it's not too spicy. It's not too salty either, not like in other places I've eaten. Here it tastes just right."
All the right ingredients and careful preparations make the dishes perfect duck lovers.  
VNS