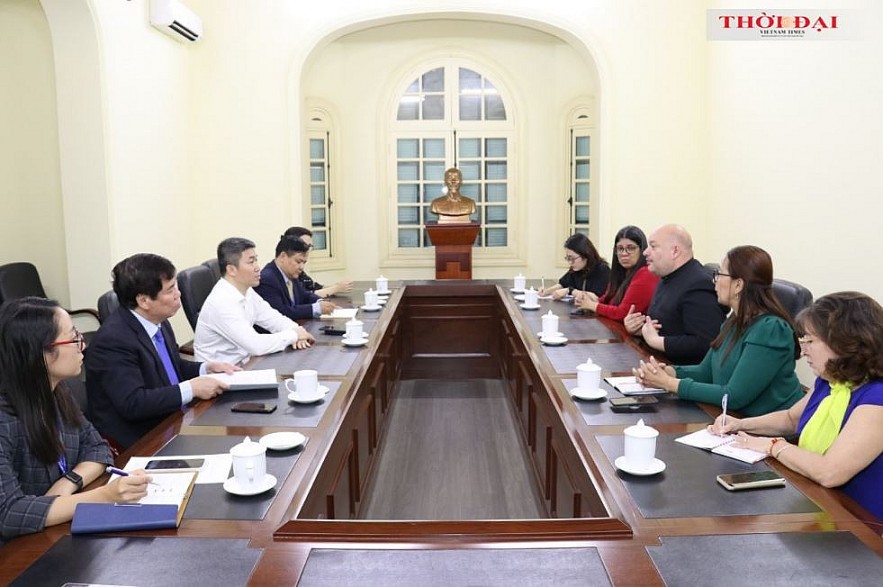 Representatives of VUFO and Simón Bolívar Institute discussed proposals for cooperation in the coming time (Photo: Thu Ha).
Phan Anh Son stated the 13th National Congress of the Vietnam Communist Party has determined to build a comprehensive and modern diplomacy with three pillars: Party diplomacy, State diplomacy, and People-to-people diplomacy. VUFO, a socio-political organization, specializes in people-to-people diplomacy in the fields of peace, solidarity, friendship, and cooperation among peoples. Like the Ministry of Foreign Affairs and the Central Commission for External Relations of the Communist Party of Vietnam, VUFO has thousands of partners worldwide, including political parties, and state-owned agencies of other countries.
Besides, VUFO is a partner of people's organizations for peace, justice, and democracy and thousands of NGOs, research institutes, universities, people, and intellectuals. It also has a Vietnam – Venezuela Friendship Association. Therefore, the Vietnam-Venezuela relations, the relations between VUFO and the Venezuelan Ministry of Foreign Affairs, the Simón Bolívar Institute have ample to strengthen cooperation.
According to Carlos Julio Ron Martínez, the Simón Bolívar Institute is similar to VUFO, as it was established to demonstrate the solidarity of Venezuela; consolidate and promote friendly relations and associate with other nations.
"Vietnam and Venezuela enjoy a special relationship. We hope that our visit to Vietnam will contribute to promoting, developing, and deepening the bilateral relations, and the friendship between the Simón Bolívar Institute and VUFO. We also hope to consult and learn from Vietnam's experiences, thereby, we can draft and sign cooperation agreements and mechanisms to bring the two countries closer together," said Carlos Julio Ron Martínez.