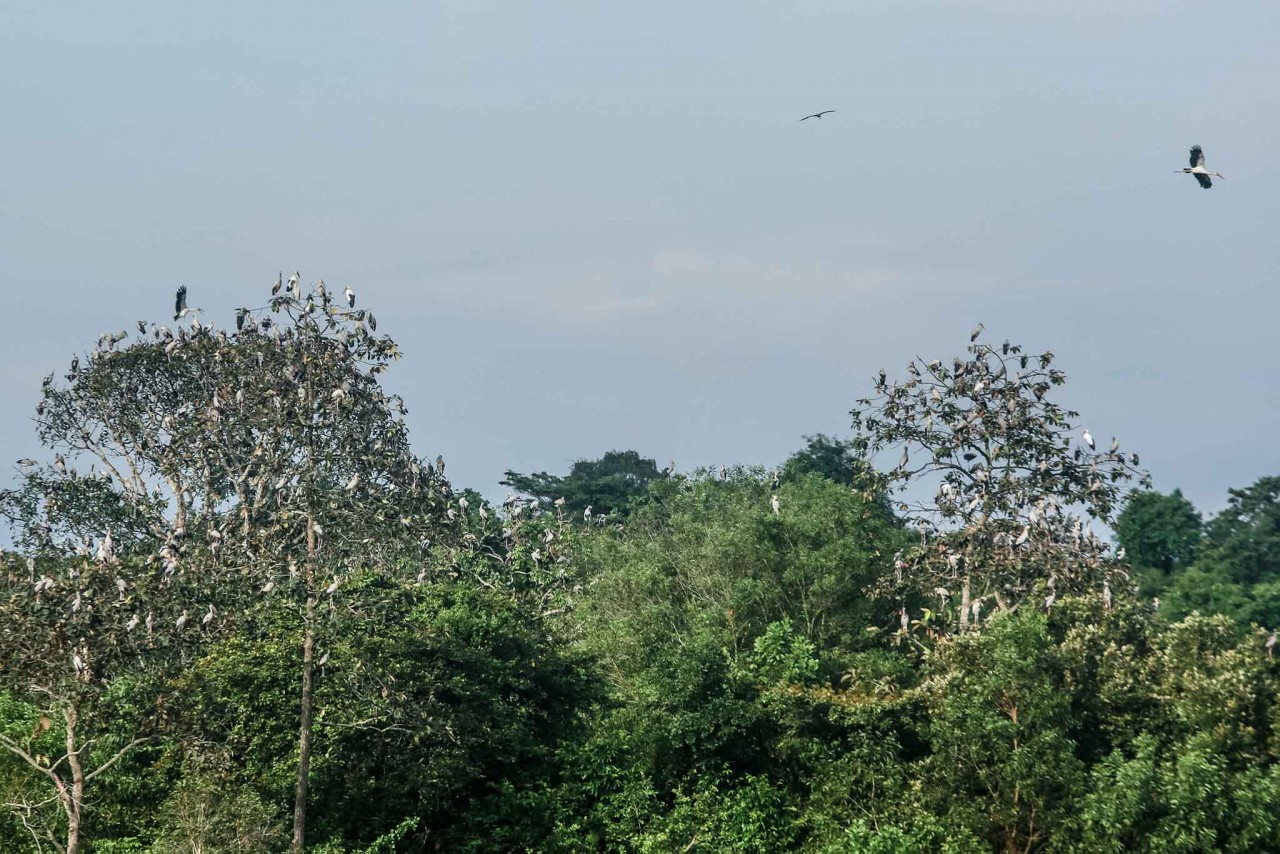 Recognised as an ASEAN Heritage Garden in October 2019, Lo Go – Xa Mat National Park has become one of 10 ASEAN Heritage Parks in the country. Photo: Nguyen Thanh Tuan
Situated around 30 kilometers to the northwest of Tay Ninh City, Lo Go – Xa Mat National Park is not only a beautiful natural area but also a sanctuary for numerous rare fauna and flora species. With a recent increase in local eco-tourism, this national park has received better protection and conservation efforts, making it an even more appealing destination for nature lovers. The park offers a unique opportunity to witness the diverse and endangered wildlife in their natural habitat. Whether it's exploring the lush vegetation or spotting elusive animals, visitors are sure to have a memorable experience at Lo Go – Xa Mat National Park.
The park boasts an impressive variety of flora and fauna, with a total of 934 different plant species. In addition, there are also 42 species of mammals, 203 bird species, and 53 reptile species that have been documented within the park's expansive 30,000-hectare area. The biodiversity of this park truly makes it a haven for nature lovers and wildlife enthusiasts.
In the heart of the Lo Go – Xa Mat National Park lies a hidden treasure – the nepenthes thorelii, commonly known as the Thorel pitcher plant. This fascinating plant species was believed to have vanished from existence for a century, only to be discovered once again by scientists. With its rediscovery, the Thorel pitcher plant has now gained the status of an endemic species, unique to this incredible national park.
The park was also lucky enough to witness a remarkable phenomenon last summer when a rare flock of over 1,000 storks made a migration to the forest. Such large flocks are not a common sight in the park and it was a delightful surprise to have them stay for an extended period of time.
The Asian openbill, scientifically known as Anatomus oscitans, is an endangered species facing a high threat of extinction according to Vietnam's Red Data Book.
The national park has requested its forest protection team to increase surveillance and take all possible measures to keep the birds safe. For tourists who want to see the storks up close, the team will guide them to the park from a distance, move in small groups, and ensure they do not make any noise.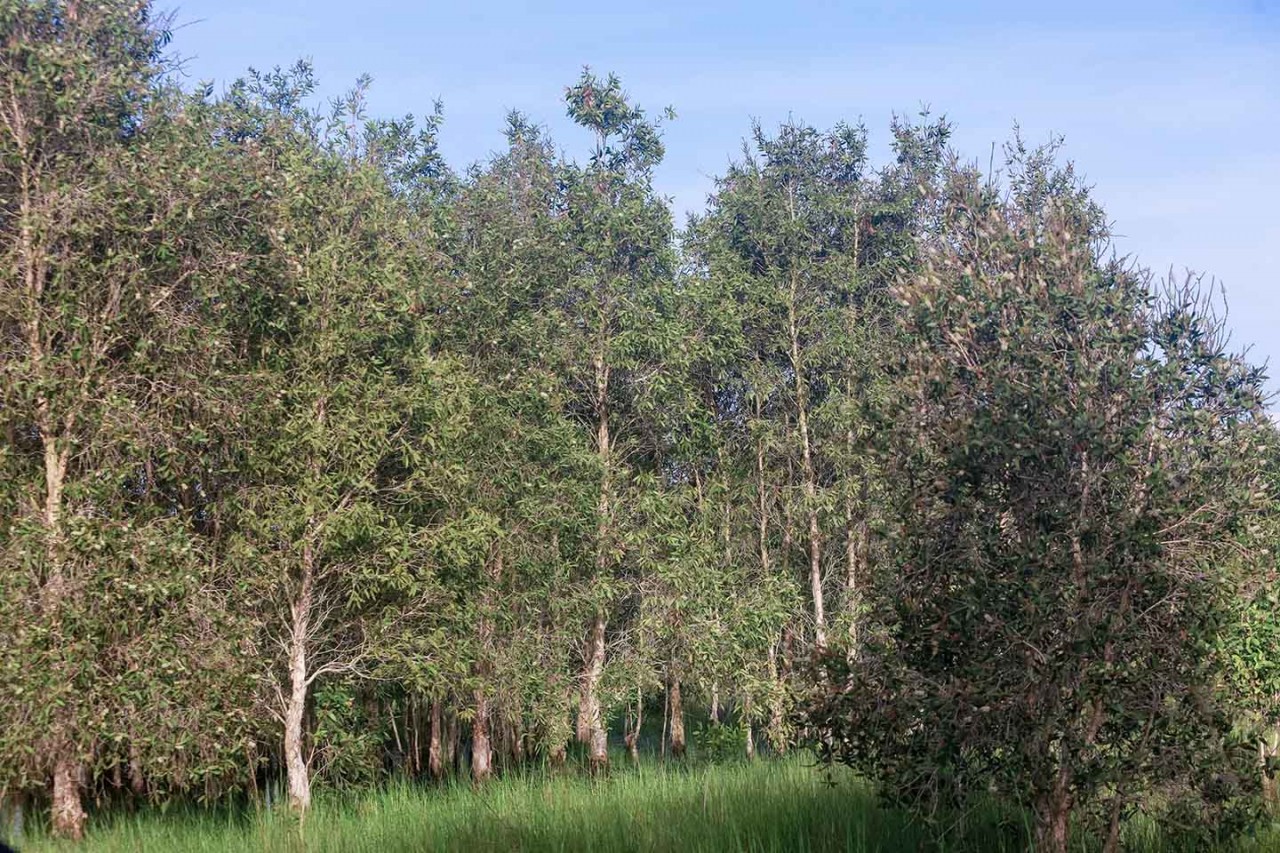 Lo Go – Xa Mat National Park has a strictly protected area of more than 8,198ha. Photo: Nguyen Thanh Tuan
To ensure the protection of this rare flock of storks, the park's management board has implemented strict monitoring measures. They have organized regular patrols and provided guidance to minimize noise and other negative impacts on the birds. According to Pham Xuan Thanh, director of the park's Centre for Education and Forest Environment Services, these efforts aim to create a conducive environment for the storks and preserve their habitat.
The Asian openbills have been spotted in Lo Go – Xa Mat since around the end of May and they normally remain here for no more than a month.
Several other rare animals residing in Lo Go – Xa Mat National Park include the black-shanked douc langur, the Indochinese silver langur, the sun bear, the red wolf, and the small loris, as well as the stump-tailed macaque, the lesser adjutant, the grey-cheeked tit-babbler, among others. The park is home to a diverse range of wildlife species, making it a significant conservation area.
The park's Department of Conservation Science and International Cooperation not only focuses on wildlife rescue but also takes care of several pheasants and Indian peafowls for research and educational purposes.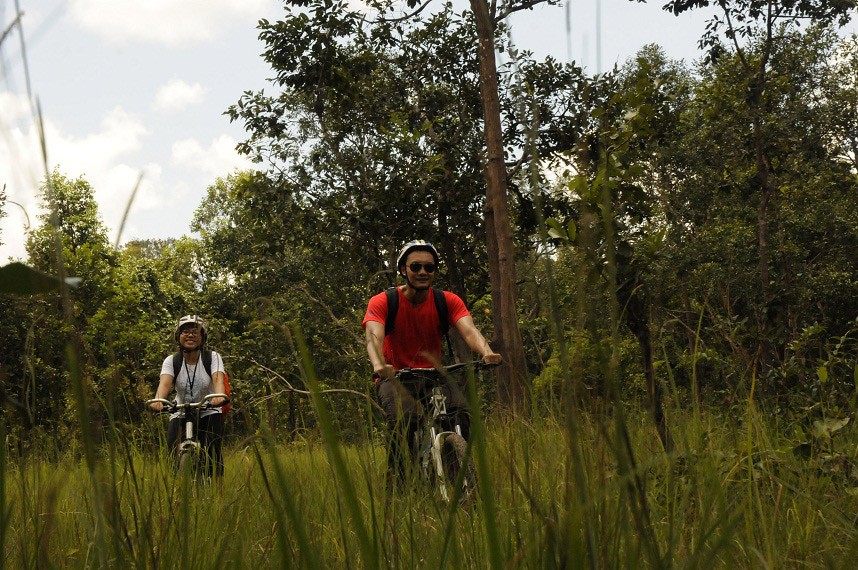 Visitors can walk or ride a bicycle through the forest – the route length is 24km. Photo: Portal of Lo Go – Xa Mat National Park
Thanh told Nong nghiep (Agriculture) newspaper that the conservation efforts at Lo Go – Xa Mat not only focus on protecting the existing species, but also on rescuing wildlife, providing them with care, and eventually releasing them back into the wild.
The national park is a destination that provides visitors with a plethora of activities and attractions. It is renowned for its stunning forest habitats, where visitors can embark on sightseeing adventures. These habitats are home to a diverse range of flora and fauna, making it a unique and captivating experience for nature enthusiasts.
For those seeking a more active experience, the park also offers a 24km cycling route through the woods. Cycling enthusiasts can immerse themselves in the beauty of the surroundings while enjoying the thrill of a challenging ride. The scenic views and fresh air provide the perfect backdrop for an exhilarating adventure.
Another notable point of interest in the park is the wartime Central Office for South Vietnam, which was once based in the forest area. History enthusiasts can delve into the past and learn about this significant location. With its rich historical background, the park offers a unique opportunity to gain insights into Vietnam's wartime history.
In conclusion, the national park is a treasure trove of activities and attractions for visitors. From sightseeing in the signature forest habitats to cycling through the woods and exploring historical landmarks, there is something for everyone. Whether you are a nature lover, adventure seeker, or history enthusiast, this park is a must-visit destination.
Thuy, one of the 30 individuals in the group exploring Lo Go – Xa Mat, expressed, "Life is constantly busy and chaotic, so being in the midst of the forest brings us peace and allows us to connect with the natural world."
After completing a 10km walk in the national park, Bich Hong is still brimming with energy and enthusiasm from the experience.
"I was amazed by my first visit to Lo Go – Xa Mat National Park. It is a remarkable eco-tourism destination that truly preserves its natural beauty. I sincerely hope that the dedicated staff at the park will continue to uphold and protect these invaluable natural characteristics," she enthusiastically shared.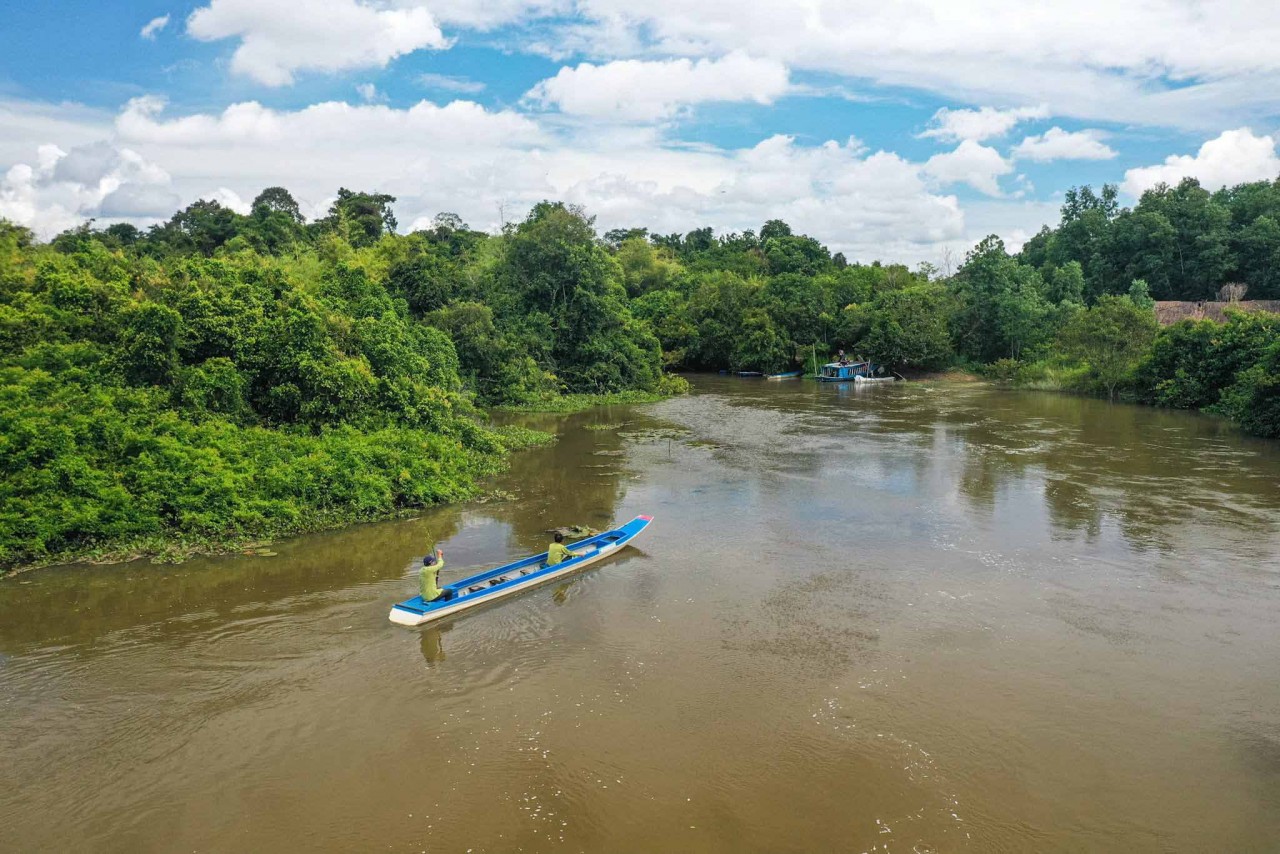 Photo: Portal of Lo Go – Xa Mat National Park
According to Au Phuoc Quy, chief of the local forest rangers, the national park is being better protected as a result of tourism activities.
"Forest rangers are always on patrol even without eco-tourism. However, the daily presence of dozens of visitors not only discourages potential criminals but also helps detect wrongdoings, in addition to the law enforcers," he said.
Since the locality boosted tourism to the national park in 2016, forest violations have witnessed a significant decrease and are not as alarming as in the past.
The efforts of the locality to promote tourism to the national park in 2016 have led to a notable reduction in forest violations. The situation is now much less concerning compared to previous years.
The People's Committee of Tay Ninh province has also approved two projects on eco-tourism and on developing the buffer zone of Lo Go – Xa Mat National Park in the 2023-30 period. These projects aim to enhance the tourism potential of the region and protect the natural habitat of the national park. With these initiatives, Tay Ninh province hopes to attract more visitors and promote sustainable development in the area.
The aim is to optimize investment and maximize the tourism potential of the area, all while carefully maintaining its natural beauty and ecological balance.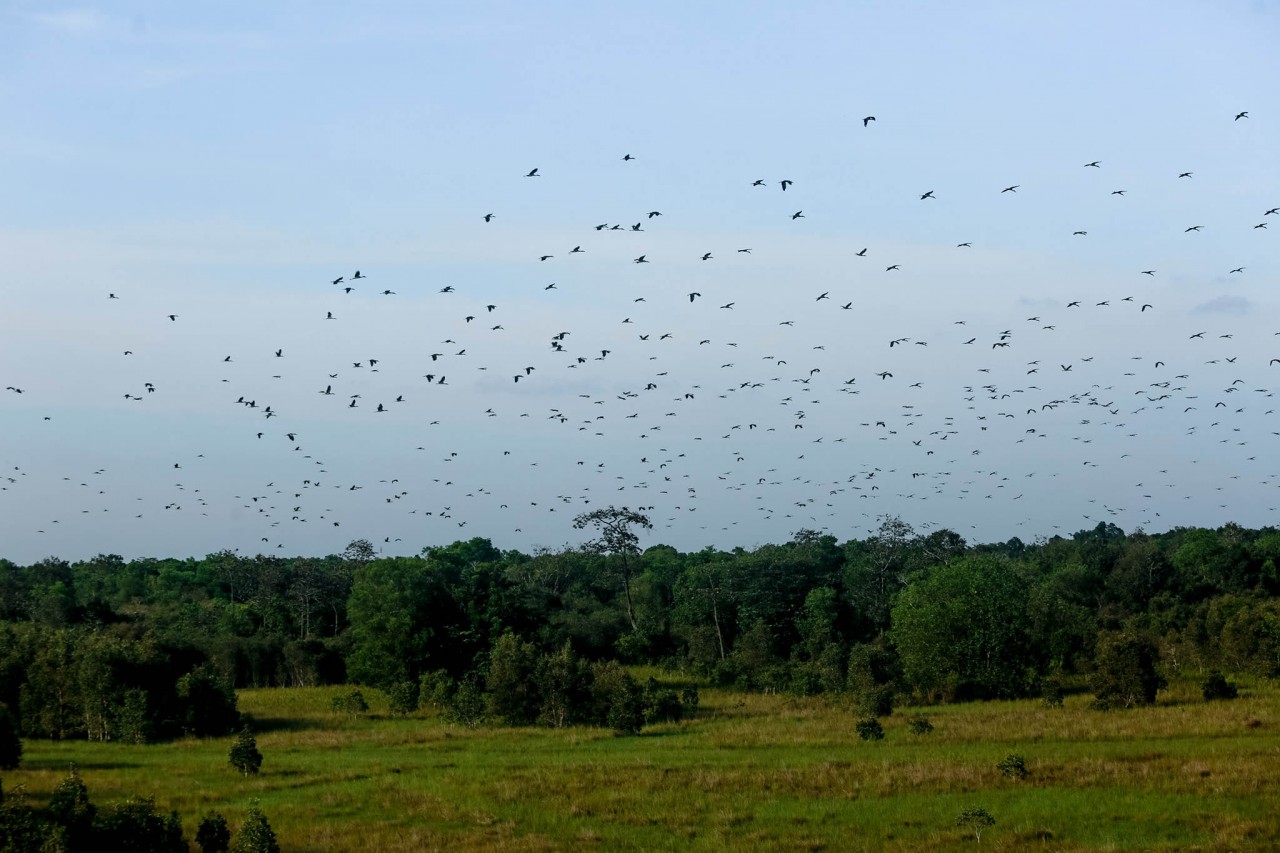 More than 1,000 Asian openbills, an endangered species in Vietnam, are gathering at a savanna called Ta Not inside the Lo Go – Xa Mat National Park in the southeastern province of Tay Ninh. Photo: Portal of Lo Go – Xa Mat National Park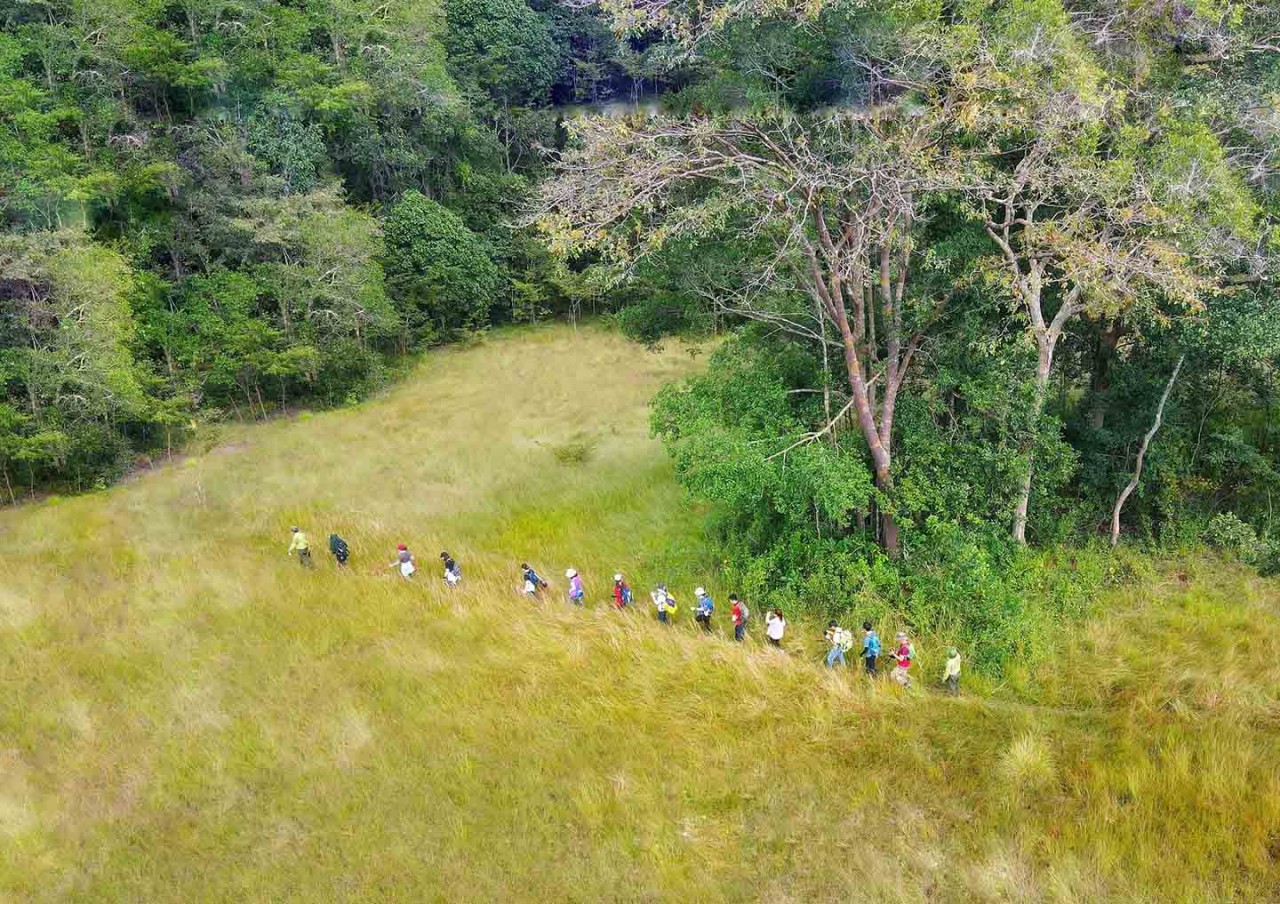 Photo: Portal of Lo Go – Xa Mat National Park
Bordering Cambodia to the north and the west, this immense national park extends over more than 30,000 hectares. It encompasses the communes of Tan Lap, Tan Binh, Hoa Hiep, Thanh Tay, Thanh Bac, and Thanh Binh in Tan Bien district, making it an expansive natural sanctuary.
The forest holds great historical value as it was once the stronghold of the resistance movement during the wars against French and American invaders. It served as the headquarters of the revolution in the southern region and housed important sites like the Central Office for South Vietnam and an extensive tunnel network.
Lo Go – Xa Mat National Park is anticipating a significant increase in visitor numbers in the coming years. By 2023, the park hopes to attract around 40,000 visitors annually, which is projected to generate approximately VND 52 billion (USD 2.2 million) in annual revenue. This growth is a promising sign for the park's future and its ability to contribute positively to the local economy.
Located in the southern key economic region with a 240km-long border with Cambodia, Tay Ninh is strategically positioned for trade and transportation opportunities. With 16 border gates, including the international border gates of Moc Bai and Xa Mat, Tay Ninh plays a crucial role in connecting Ho Chi Minh City with Cambodia's capital, Phnom Penh. These border gates facilitate the movement of goods and people, promoting economic growth and cultural exchange between the two countries.
Tay Ninh is situated along the Trans-Asia route, a vital lifeline for organizing tours between Vietnam and ASEAN countries. Its strategic location makes it an essential stopover for travelers exploring the region. With its rich cultural heritage and stunning natural landscapes, Tay Ninh offers a unique blend of experiences for visitors. Whether you're interested in exploring historical sites, indulging in local cuisine, or immersing yourself in the vibrant local culture, Tay Ninh has something for everyone. Don't miss the opportunity to discover this hidden gem on your next trip to Vietnam.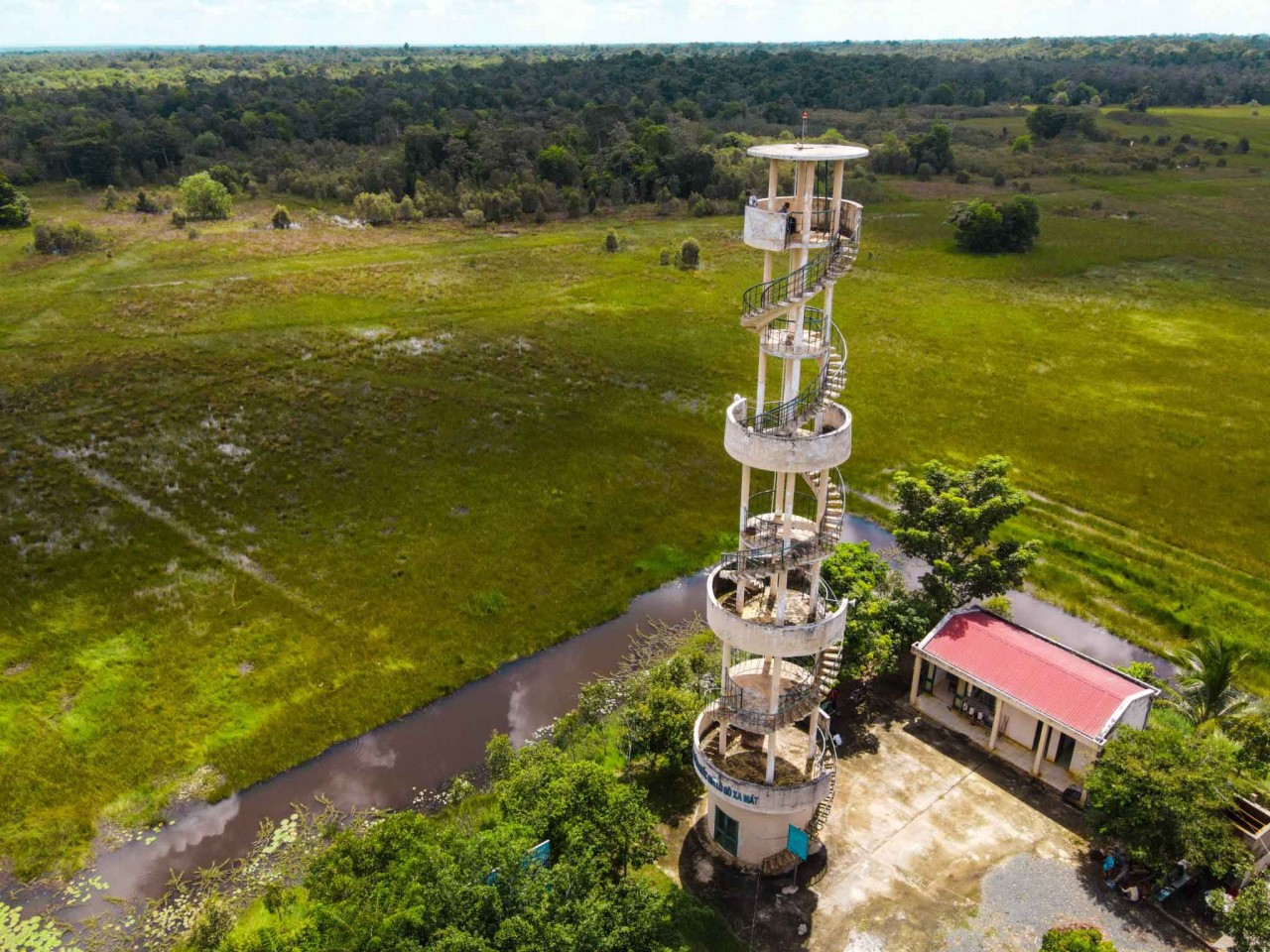 An observation tower to spot fires at the Lo Go-Xa Mat National Park in the southern province of Tay Ninh. Photo: Nguyen Thanh Tuan
For the sustainable development of tourism in this border region, it is crucial for the tourism industry to develop in a synchronized manner and effectively capitalize on "return to the source" tours. This can be achieved through the connection and utilization of various historical sites and landmarks such as the Central Base of the Southern Department, Tay Ninh Provincial Party Committee Base at Boi Loi, An Thoi Tunnels, Kim Quang Cave Base, the Junction City Victory historical relic site, Loi Thuan tunnel, and Hiep Ninh communal house. By linking these attractions, tourists will have the opportunity to immerse themselves in the rich history and cultural heritage of the region. This will not only enhance the overall tourist experience but also contribute to the sustainable development of tourism in the area.
The province's tourism industry is constantly evolving, with a focus on eco-tourism and historical and cultural tourism. One of the main attractions in the area is the Lo Go – Xa Mat ASEAN Heritage Park, which offers visitors a unique experience. The province is also looking to highlight its strengths by offering trips along the Vam Co Dong river, which can be combined with the traditional Lam Thon dance exchange of the Khmer ethnic people. This combination of natural beauty and cultural experiences is sure to appeal to tourists looking for an immersive and authentic experience. To further enhance the visitor experience, the province is encouraging accommodation businesses to invest in and upgrade their facilities and services, ensuring that tourists have everything they need for a comfortable and enjoyable stay.