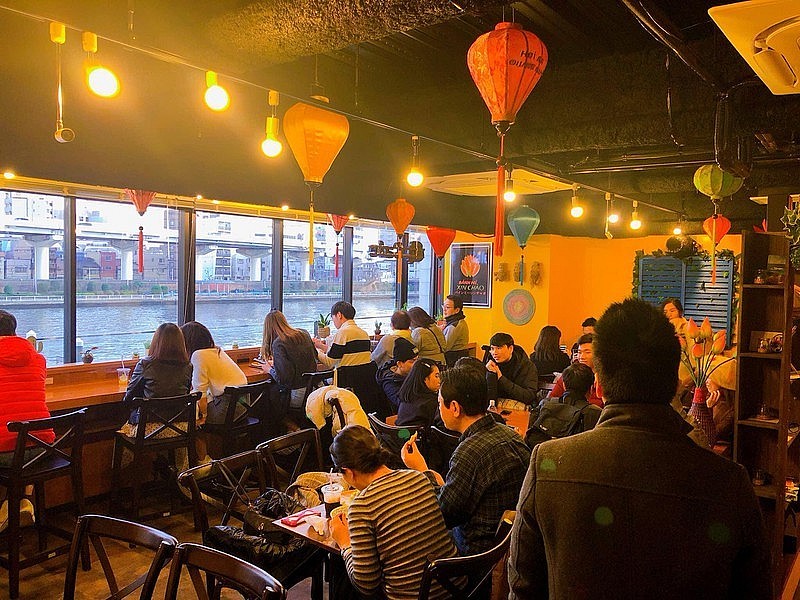 Crowded diners at Banh Mi Xin Chao in Japan. Photo: FBNV
Banh Mi Xin Chao is a brand of two brothers, Bui Thanh Duy (37 years old) and Bui Thanh Tam (32 years old) in Japan after many efforts and concerns. Tam and Duy are international students who have lived, studied and worked in Japan for many years.
When they had to queue in Tokyo to buy a Turkish Doner Kebab, they had the idea to bring Vietnamese street food to start a business in Japan. It is also a way to promote the country's culture to the world.
Starting a startup project, they faced many difficulties. They have to raise capital from their families and from the contributions of the Vietnamese community in Japan; must find a local guarantor, find a factory to produce Vietnamese-style bread, find a place to open a shop, meet the strict quality standards of the Japanese.
In October 2016, a small shop called Banh Mi Xin Chao opened on Waseda Dori Street. The shop chose the name Xin Chao (Hello), a simple phrase that any foreigner who wants to learn about Vietnamese language or culture will think of. The version of bread here is learned from Phuong bread (Hoi An), also includes sauce, butter, pate, char siu, but slightly adjusted to make the final recipe.
After 4 months of opening, the shop sells about 200 loaves of bread per day, the average selling price is about VND100,000 (US$4.24)/loaf.
Up to now, the Banh Mi Xin Chao system has 15 points of sale, serving about 1,800 meals per day with a variety of traditional Vietnamese breads such as banh mi cha, banh mi with fried egg.
It is expected that in the coming time, Banh Mi Xin Chao will promote franchising and find partners to bring Vietnamese bread not only throughout Japan but also to many other countries.
According to Bui Thanh Tam, co-founder of Banh Mi Xin Chao, starting a business is never an easy matter in an aging, fastidious country like Japan. Therefore, when starting a project, it is necessary to make a clear plan, understand the market, customer tastes, development potential, legality and a companion.
"The rest is effort, passion, strong belief in what I have chosen and constantly learn, believe that I will soon succeed," he said.
HSC STATION, an import-export enterprise based in Fukuoka city, southern Japan, also started as a retail store in Hakozaki neighborhood, Higashi district, Fukuoka city.
Since its inception in November 2017, HSC STATION has had 2 more retail points, 1 online store, 2 warehouses with an area of ​​over 500m2, providing goods for nearly 1,000 partners who are stores, grocery stores of Vietnamese, Chinese and indigenous people all over Japan.
HSC STATION also opened a new form of franchising to support Vietnamese young people who intend to establish a business and settle in Japan for a long time.

An HSC STATION store in Fukkodai. Photo: VOV
Pham Thanh Hoang, a founding member of HSC STATION, said that in the early days, the store sold few items, the catalog was poor and the goods were displayed in a 60 square meter store.
After that, they make constant efforts, to add more products, increase service quality, and improve customer experience.
From the end of 2021, HSC STATION boldly invests in Asia no eki brand, opening the largest Asian supermarket in Japan with nearly 1,000 product codes of Vietnam, China, Korea, Japan, and Thailand to target international and local customers. This segment has always belonged to Asian supermarkets of local giants such as Kaldi, and Gyomu, Asia no eki now has 2 branches in Fukuoka.
For a market known as fastidious with high standards like Japan, bringing Vietnamese goods in is not an easy thing.
However, HSC STATION and HSC Investment Corp have always cooperated with Vietnamese enterprises through the form of OEM, undergoing many stages of research and development to produce products that ensure Japanese standards but still retain Vietnamese flavor. They have successfully imported many Vietnamese brands into Japan, including Tinh Nguyen rice paper, green beans, and plastic bags.