With the support of the Vietnam Trade Office in the UK, the products of 12 Vietnamese brands were displayed at Balmoral Show 2023. It is the largest annual agri-food fair in Northern Ireland, taking place from May 10-13 at Balmoral Park, Lisburn city.
The opening ceremony of Balmoral Show 2023 was attended by Vietnamese Ambassador to the UK Nguyen Hoang Long and representatives of the Northern Ireland Department of Agriculture, Environment and Rural Affairs (DAERA).
Balmoral Show is a traditional fair, beginning 154 years ago. This year's fair includes many types of goods and services, from local agricultural specialties and animal feed to technology, machinery, and agricultural raw materials.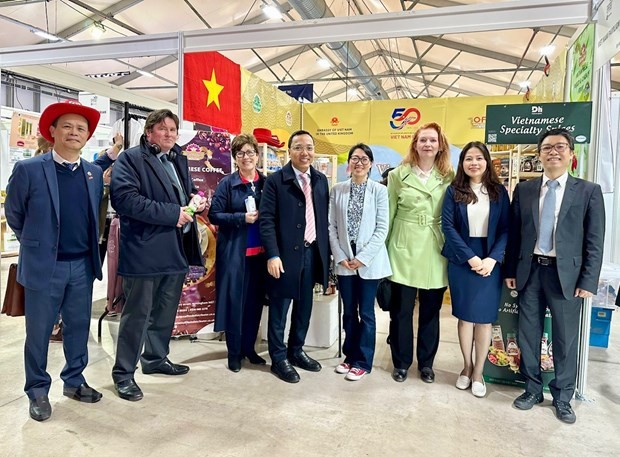 Ambassador Nguyen Hoang Long and DAERA officials visited the Vietnam pavilion. (Photo: VNA)
The fair also contains a food court, shopping and entertainment area, traditional contests and local agricultural promotion activities. This is not only a destination for agricultural businesses and organizations, but also attracts hundreds of thousands of tourists to visit, shop, enjoy food and entertain.
The Vietnamese pavilion displays products of many agricultural and food brands such as Ong Cua ST25 rice, Huong Sen rice, Huong Sen vermicelli, pho and rice paper, Vinh Thuan powder; Huong Sen Vegan spring rolls, dried fruits, seafood, Seahorse King frozen vegetables (Hainan International company), Saigon Lager beer (Sabeco company), Golden Roast HaiFong 3-in-1 coffee, L'amant coffee (Vinh Hiep company), coconut water, aloe vera juice (Thabico Tien Giang Food Industry JSC); Hon Me Hau Loc shrimp paste (Thien Hong company).
According to Commercial Counselor of Vietnam Trade Office in the UK Nguyen Canh Cuong, with more than 100,000 visitors, Balmoral Show 2023 is a great opportunity for Vietnamese businesses to promote the agricultural goods and agricultural industry to Northern Ireland distributors and consumers.
This is also an opportunity for Vietnamese businesses to understand the food and beverage consumption tastes of the emerging market of Northern Ireland and connect with potential customers.
Cuong also referred to the participation of Vietnamese businesses at the UK's largest Food and Beverage Fair in Birmingham at the end of April, which is said to increase the presence of many Vietnamese products in Northern Ireland and throughout the UK.
He added that many Vietnamese people living, studying and working in Northern Ireland and the Republic of Ireland are very happy to see the image of their homeland through the products displayed at the fair. They expected that Vietnamese brands with high quality products will gradually conquer local distributors and consumers.
Officials from DAERA and the Northern Ireland Regional Government Office, representatives of many large businesses in the region and visitors enjoyed and praised Vietnamese specialties displayed at the fair.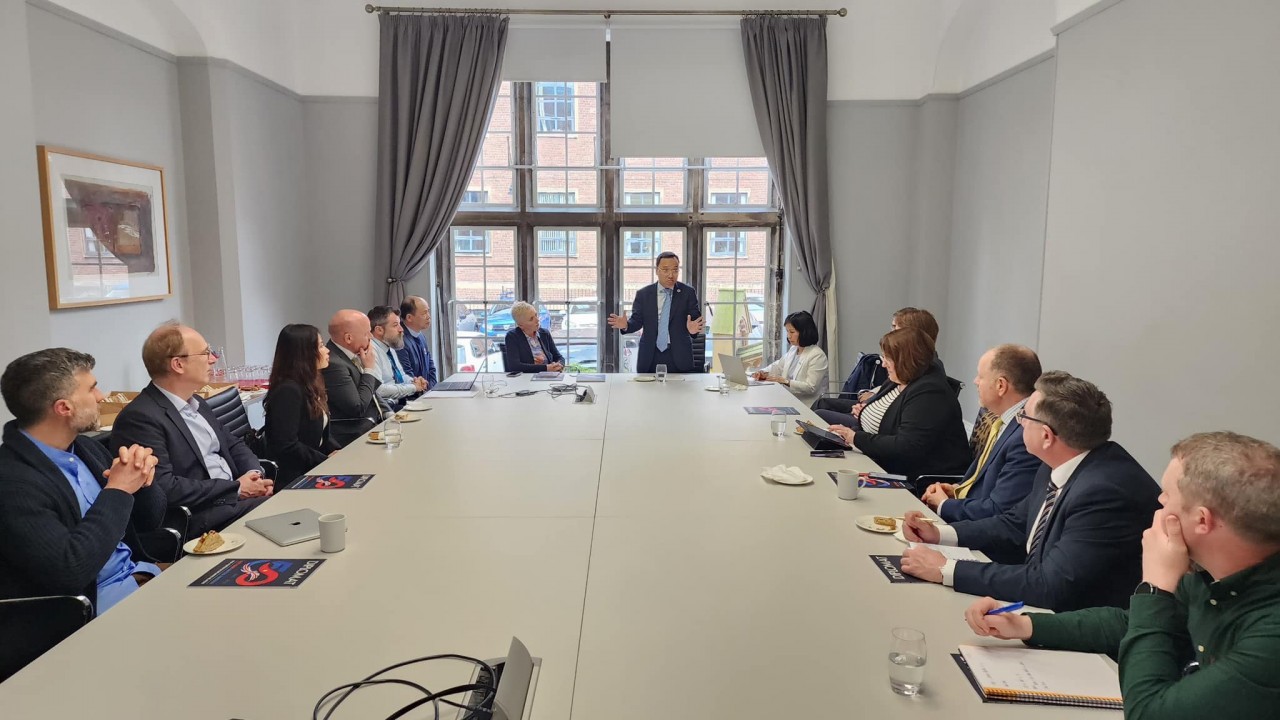 The meeting about cooperation prospects between Vietnam – North Ireland. (Photo: Ambassador Nguyen Hoang Long)
A meeting was also held for discussion about prospects for cooperation between Vietnam and Northern Ireland, including trade promotion in agricultural products and food with items that are strengths of the two sides, promoting green growth and application of advanced biotechnology in agriculture.
Both sides also discussed a plan to send and receive a Northern Ireland trade delegation to Vietnam by the end of this year.