Vietnam News Today (Feb. 1) notable headlines
Vietnam, Russia celebrate 73 years of bilateral diplomacy
Tourism sector serves 13 million domestic ​tourists in January
Hanoi and Ho Chi Minh City among safest cities in Southeast Asia
Vietnam forecast to become second-largest economy in Southeast Asia by 2036
Visa policy change needed to further attract foreign visitors: tourism authority
African swine fever vaccine to be circulated nationwide from February
Vietnam attracts 1.69 billion USD in foreign investment in January
Vietnam to attend ASEAN Tourism Forum 2023 in Indonesia
Border trade up in Lao Cai province
Chairman of the Foreign Affairs Committee of St. Petersburg City Evgeny Grigoriev delivers a speech at the event. Photo: VNA
Vietnam, Russia celebrate 73 years of bilateral diplomacy
The Foreign Affairs Committee of St. Petersburg physically and virtually held a meeting on January 30 to celebrate the 73rd anniversary of the establishment of the Russia-Vietnam relations.
Addressing the function, Vietnamese Ambassador to Russia Dang Minh Khoi affirmed that the Vietnam-Russia relationship has stood the test of time to develop positively over the past 73 years. Despite global political and economic changes in 2022, he said bilateral cooperation was strengthened in various key fields.
According to the ambassador, 2023 marks 100 years of Vietnamese president Ho Chi Minh's arrival in St. Petersburg seeking ways for national salvation. The administration of St. Petersburg and Vietnamese authorities will erect a statue of President Ho in the city – a new symbol of the relationship between the two countries and two peoples.
In his remarks, Russian Ambassador to Vietnam Gennady Bezdetko noted Vietnam is always one of Russia's closest and most reliable partners in the Asia-Pacific region. Despite sanctions imposed on Russia by the west, bilateral cooperation in key fields has been maintained, and Vietnam remains Russia's largest trading partner in ASEAN. Agreements reached through meetings and negotiations have created the prerequisite for the two countries to strengthen their comprehensive strategic partnership.
Meanwhile, Evgeny Grigoriev, chairman of the Foreign Affairs Committee of St. Petersburg, said the meeting is part of the committee's project to mark the 100th anniversary of President Ho's arrival in Russia, and there will be many events to be organized by the city administration to mark the event.
He revealed both sides are making every effort to ensure the statue of President Ho Chi Minh will be inaugurated in June.
Vietnam and the former Soviet Union, now the Federation of Russia, established diplomatic ties on January 1, 1950, cited VOV.
Vietnam is currently Russia's largest trading partner among ASEAN countries, accounting for one-third of Russia's trade exchanges with Southeast Asian countries.
The import-export turnover between Vietnam and Russia in 2021 reached US$7.14 billion, up 25.9% compared to 2020 and ranked 21st among the main trading partners of the Russian Federation.
During meetings between the two countries' leaders and officials, the Vietnamese side affirmed Vietnam attaches importance to the comprehensive strategic partnership with Russia. Meanwhile, the Russian side maintained Vietnam is an important and priority partner in its foreign policy in Southeast Asia.
Tourism sector serves 13 million domestic ​tourists in January
The Vietnamese tourism industry served 13 million domestic tourists in January, according to the Vietnam National Administration of Tourism under the Ministry of Culture, Sports and Tourism.
Total revenue from tourists during the month was estimated at 46 trillion VND (1.96 billion USD).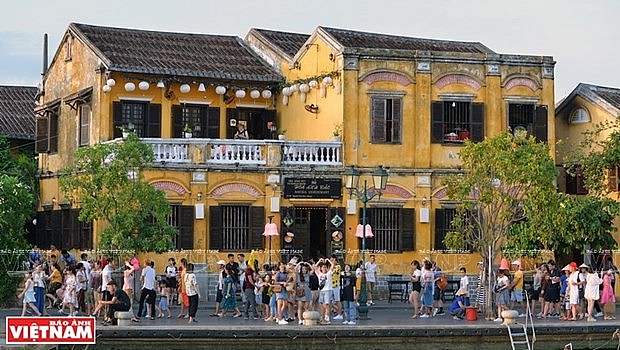 Tourism sector serves 13 million domestic tourists in January (Photo: VNA)
During the seven-day Lunar New Year (Tet) holiday that lasted from January 20-26, the country was estimated to serve 9 million domestic visitors, an increase of about 47.5% compared to the 2022 Tet, with an estimated revenue of 17.5 trillion VND.
The local tourism sector targets 110 million tourists this year, including 8 million foreign visitors and 102 million domestic holiday-makers; and earn some 650 trillion VND from the non-smoke industry, according to VNA.
In 2022, Vietnam recorded around 101.3 million domestic tourists, exceeding the yearly plan by 68.3% . The tourism sector booked some 495 trillion VND (21.1 billion USD) in revenue, 23% higher than the target, thanks to the whopping number of domestic tourists.
Hanoi and Ho Chi Minh City among safest cities in Southeast Asia
Hanoi and Ho Chi Minh City have both been included in a list of the safest cities in Southeast Asia, as compiled by statistics site Numbeo.
The rankings see Hanoi placed in fifth, while Ho Chi Minh City was in 14th position.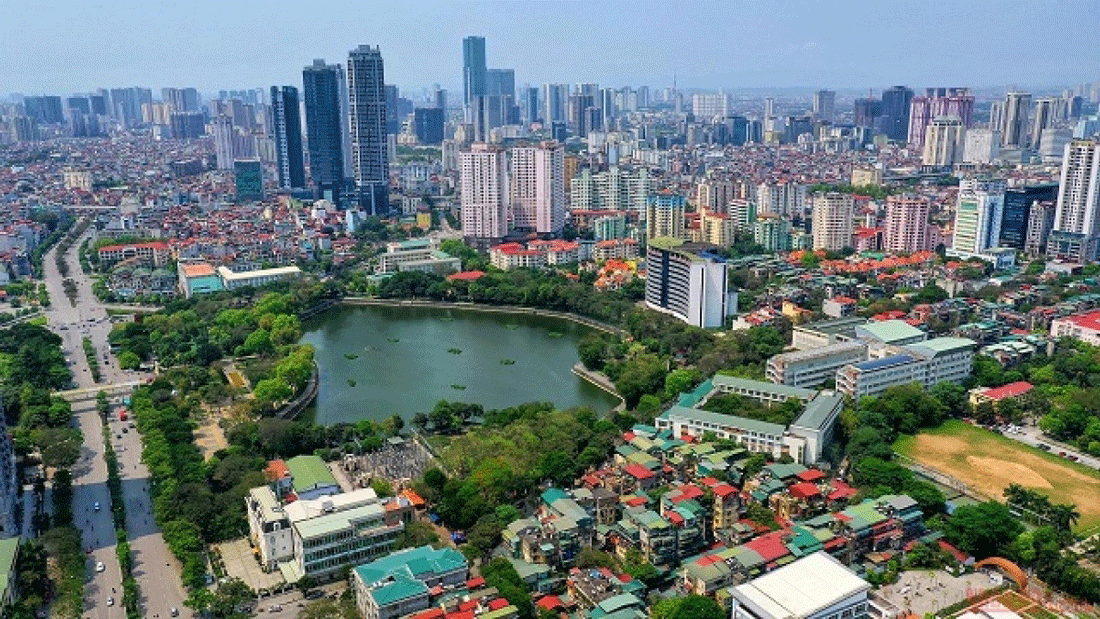 Hanoi in a list of the safest cities in Southeast Asia (Photo: Le Viet)
According to the latest report issued by Numbeo, Hanoi's safety index stands at 62, ranking 145th worldwide.
Elsewhere, Chiang Mai City in Thailand can be considered as the safest city in Southeast Asia with 75.5 points, followed by Davao in the Philippines with 72.4 points and Singapore City with 70.8 points.
Globally, Abu Dhabi in the United Arab Emirates took the lead with 88.8 points, followed by Doha in Qatar with 85.5 points, and Taipei in Taiwan China) with 84.9 points.
The site defined safety as "safety walking alone in daylight" and "safety walking alone at night", reported VOV.
Numbeo specialises in assessing the overall quality of life in cities worldwide, including ranking them on safety.
It calls itself the world's largest database providing rankings in housing, crime, healthcare, traffic, and cost of living in hundreds of cities globally.
Vietnam forecast to become second-largest economy in Southeast Asia by 2036
2023 is predicted to be the year of many challenges for the Vietnamese economy due to the gloomy outlook of the global economy and multiple crises.
However, with many positive signals and prepared efforts in advance, Vietnam's economy is still expected to maintain a good growth momentum compared to other economies in the region and the world. The international press has had many remarkable articles related to this topic.
According to Forbes, Vietnam can be the most interesting macroeconomic and investment story in 2023.
Besides, the recently released World Bank's Global Economic Prospects Report said that 2023 was the second year the global economy has suffered severe decline, predicted to grow at only 1.7 percent.
In that context, Vietnam is forecasted to grow at 6.3 percent, becoming the second fastest-growing economy in the region. At the same time, it is recommended that Viet Nam should proactively respond to immediate challenges.
World Bank (WB) Lead Country Economist and Program Leader for Equitable Growth, Finance and Institutions in Vietnam Andrea Coppola suggested that the State Bank of Vietnam should consider operating the exchange rate more flexibly to deal with the pressure of the exchange rate.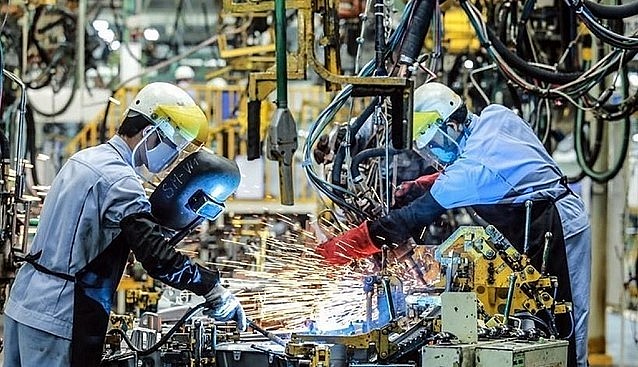 Photo: VNN
If this leads to increased inflation, the central bank may consider using the reference interest rate tool. In the medium term, Vietnam can modernize its monetary policy by promoting a gradual transition to an inflation-targeting mechanism.
According to The Star, although Vietnam's economy is forecasted to face headwinds in 2023, there are still bright spots for hope.
Several factors motivate the economy to grow, such as the reopening of China, helping Vietnam boost exports and develop tourism. Additionally, Vietnam has stepped up public investment and domestic consumption to offset the drop in exports.
Most importantly, in the context of many challenges, Vietnam is still an attractive destination for foreign investment.
The Vietnam Briefing page and the STAT Trade Times page give reasons why Vietnam can become Asia's next industrial hotspot, such as competitive advantages in terms of young and skilled workers, an open FDI environment, and expansion of trade with many countries.
Visa policy change needed to further attract foreign visitors: tourism authority
A key for Vietnam to attract more foreign tourists at this time is to change its visa policy, said Chris Farewell, a member of the Tourism Advisory Board (TAB).
Chris said that expanding the list of eligible visa waivers with a maximum stay of up to 30-45 days will be a big drive for foreigners who are planning a trip to Vietnam.
TAB also proposed that e-visa should be expanded to all countries and domain name changed so that foreigners can recognise and find more easily when surfing the internet, he said.
While Thailand offers visa exemption to citizens from 65 countries and territories with a stay of 30-45 days or even up to 90 days in some cases, Vietnam has not introduced any travelling incentives for visitors after reopening its border in March last year, cited VNA.
Foreign tourists pose for pictures at Ha Long Bay in the northeastern of Quang Ninh. (Photo: VNA)
Resuming tourism activities earlier than Thailand, yet the country's complicated administrative procedures reduce its attractions, he said.
Tourists usually complain that they find difficulties in applying for a visa at Vietnam's embassies. In other cases, they said that they are offered to get the visa quickly with 200-500 USD while a formal fee is just 25 USD.
Vu The Binh, chairman of the Vietnam Tourism Association, said that authorities and agencies must closely work together to harmonise the administrative process.
It should be done as quickly as possible because tourists can change their decision easily, he said.
Last year, Vietnam only received 3.6 million foreign tourists, just 70% of its target. It targets 8 million for this year.
Currently, citizens of 80 countries and territories can apply for an e-visa to enter Vietnam without going through a guarantor agency or organisation. added.
Many foreign tourists hope Vietnam will bring back the multiple three-month visa that was available before the pandemic.
TAB comprises representatives from a broad base of industry leaders and stakeholders in Vietnam's travel and tourism sector. All stakeholders are working together to support international tourism promotions in Vietnam's key markets.