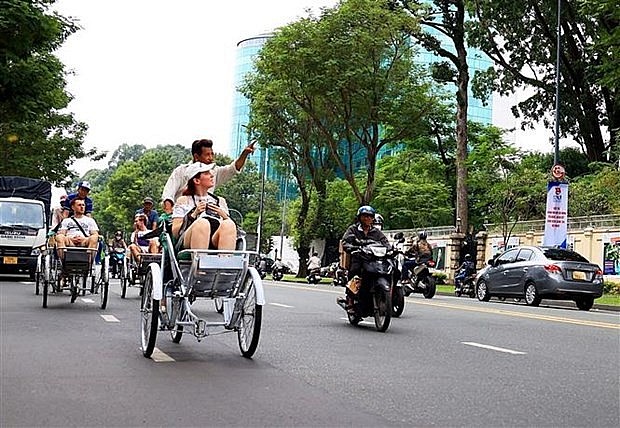 International tourists visit the center of Ho Chi Minh City by cyclo. Photo: VNA
In an article published earlier this week, Russia's Sputnik said that in the context of high living costs and healthcare costs in countries, many retired foreigners are coming to Vietnam to live.
The article quoted market analyst Vuong Lam as saying that Vietnam converges many factors that are ideal for expats to retire. Not only does Vietnam have a cheaper cost of living than their own country, but it's also a place where people are friendly, making the elderly feel comfortable.
According to Vuong Lam, foreign elderly people often choose Ho Chi Minh City and coastal cities such as Da Nang and Nha Trang as destinations because these cities have sunny weather and are convenient for moving to other countries in the region.
Nearly four years ago, the US media also mentioned Vietnam as a "paradise" to enjoy in old age.
In the list of the 12 best countries for pensioners published in the New York Post at the end of December 2019, Vietnam ranks first.
At the same time, the Los Angeles Times reported that rapid growth in Vietnam and neighboring Southeast Asian countries brought about things unimaginable in the past.
"Aging Americans are living a lifestyle "reminiscent of Florida, Nevada and Arizona, but in Vietnam" – at a low cost. "Monthly expenses here rarely exceed US$2,000 even when living in a large apartment including payments for maids to cook and clean.'
John Rockhold is an American veteran married to a Vietnamese wife. He lives with his children live in a four-bedroom apartment, measuring about 170 square meters for about US$250,000 (nearly 6 billion – at the time of purchase in 2011), in a 20-storey apartment building overlooking the Saigon River.
He said he was satisfied with the friendly neighbors and the cost of living "much lower than in the US" in Ho Chi Minh City.
Vietnam – emerging retirement destination
Hoang Minh Phuong, sales and marketing director of Joymark Travel Co., Ltd., thinks that Vietnam is an emerging "retirement" destination for expats. However, Vietnam's attractiveness compared to some countries in the region is still low.
"In Southeast Asia, most foreigners choose to buy homes near the sea in places like Thailand, Indonesia and the Philippines. These people often sell houses, buy real estate in Southeast Asia.
Currently, the number of elderly people retiring in Vietnam is still low compared to other countries in the region, but this number will increase in the future," Hoang Minh Phuong said.
In the ASEAN region, Thailand is famous for its open visa policy for foreign tourists, the country has a "retirement visa" policy for retired foreign visitors.
As long as you are 50 years old or older, and own a bank account opened in Thailand, with a balance of over THB800,000 (US$22,695) (nearly VND550 million), foreign visitors can apply for a Thailand visa for a period of one year.
Last September, Thailand extended this period up to 10 years, with certain conditions.
Other Southeast Asian countries including Indonesia, Singapore, Cambodia, Malaysia and the Philippines all have visa programs specifically for retired foreign tourists, offering many attractive benefits for their country to become tourists' second home.
Meanwhile, Vietnam has no such policy.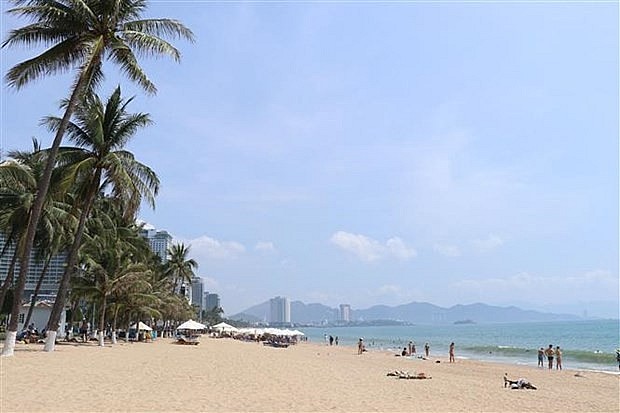 Coastal cities such as Da Nang and Nha Trang with sunny weather have great attractions for foreign tourists. Photo: VNA
Currently, Vietnam only has a visa exemption policy for citizens from 25 countries around the world with a stay of 15-30 days. Countries on this list include Chile, Panama, Cambodia, Indonesia, Kyrgyzstan, Japan, Korea, Germany, Denmark, and Norway.
For visitors from countries outside this list, Vietnam only issues an e-visa valid for one month.
According to Hoang Minh Phuong, foreign tourists wishing to retire to Vietnam can mostly choose tourist visas.
"Some people have a spouse who is Vietnamese, the visa procedure is not much simpler. Because of this barrier, many foreign elderly people want to come to Vietnam to retire, but hesitate because they are not sure about visas," said Hoang Minh Phuong.
According to Phuong, in the context of significant competition among ASEAN countries in attracting foreign pensioners, if Vietnam has good policies to facilitate foreigners coming here to retire, it will be a significant economic benefit – a good source of foreign currency revenue for the national budget.