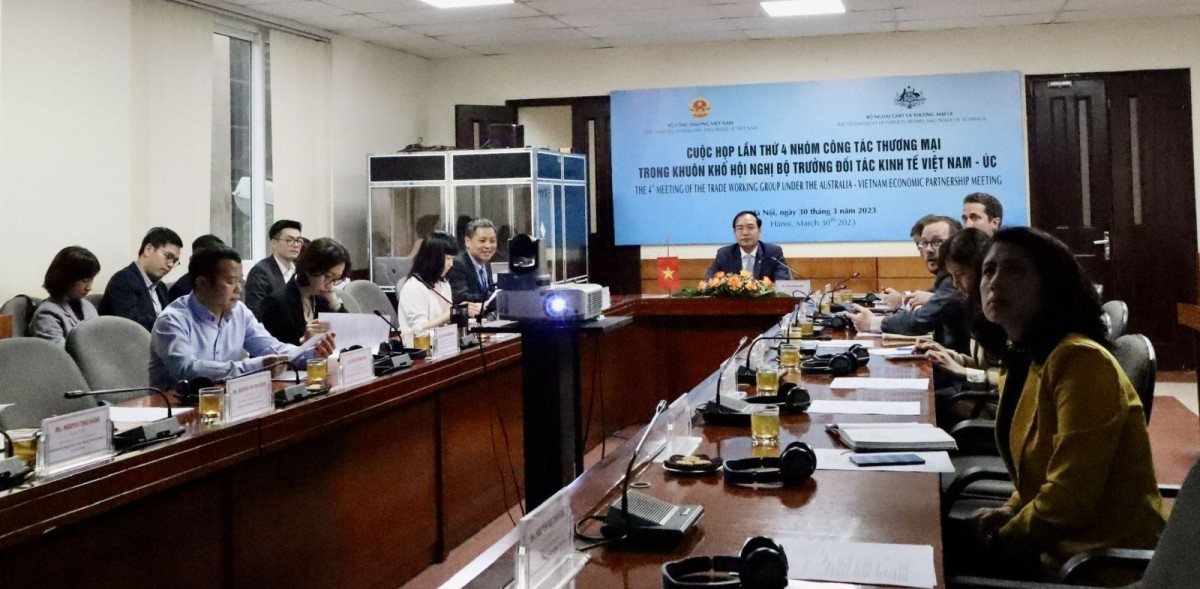 Delegates attending the meeting at the Ministry of Industry and Trade headquarters in Hanoi. Photo: MoIT
Vietnam and Australia have shown strong resolve to effectively implement free trade agreements (FTAs) of which both are members in an effort to ramp up bilateral economic and trade cooperation.
The agreement was reached during the fourth meeting of the trade working group within the framework of the Ministerial-level Vietnam-Australia Economic Partnership, virtually held on March 30, VOV reported.
The online meeting brought together representatives of ministries in charge of foreign affairs, trade, investment, science, energy, agriculture, and natural resources of the two countries.
The two sides shared the view that the Vietnam – Australia trade cooperation has grown considerably in recent times, with their two-way trade hitting USD 15.7 billion last year, making Australia the seventh largest trading partner for Vietnam. In the first two months of 2023 alone, bilateral trade turnover fetched USD 2 billion, of which USD 1.2 billion was generated from Vietnamese imports.
Vietnam and Australia have taken advantage of FTAs of which they are both members, including the ASEAN-Australia-New Zealand FTA (AANZFTA), the Comprehensive and Progressive Agreement for Trans-Pacific Partnership (CPTPP) and Regional Comprehensive Economic Partnership (RCEP), as well as drastic measures and flexible policies introduced by their governments to boost their trade cooperation, delegates said.
They suggested that the two sides further facilitate market access for Vietnamese agricultural products such as passion fruit, pomelo, and fresh flowers, as well as Australian products like honey, kangaroo meat, and venison into each other's markets. They also suggested fostering trade and investment cooperation in the fields of coal mining and processing, liquefied natural gas and minerals.
The two sides will focus on technical cooperation and investment in agriculture, share experiences in trade promotion and supply chain, and boost transportation cooperation similar to the Aus4Transport model while speeding up the signing of a protocol amending and supplementing the Vietnam – Australia aviation agreement.
At the working session, the two sides highly appreciated the efforts of relevant agencies in implementing the Vietnam – Australia Enhanced Economic Engagement Strategy (EEES), especially in periodically conducting the dialogue on trade remedies.
They acknowledged both sides' efforts in negotiating and formulating two Memorandums of Understanding (MoU) on establishing a ministerial-level dialogue mechanism on trade, energy, and minerals, and proposing the signing of a document on digital commerce.
The two MoUs are expected to be signed this year to create an important exchange channel for government agencies and business communities to further promote cooperation in those fields.
Recommendations by delegates at the meeting will be submitted to the coming meeting of the Ministerial-level Vietnam-Australia Economic Partnership slated for mid-April 2023.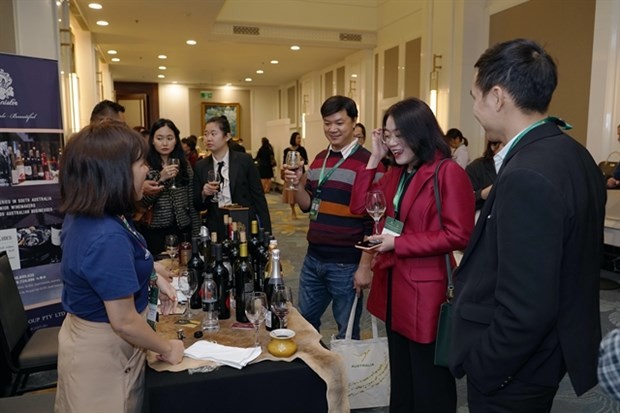 Australian food and beverages were showcased during an event in Hanoi as part of celebrations of the 50th anniversary of the Vietnam-Australia diplomatic relationship. Photo courtesy of the Australian Embassy
Australia was one of the first countries to set up relations with Vietnam right after the Agreement on Ending the War and Restoring Peace in Vietnam was signed in 1973.
Over the past five decades, the relationship has developed sustainably and gained impressive achievements, and the two countries are striving to upgrade it to a comprehensive strategic partnership level.
Vietnam has been one of Australia's fastest-growing trading partners in recent years. Australia is Vietnam's seventh largest trading partner while Vietnam is Australia's 10th largest trading partner, according to VNA.
The two countries enjoy a strong, expansive, and enduring partnership in the agriculture and education sectors.
Vietnam is Australia's fifth largest source market of international students with 27,000 student enrolments and over 8,000 Vietnamese undertaking an Australian qualification in Vietnam.
There are 300 training programs, which include articulation and joint training programs between Australian and Vietnamese institutions.
More than 80,000 Vietnamese alumni who graduated from Australian education institutions are currently working in Vietnam.
The Australian Trade and Investment Commission (Austrade) is organizing two roadshows in localities across Vietnam, including Hanoi, Hue, Da Nang in March and Ho Chi Minh City, Nha Trang, and Can Tho in September.
The roadshows will expand opportunities for Australian and Vietnamese partners in agrifood and education sectors to discuss commercial partnerships, said Australian Ambassador to Vietnam Andrew Goledzinowski.