With a sour and spicy flavors, the dishes of Thai cuisine have an irresistible attraction to many diners. No need to travel too far, you can enjoy pad Thai, tom yum, mango sticky rice, etc, at different restaurants located right in the heart of Ho Chi Minh City.
1. Somtam ZAAP
Photo: SomtamZAAP
Address: Pasteur, District 1
Opening hours: 11 am – 10 pm
Prices: From VND40,000 (US$1.71)/ dish
The restaurant specializes in serving specialties of the Isan region – Northeast Thailand.
The decoration and design of the restaurant are simple, elegant, and modern. The furniture with brown, and orange, combined with the yellow light, creates a lovely and warm atmosphere for guests dining here.
Space is somewhat limited, but the arrangement of tables and chairs is suitable for friends and family gatherings.
Some of the restaurant's most significant dishes include papaya salad, Thai vermicelli salad, poached eggs with tamarind sauce, spicy and sour pork cartilage soup, deep-fried catfish with mango sauce, grilled pork skewers with coconut milk, Thai hot pot, tom yum soup, etc.
The dishes look appetizing with delicious taste, but the portions are a bit small compared to the expensive prices.
The service quality of the staff is relatively good. Guests parking here will be charged a small and fair fee.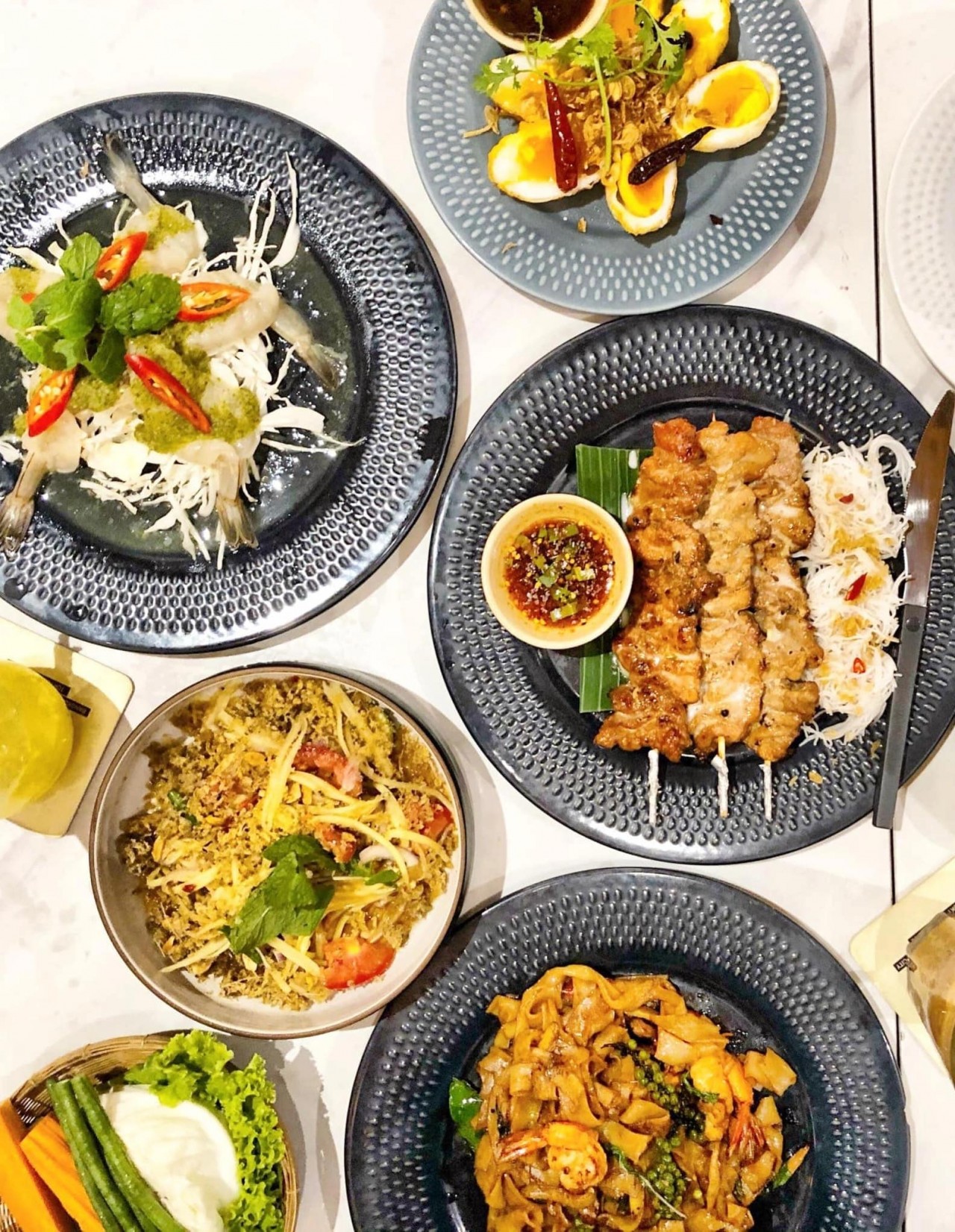 Photo: SomtamZAAP
2. Boat Noodle Bangkok
Address: 2 branches at District 1
Opening hours: 9:30 am – 11 pm
Prices: VND 20.000 (US$0.85) – VND 250.000 (US$10.68)/ dish
The restaurant is famous for its boat noodle soup and serves various versions of Thai street food.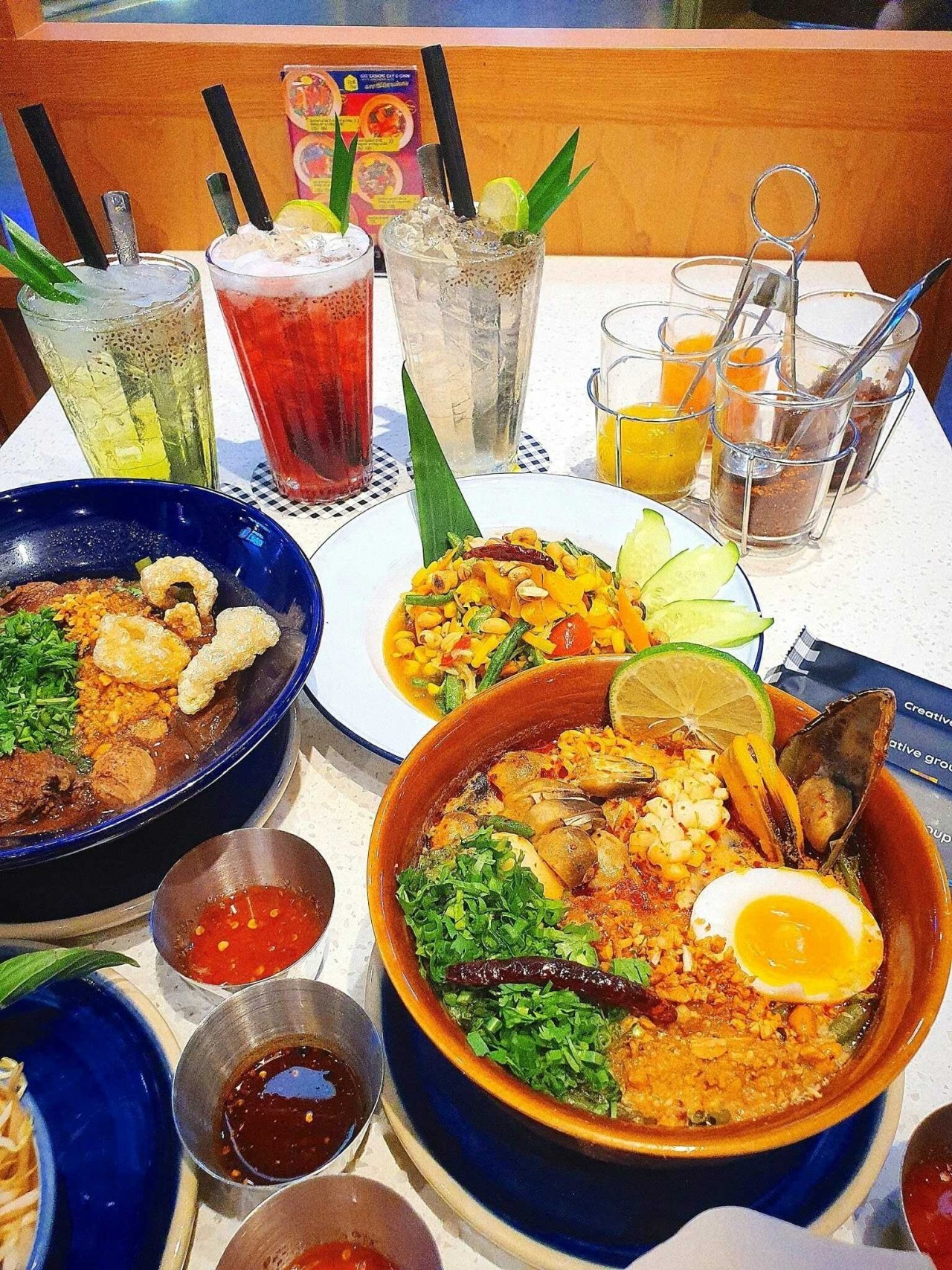 Photo: Minn.cookie.
The restaurant is located in a shopping center. The space is a little bit limited, and the open design and yellow lights bring a pleasant atmosphere. The interior decoration has the typical colors of the land of the Golden Temple.
The place has several seating corners, a separate space for small groups or families to gather, or a long table for large groups.
The menu is diverse, with tom yum noodles, som tum salad, and many fried and grilled dishes. Dessert includes ice cream, pudding, mango sticky rice, and tea. Herb juice, Thai milk tea, and soda are also customers' favorite choices for beverages after a big meal.
When diners order their boat noodle soup, they will be able to choose what types of noodles they want, and the broth. The noodles and tom yum taste delicious and are perfectly seasoned. Moo ping has tender grilled meat and a rich dipping sauce.
Dishes are served in stylish bowls and plates with colors that stimulate the taste buds and appetize.
The staff is young, dynamic, and always eager to help you with your orders.
3. Chill Thai
Photo: Chill Thai
Address: Two branches at District 1 and 7
Opening hours: 10 am – 10 pm
Prices: VND 30.000 (US$1.28) – VND 480.000 (US$20.48)/ dish
The restaurant is decorated with bright colors and brings a bustling atmosphere. This place inspires a world of Thai culinary culture, which are full of life and exciting experience.
The shop is beautifully decorated, with many lovely corners for some Instagram check-in pictures, intertwined trees, and a design that makes guests feel like they are dining in Thailand.
Tables and chairs are quite luxurious and elegant, arranged at a reasonable distance. You can choose to sit indoors or outdoors.
The menu is extensive with a variety of typical Thai dishes such as pad Thai, seafood with Thai sauce, grilled pork skewers, papaya salad, etc. Some other flavors worth trying are tom yum sausage, Thai hot pot, and seafood curry. Drinks and desserts also have a wide selection and choices for guests.
The dishes are deliciously seasoned, with sour, spicy, salty, and sweet flavors. The price is not cheap, but the quality of the dishes is fairly acceptable. The staff is friendly and enthusiastic.
4. HIHI – All About Thai Noodle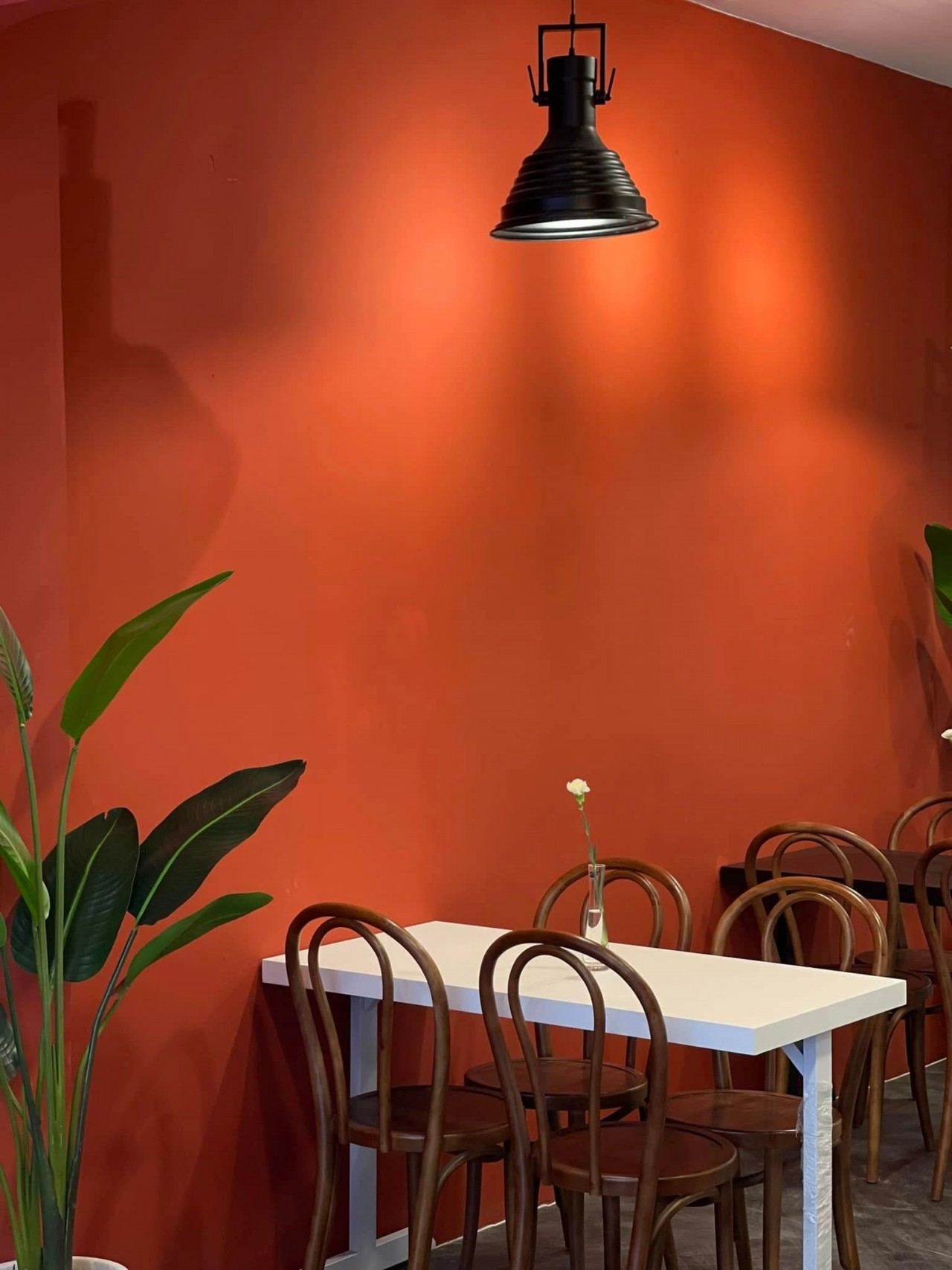 Photo: Hihithainoodle
Address: Nguyen Dinh Chieu, District 3
Opening hours: 10 am – 9:30 pm
Prices: VND 25.000 (US$1.06) – VND 109.000 (US$4.65)/ dish
The restaurant has just opened at a new address with a whole new space. Customers will order their meals at the counter, then take the bill and table number upstairs to enter the dining room.
The space is elegantly decorated, which is highlighted with red and white colors. Dotted with flowers, green branches create a harmonious look that brings a great impression.
The arrangement of seats is reasonable and comfortable for both individuals and groups of guests. The dining table is delicately decorated with flower pots and candles.
The menu is not too diverse, mainly Thai-style noodles. The shop also serves beverages, Thai milk tea, and flan cake.
The staff is friendly and is always available whenever you need help. You will also be greeted and thanked by Chef after having your meals at the restaurant.
5. Am Dang Typhoon Vietnam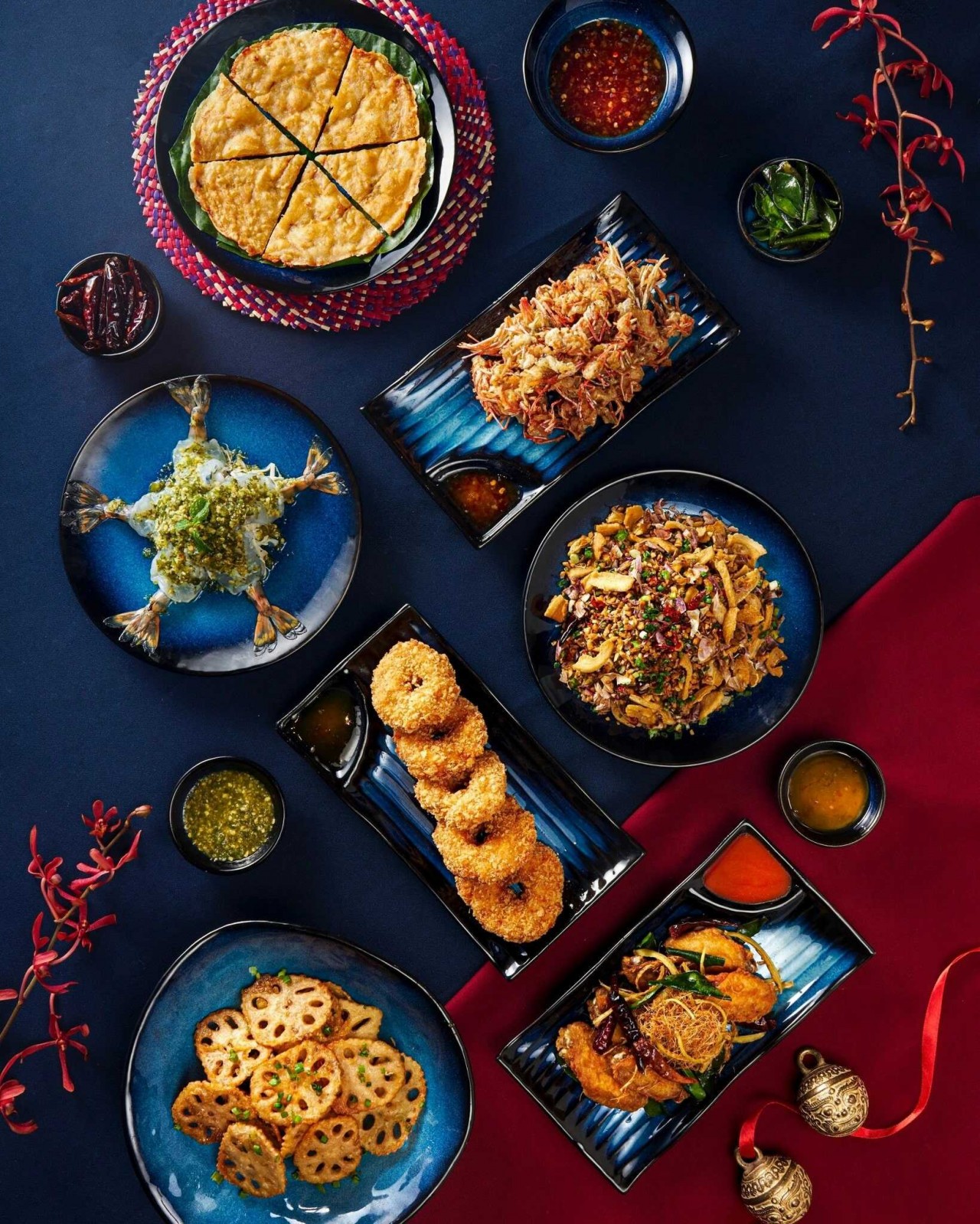 Photo: Am Dang Typhoon Vietnam
Address: Dong Khoi, District 1
Opening hours: 11 am – 2:30 pm and 5:30 pm – 10 pm
Prices: From VND 100.000 (US$4.26)/ dish
The restaurant specializes in Chinese-inspired seafood dishes combined with traditional Thai cuisine.
The space has a harmonious combination of classic blue and red colors. As soon as you walk through the doorstep, you will be greeted by a noodle stall inspired by street vendors in Thailand. The inside of the shop is designed with a touch of the Bangkok capital mixed with Chinese characteristics.
The restaurant has a variety of seating options, and there are also separate rooms for private family meals or important meetings.
The menu includes stir-fried, grilled, curry, shrimp, crab, salad, and fried rice… with multi-flavor variations. There are also many choices for drinks and beverages. The staff is very friendly and helpful.