When travelers visit Vietnam, they often begin their journey in either Hanoi or Ho Chi Minh City, typically overlooking some of the country's hidden treasures. Phu Quoc, situated off the southern coast of Vietnam and underneath Cambodia, remains relatively unknown, causing many to overlook its beauty. However, similar to other stunning islands in the region, Phu Quoc boasts pristine beaches, lush jungles, luxurious accommodations, and a plethora of activities for visitors to enjoy.
Experience the abundance of possibilities on Phu Quoc island. Explore scenic hiking trails leading to breathtaking waterfalls, immerse yourself in the vibrant culture of local fishing villages, and unwind at a beach bar while witnessing a spectacular sunset. Diving enthusiasts can embark on thrilling underwater adventures, discovering colorful tropical fish in their natural habitat. Uncover the island's renowned specialties by embarking on tours of pepper farms and local sim wine factories, offering a truly unique and memorable souvenir to commemorate your visit. Phu Quoc awaits, ready to indulge every traveler's desire for an unforgettable experience.
Head to Starfish Beach for Some Relaxation This Weekend
Starfish Beach, located on the island, stands out as the most beautiful spot due to its stunning features, including its pristine white sand and crystal-clear waters.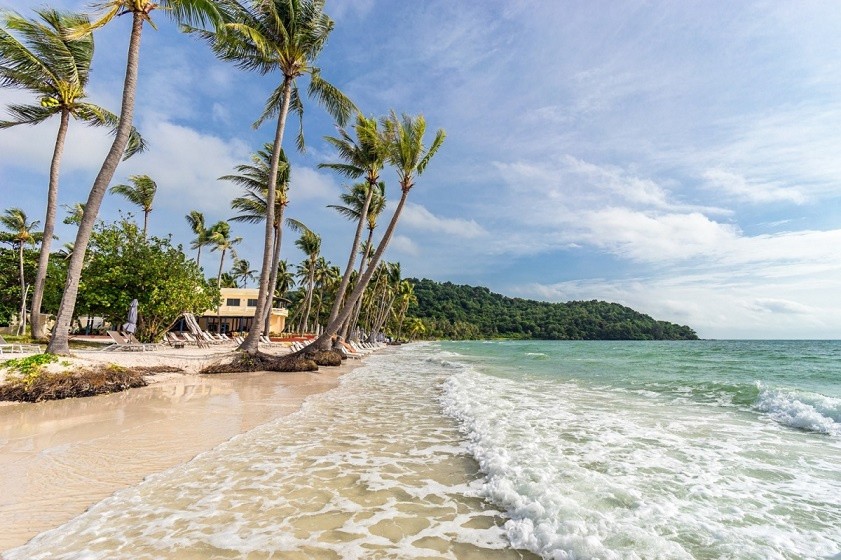 Photo: VinWonders
The beach boasts its distinctive name due to the presence of numerous vibrant starfish strewn across the shoreline and amidst the surf.
The beach is located at the northern end of Phu Quoc, in close proximity to Rach Vem Floating Village, making it convenient for visitors to combine both destinations into a single day trip.
There are affordable sunbeds available for rent, as well as beach bars and excellent seafood restaurants. This makes it the perfect destination to witness a beautiful sunset or indulge in a delightful dinner experience.
Explore the Mediterranean on an Island-Hopping Adventure
Phu Quoc offers a plethora of activities to fill your days, but for those seeking even more adventure, consider exploring the surrounding islands while in this secluded corner of Vietnam.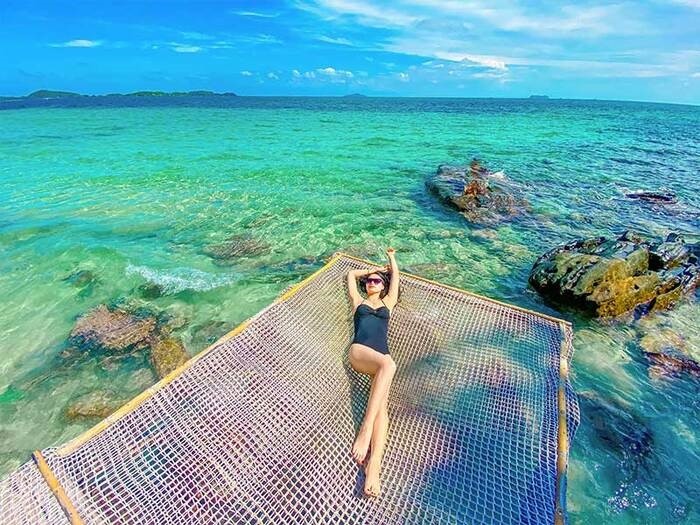 Photo: Vinpearl
The surrounding islands comprise of the uniquely named yet exquisitely captivating Fingernail Island, Pineapple Island as previously mentioned, Dam Ngang Island, May Rut, and Turtle Island, where one can readily encounter abundant hawksbill turtles in its waters.
Many boat tours offer the opportunity to visit one or two of these picturesque islands and typically include a delicious lunch at an affordable cost.
Discover the allure of these islands which boast exciting activities such as snorkeling, diving, and swimming. Immerse yourself in the local seafood scene and explore everything these islands have to offer, all within a day or two.
Experience the Tranquility of Nature at Ham Ninh Fishing Village
Located in close proximity to Suoi Trang Waterfall, Ham Ninh is a charming fishing village.
Vietnam is home to numerous fishing villages, among which Ham Ninh stands out as one of the most charming and oldest villages in Phu Quoc.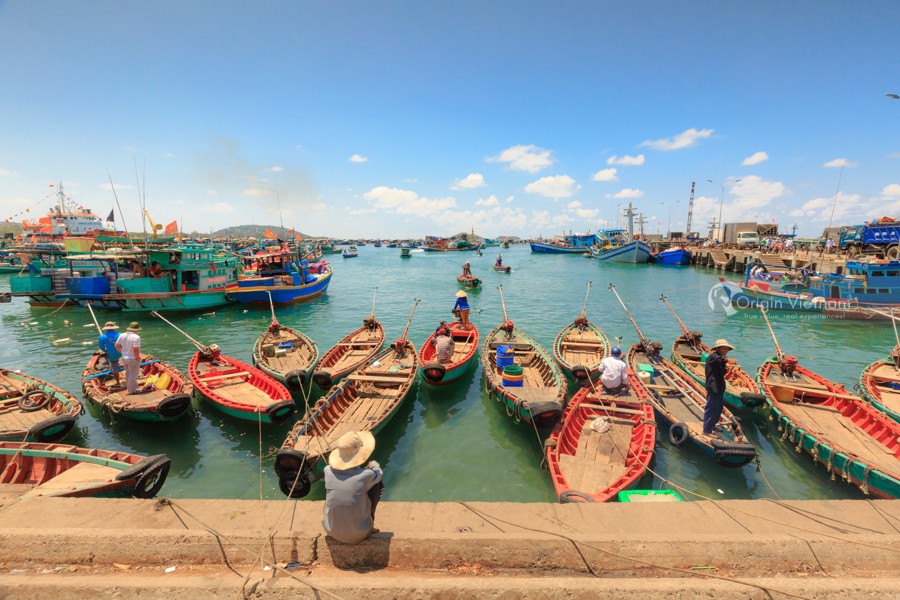 Photo: Asianway Travel
If you are interested in experiencing local culture, this destination offers a unique opportunity to immerse yourself in the daily lives of the locals. Visitors have the option to join local fishermen on their boats and observe their traditional fishing methods firsthand.
The region boasts a plethora of top-notch seafood restaurants that are a haven for gastronomy enthusiasts. A local delicacy, spider crab, reigns supreme among the culinary offerings. Moreover, the village dazzles visitors as it treats them to breathtaking sunsets in the evenings.
Phu Quoc Cable Car Named among Vietnam's Finest
The Hon Thom Cable Car, also referred to as the Hon Thom Aerial Car System, holds the remarkable distinction of being the longest three-cable aerial car system in the world. It connects the towns of An Thoi on Phu Quoc Island and Hon Thom Island, providing a scenic 15-minute journey for passengers.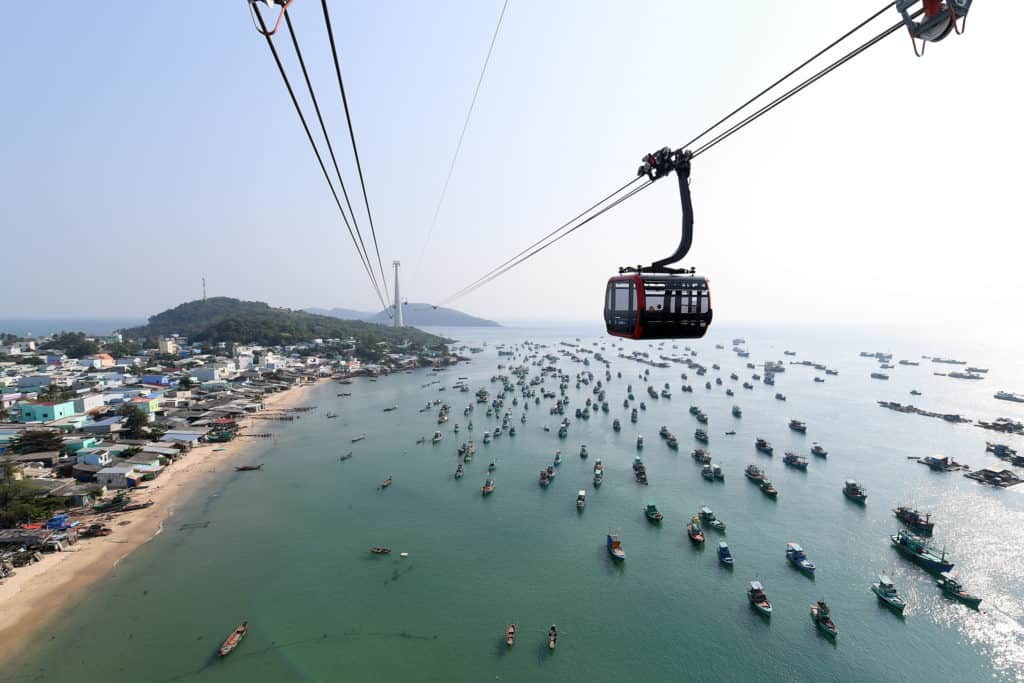 Photo: PhuQuocTrip
Experience the breathtaking views of Phu Quoc from the comfort of a cable car ride. This scenic journey showcases the Gulf of Thailand, as well as the charming fishing villages and vibrant boats scattered across the island.
Experience the beauty and serenity of Hon Thom, a hidden gem nestled on the other side. Take your time to explore and immerse yourself in its breathtaking surroundings.
Pineapple Island, renowned for its breathtaking beauty, is home to a pristine nature reserve and an exquisite beach for ultimate relaxation and tranquility.
Explore the Delicious Cuisine of Duong Dong Night Market
Night markets are an integral part of South East Asia and should not be missed during your visit to Phu Quoc.
Duong Dong is the largest market on the island, offering a variety of produce including fruit, vegetables, meat, and spices. It is a bustling hub of commerce during the day.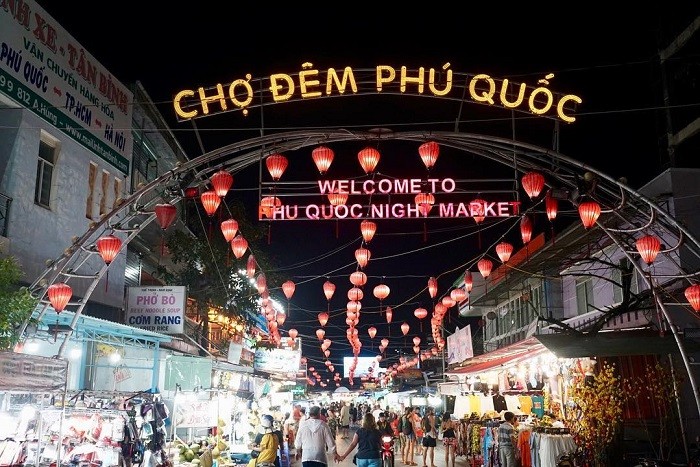 Photo: Vinpearl
At 5 pm, the night market begins, featuring a wide array of stalls offering enticing food, refreshing beverages, unique souvenirs, and much more.
Despite the recent increase in activity and prices, the dining scene in this area remains unparalleled. The abundance and superior quality of restaurants make it a worthwhile experience to enjoy a full dinner or simply explore the market and indulge in delectable street food until satiated.