Sa Dec Flower Village is the name of an area specializing in flower growing in Sa Dec city, Dong Thap province. Local people used to call it Tan Quy Dong flower village because this was the "cradle" of flower growers from 1900 to 1930 thanks to the water and fertile alluvium accumulated along the banks of the Tien River. Cultivars of chrysanthemums gather along both sides of provincial road 848, the section through Tan Khanh Dong commune, from Sa Dec to Cao Lanh city.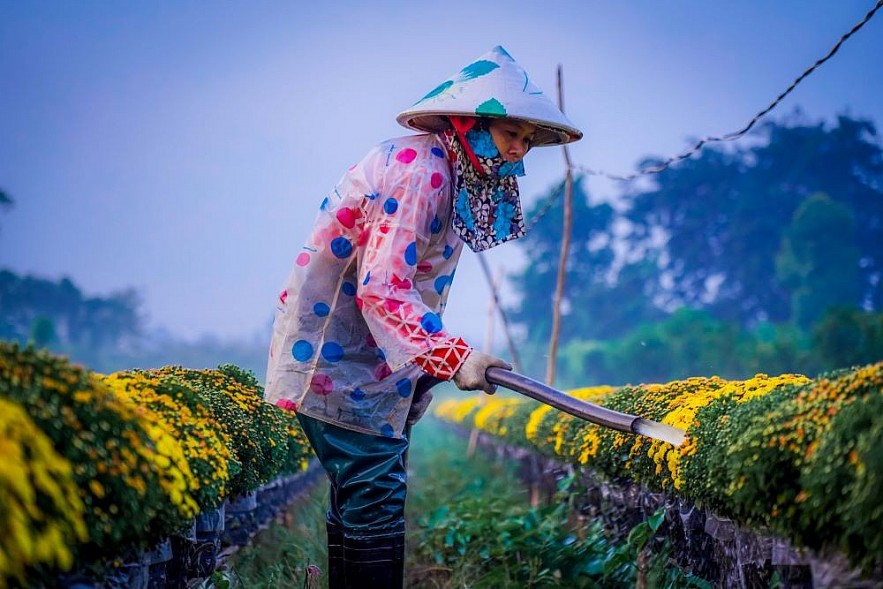 Photo: Thanhnien.vn
The most ideal time to visit the flower fields is before the full moon and December 23. After this point, flowers are transported to the center of Sa Dec flower village in Tan Quy Dong ward, western provinces, and big cities such as Hanoi and Ho Chi Minh City.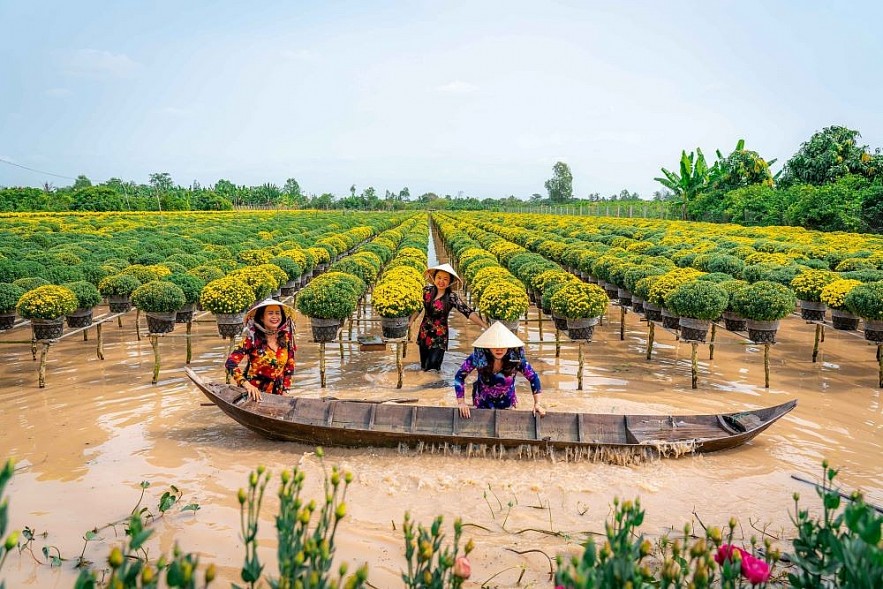 Photo: Thanhnien.vn
When visitors come to this village, they can admire many different flowers such as marigolds, auspicious flowers, firecrackers, evening primroses, tiger daisies, and gerbera daisies. Among them, the most planted flower is the fresh chrysanthemum.
This flower has hundreds of branches. The lower part has green foliage, and the upper part has hundreds of flower buds forming a dome. When it blooms, this daisy resembles a plump, golden bowl of sticky rice.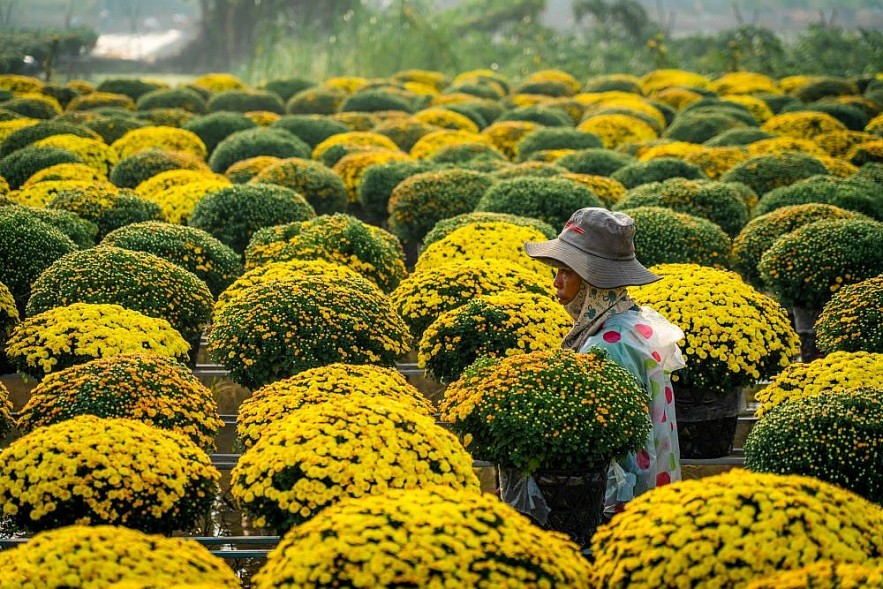 Photo: Thanhnien.vn
During the Lunar New Year, this flower is bought by many people because of its many meanings. It is associated with the cultural and spiritual life of Vietnamese people. Round flower design promises to bring a new year of prosperity, luck, brilliance, and happiness. Therefore, people often use it to decorate roads, parks, or along the sides of the porch on the first day of spring.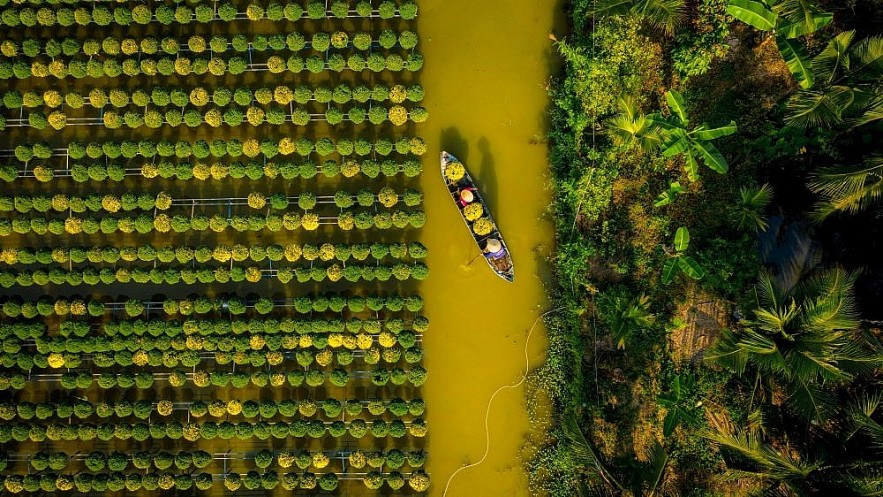 Photo: Thanhnien.vn
These flowers take around 6 months to bloom. When the pots with green buds turn yellow, it is time for gardeners to take care of and nourish them. To stimulate the flowers to bloom early, people have to water the flowers twice a day in the early morning (about 3:00 a.m. to 4:00 a.m.) and late afternoon (about 15:00 p.m.). Flowers are watered gently under the root to avoid stamping and waterlogging. In addition, gardeners also pluck small flower buds on the main branch so that when it blooms, it will be more vibrant and fuller.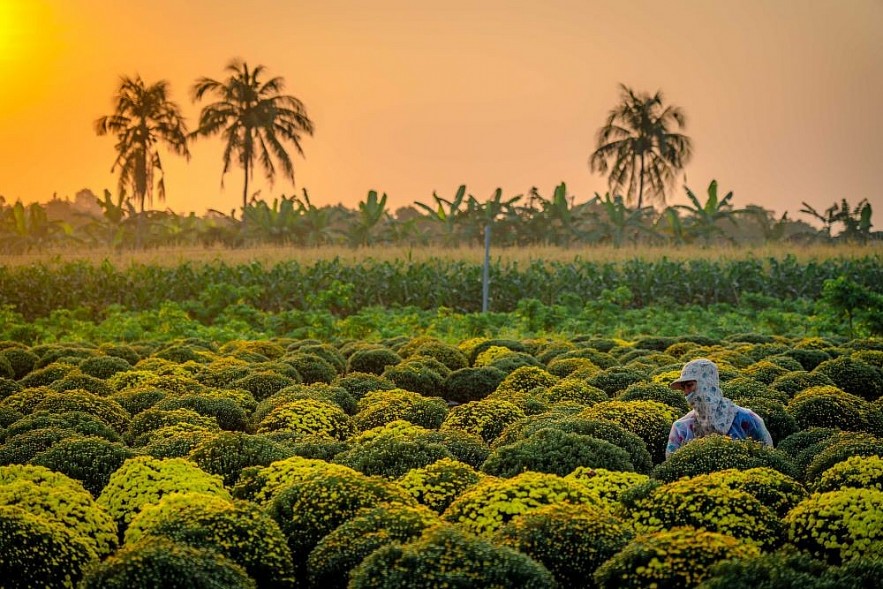 Photo: Thanhnien.vn
Floriculture is the main income of the people here. Each flower season, a gardener can plant from 1,000 to 3,000 pots depending on the agricultural area. The selling price ranges from VND 150,000 (USD 6.33) to VND 200,000 (USD 8.44) per pot, depending on the size.
As Tet approaches, farmers will be busier. They had to cut branches, prune leaves, water, and pack flowers. Although they are very busy, they are still happy and enthusiastic in front of visitors. For that reason, Sa Dec flower village is always a must-visit destination for everyone.
The flower fields are not tourist attractions, so when people come here to take pictures and walk around, they don't have to pay a fee, they just ask the garden owner's permission.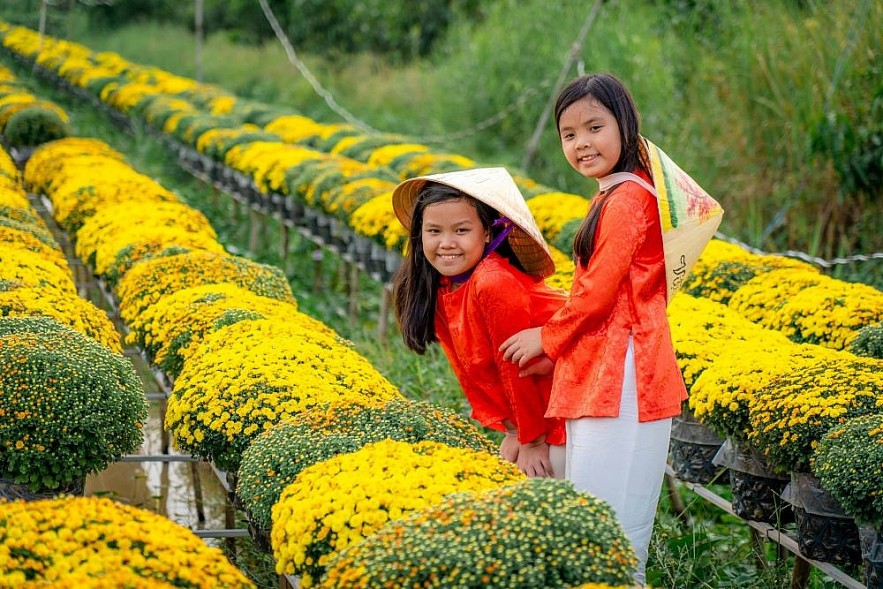 Photo: Thanhnien.vn