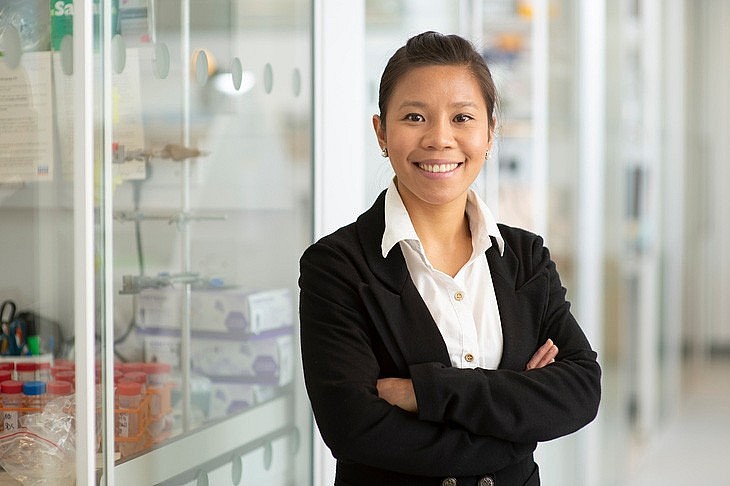 Dr. Nguyen Thi Hoang Duong (Kelly Nguyen). Photo: MRC
The Colworth Medal is a prestigious annual award that recognizes outstanding research by biochemists of any nationality who have conducted the majority of their work in the United Kingdom or Republic of Ireland. This esteemed honor is bestowed upon those who have made significant contributions to the field of biochemistry and demonstrated excellence in their research.
Donated in 1963 by Unilever Research Colworth Laboratory, the prestigious award is made to an early career scientist who is within ten years of receiving their highest qualification. It is given to honor exceptional contributions to the field of science.
Kelly completed her bachelor's degree at the Australian National University and her Doctor of Philosophy (PhD) at the MRC Laboratory of Molecular Biology (MRC-LMB) under the supervision of Dr Kiyoshi Nagai, as stated by the Biochemical Society.
During her PhD, she used X-ray crystallography and cryo-EM to investigate the mechanism underpinning the spliceosome, a multifaceted protein-RNA complex responsible for premature mRNA splicing. Her research yielded key insights into the structures of various large spliceosome components and the activation of the spliceosome.
She began her telomere and telomerase research while working as a Miller Research Fellow in the laboratories of Professors Kathleen Collins and Eva Nogales at the University of California, Berkeley. During her time there, she made significant advancements in her field.
Telomeres are essential for genome stability, as they protect the ends of chromosomes. Her postdoctoral work revealed the first cryo-electron microscopy (cryo-EM) structure of human telomerase, the enzyme responsible for replenishing telomeres to make up for the telomere loss that occurs during genome replication.
As an independent investigator at the MRC-LMB, her laboratory studies the molecular mechanisms of telomere maintenance using a combination of biochemistry, structural biology, and in vivo functional studies at different spatial scales. They research how these processes interact to ensure the telomeres remain intact and their function is maintained. Through their work, they aim to gain a better understanding of telomere maintenance and how it relates to health and disease.
The mechanistic insights gained from this research will shed light into how telomere dysfunction gives rise to human diseases such as cancers and aging.
I would like to share the honour with all the past and present laboratory members, mentors, colleagues, and collaborators, who have made essential contributions to every step of this journey," she said during an address to the Biochemical Society. My heartfelt gratitude goes out to each and every one of them.
I am deeply honored to receive the prestigious MRC-LMB Prize for Excellence in Biomedical Research. This recognition further reinforces my commitment to advancing our understanding of fundamental biological processes. Additionally, I would like to emphasize the stimulating and supportive atmosphere at MRC-LMB that has had a major impact on my scientific methods. Receiving such recognition is incredibly encouraging for my lab and will motivate us to keep tackling difficult problems and making remarkable discoveries.
Duong was born in Vietnam's central province of Quang Ngai. She earned a full scholarship for the high school program at Wellington Girls' College in New Zealand, and subsequently completed her bachelor's degree at the Australian National University and her PhD at the MRC-LMB.
Her telomerase research has earned her several prestigious accolades, including the 2022 Eppendorf Award for Young European Investigators, the 2020 Suffrage Science Award curated by the Medical Research Council's (MRC's) London Institute of Medical Sciences (LMB), and the 2017 Early Career Research Award from the Biochemical Society.