Dong Chau – Nuoc Trong Nature Reserve is located in the west of Le Thuy district, Quang Binh province, about an hour from Dong Hoi city by car along the West branch of Ho Chi Minh road. This reserve has a rich flora, fauna system, and impressive waterfalls.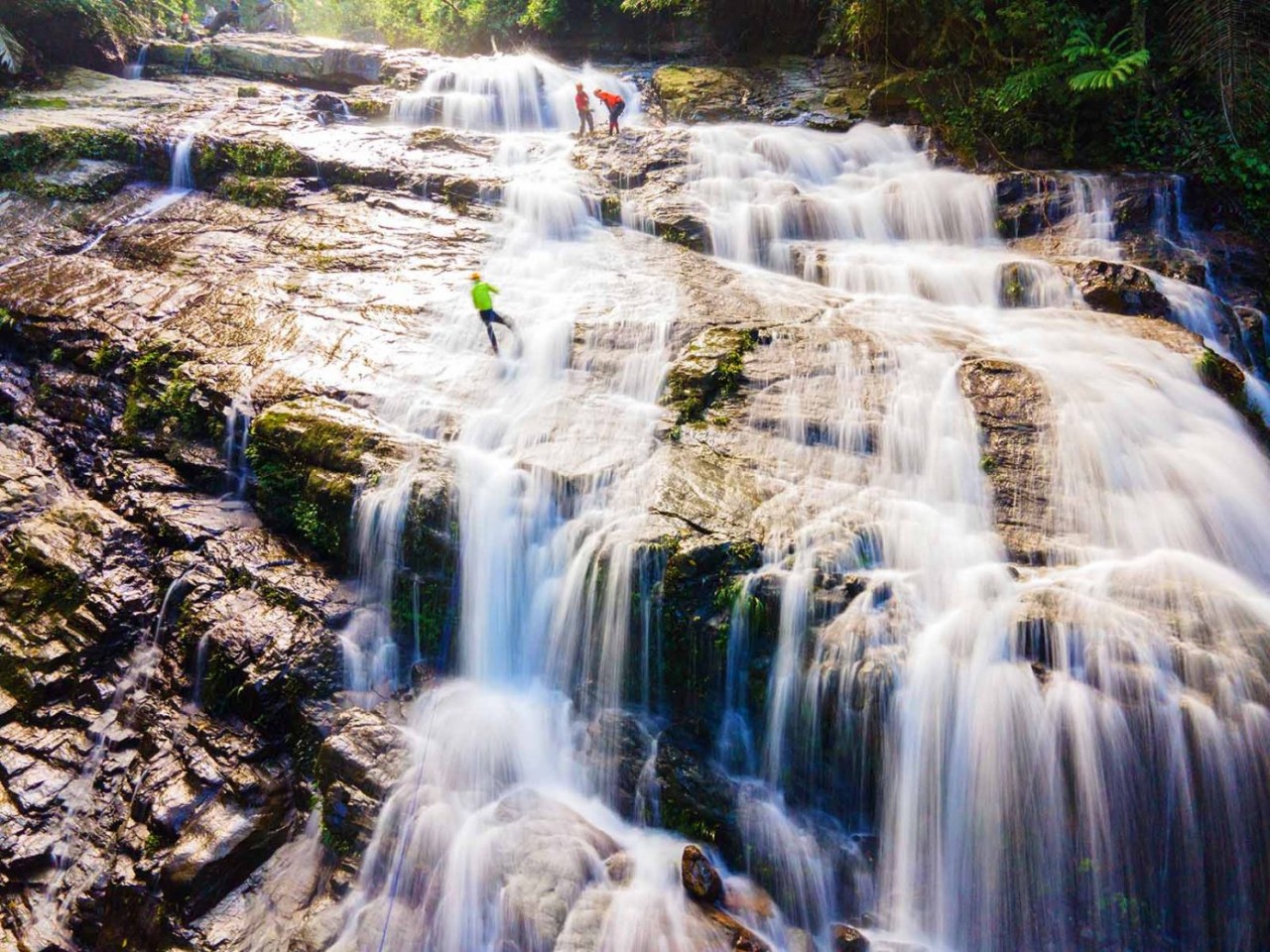 Duong Cam waterfall has a majestic and magical beauty among the mountains and forests of Quang Binh. Photo: Netin
The highlight of the journey to discover Chau cave – Khe Nuoc Trong is enjoying the scenery and conquering Duong Cam waterfall. Visitors are equipped with helmets, ropes, and many safety devices before crossing the falls.
Duong Cam Waterfall is located in this beautiful nature complex and is a perfect piece to create a vivid and majestic natural picture in Chau Cave – Khe Nuoc Trong.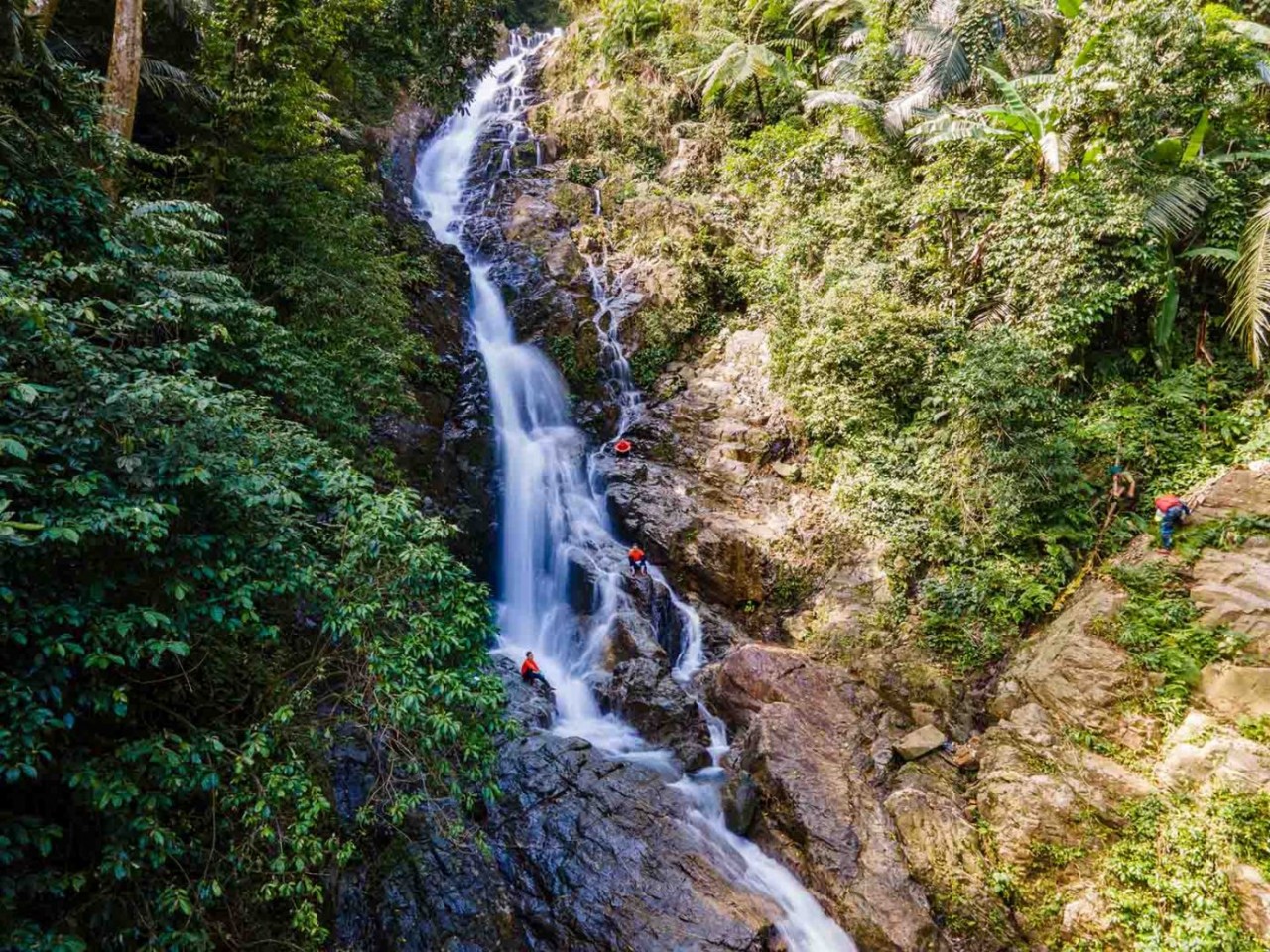 Photo: Netin
Located at an altitude of nearly 700m above sea level, covering an area of over 22,132ha, this is an evergreen tropical forest with a coverage of over 98%. This entire area is divided into three functional subdivisions: a strictly protected subdivision (area of more than 13,000 ha); an ecological restoration subdivision (nearly 8,500ha) and an administrative-service subdivision (more than 20ha).
In particular, this is also a rare place in the whole country that preserves more than 50% of the vegetation (area of 14,574 ha). The area of closed evergreen forest, tropical moist rain, lowland mountain and subtropical moist evergreen closed forest, rich forest, natural resources, etc, is still very rich.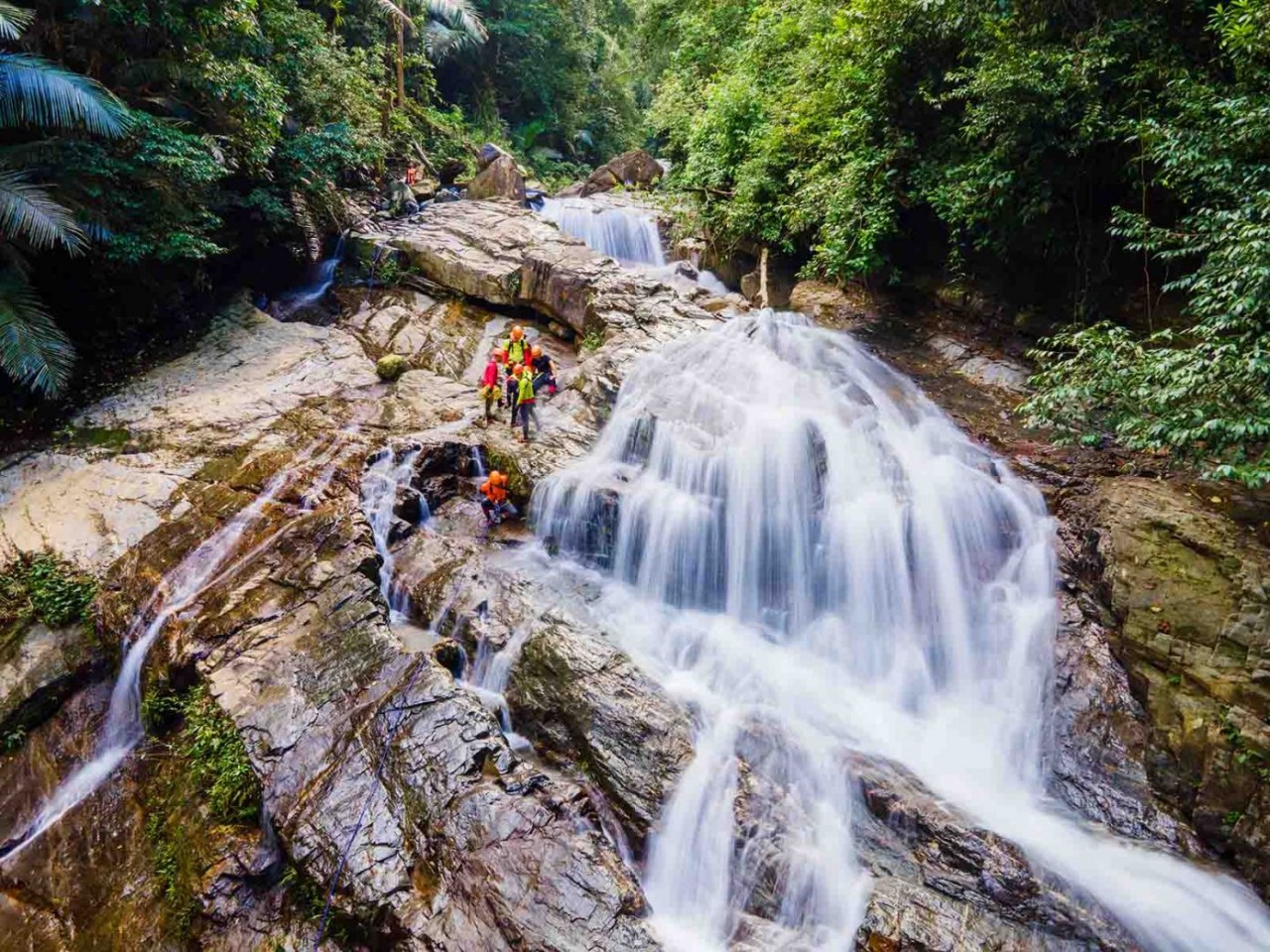 The majestic beauty of Duong Cam waterfall. Photo: Netin
Duong Cam waterfall is more than 50m high, with the strong water flow pouring down from above, creating a breathtaking and wonderful scene that makes tourists fall in love at first sight. Standing in front of this waterfall, you will suddenly feel small facing Mother Nature.
The perfect time to visit this destination is during the spring and summer seasons. In the summertime, when the sun rises high and the heatwaves make you feel tired and comfortable, Duong Cam waterfall is the ideal place in Quang Binh to escape the heat. Each stream of water rushing, pouring down violently through the rocky crevices will make you forget your fatigue to immerse yourself in the cool atmosphere and the soothing breezes of nature.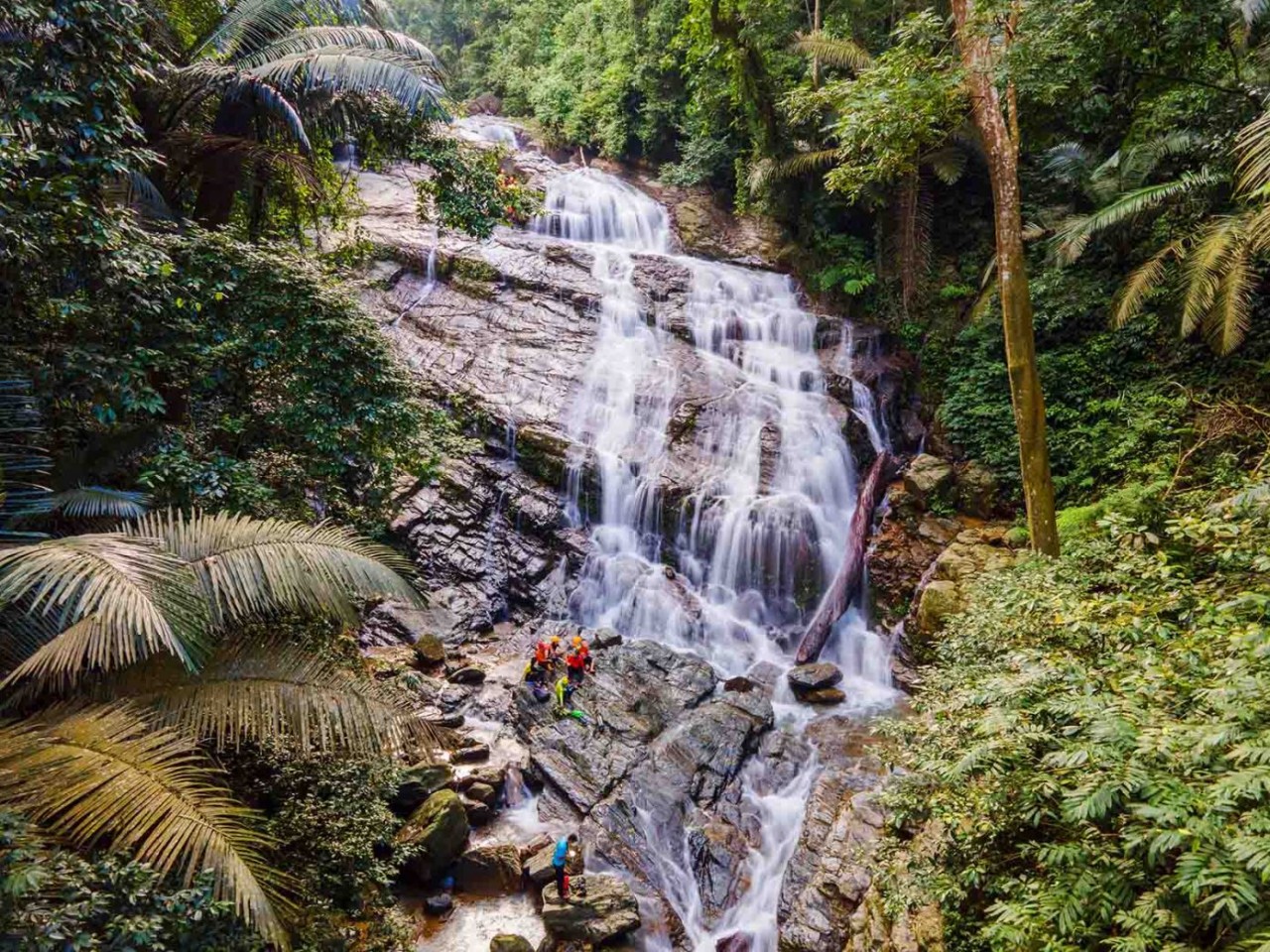 This waterfall is also surrounded by a dense ecological forest, with a rich system of streams and waterfalls. Photo: Netin
Springtime is the best season to travel and relax with your loved ones, and Duong Cam waterfall is the perfect choice to recover your strength and energy after a hard-working year. Aside from experiencing the beauty of the waterfall, visitors can also go trekking through the pristine primeval forests.
In order to participate in crossing and climbing the waterfall, visitors must wear a safety belt and other safety equipment, and ropes, and be taught climbing techniques by professionals. Each person steps to the foot of the waterfall grasp the rope and pull with both hands plus the support above the waterfall of 2 professionals holding the ropes to keep people from falling. The sound of the waterfall growling beneath creates tension and excitement for your journey.
Visitors experience the adventurous rope swing over Duong Cam waterfall. Photo: Netin
You can choose to explore Duong Cam waterfall during the Lunar New Year holiday and start your year in a new and exciting way.
With steep terrain, streams in Dong Chau – Khe Nuoc Trong nature reserve have many waterfalls. There are three famous and wonderful waterfalls, and each has its own charms, such as the gentle Toc Tien waterfall, the magical Duong Cam waterfall, and the soaring Heaven Gate waterfall.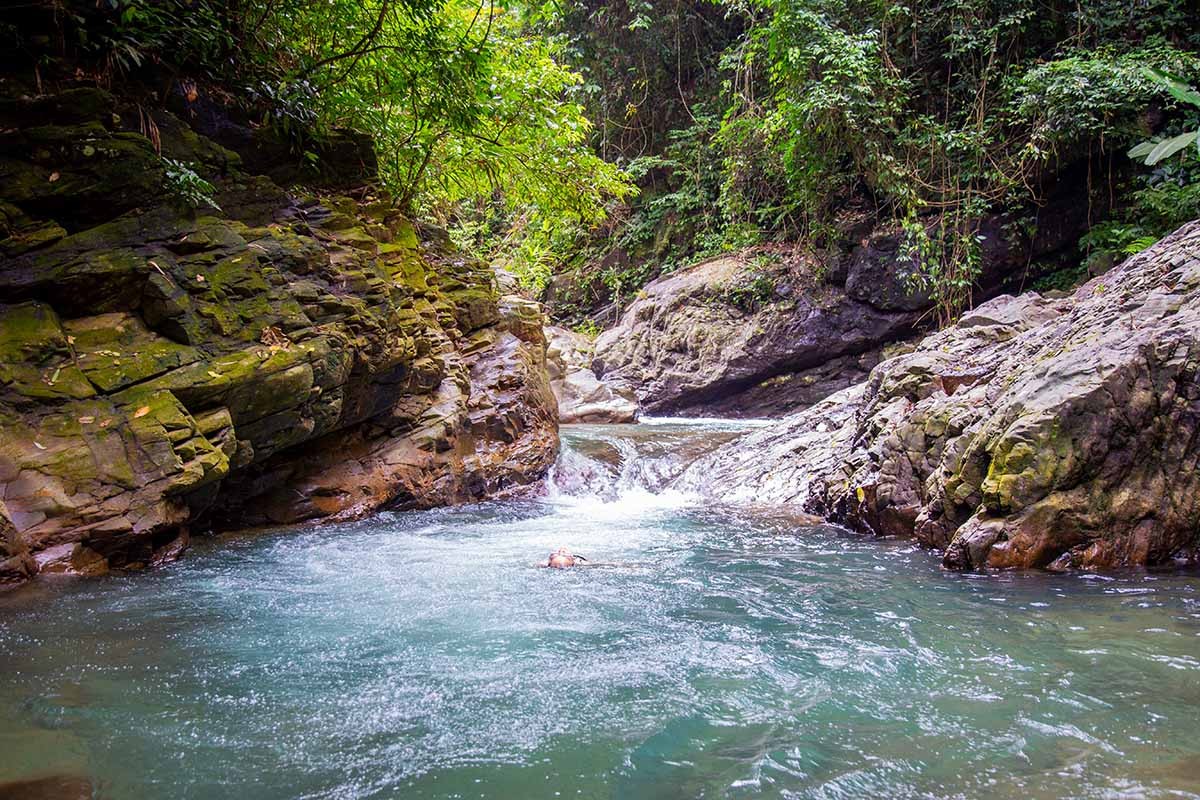 Leaving behind the hustle and bustle of the city life, tourists come here to experience a wonderful journey. Photo: Nein
If you are not much of an adventurer yourself, you can choose to bathe in streams and waterfalls in the middle of the primeval forest.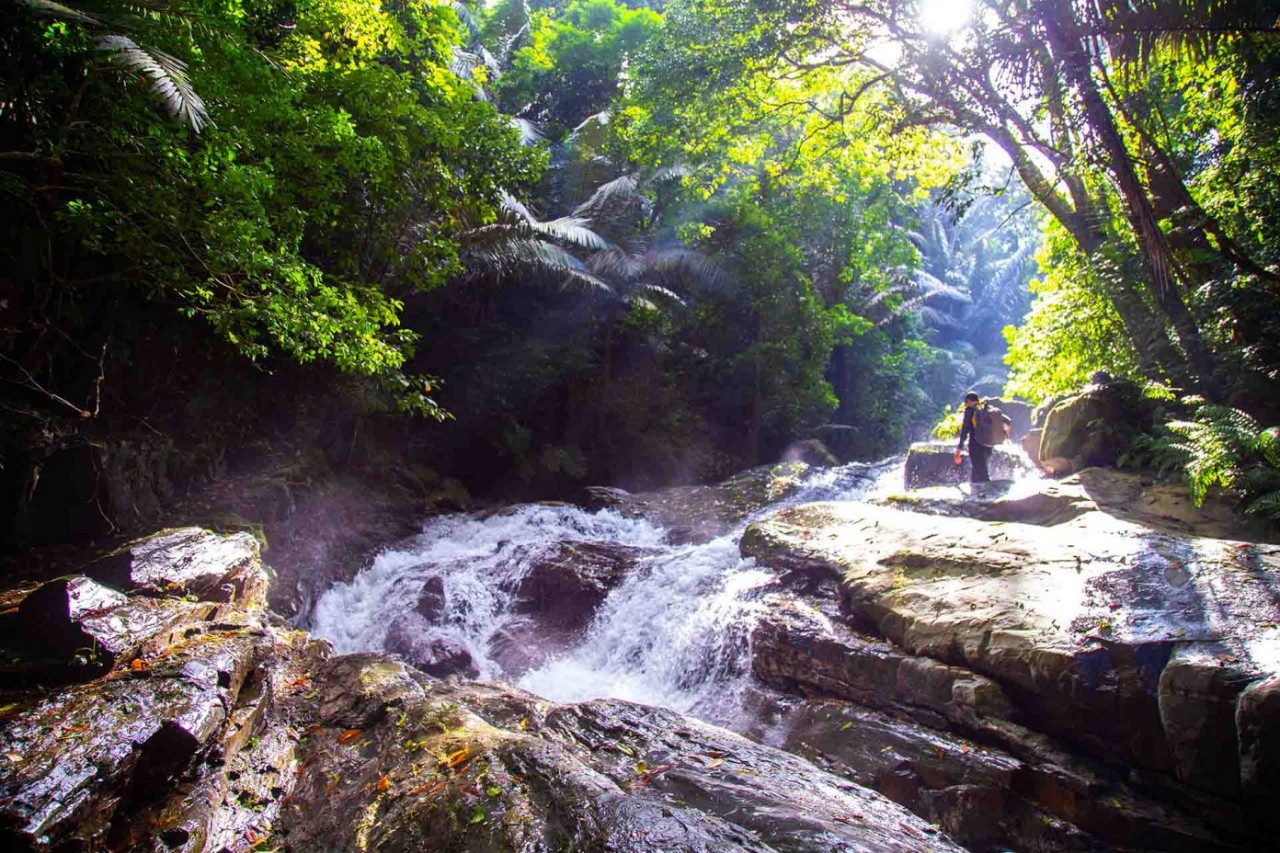 The photo of sunlight passing through the old forest creates a beautiful scene. Photo: Netin