Ahead of Austrian Federal Minister for European and International Affairs Alexander Schallenberg's official visit to Vietnam, the Austrian media simultaneously expressed their anticipation that the trip will further strengthen the already close bilateral ties, particularly in the economic sphere.
Kronen Zeitung, a daily newspaper founded in 1900 and has the largest circulation in Austria, runs an article about Austrian Federal Minister for European and International Affairs Alexander Schallenberg's official visit to Vietnam. Screenshot from Kronen Zeitung,
Kronen Zeitung, the daily newspaper founded in 1900 and boasting the largest circulation in Austria, recently ran an article announcing that Austria's Minister of Foreign Affairs, Alexander Schallenberg, will be paying a rare visit to an unnamed Southeast Asian country accompanied by a large business delegation. Schallenberg is scheduled to be received by Prime Minister Pham Minh Chinh, hold talks with Minister of Foreign Affairs Bui Thanh Son, and meet with Minister of Planning and Investment Nguyen Chi Dung and Minister of Industry and Trade Nguyen Hong Dien.
Accompanying the Austrian minister is a business delegation comprising representatives from 21 major Austrian enterprises, led by Philipp Gady, Vice President of the Austrian Federal Economic Chamber (WKÖ).
Gady was quoted as saying in the article that the EU-Vietnam Free Trade Agreement (EVFTA), which became effective in 2020, is expected to eliminate most trade barriers by the end of the decade. This agreement is anticipated to increase bilateral trade and contribute significantly to the economic growth of both the EU and Vietnam. With bilateral trade turnover of over EUR 1.6 billion, Vietnam is currently Austria's largest economic partner in ASEAN. There are currently 60 Austrian companies with offices or branches in Vietnam, which is indicative of the strong economic ties between the two countries.
Within the framework of his visit to Vietnam, Schallenberg is set to attend a business forum featuring representatives of businesses and agencies from both countries. The forum will provide a platform for the two sides to collaborate and discuss potential areas of cooperation.
The daily quoted Vietnamese Ambassador to Austria Nguyen Trung Kien as saying that Austria and Vietnam complement each other economically, with Vietnam able to benefit from Austrian support and machinery for the modernisation of agricultural production. Additionally, Austrian businesses can contribute to the promotion of tourism in Vietnam through their cable car technology. Furthermore, the two sides can collaborate in the field of vocational training. Prior to the visit, Schallenberg labelled it as "Austria's strategic move to the Asia-Pacific region".
The Austrian daily newspaper Wiener Zeitung published an article on April 15th which assessed that the visit of Alexander Schallenberg, the Austrian Federal Minister for Europe, Integration and Foreign Affairs, to Vietnam will help to promote Austria's participation in Vietnam's development and diversification of the supply chain due to geopolitical risks.
According to the article, Vietnam has implemented economic reform, transitioned to a market economy, and experienced tremendous economic growth, attracting numerous international investors and major corporations.
One of the key motivations for Austrian companies to explore opportunities in Vietnam is to diversify their supply chains and spread their operations to different parts of the world in order to reduce their vulnerability to risks associated with the conflict in Ukraine and the limitations imposed by the Covid-19 pandemic.
The article also argues that diversification is one of Vietnam's key strategies, with politics playing an important role in promoting economic ties. The Vietnamese government is enticing foreign investors with favorable conditions, and the country, with a population of nearly 100 million, has signed free trade agreements with many countries.
The website Vienna.at recently reported that Austrian Foreign Minister Alexander Schallenberg is embarking on a visit to Vietnam in April 2021, in response to the visit of his Vietnamese counterpart, Bui Thanh Son, to Vienna in September 2022. The visit marks the 50th anniversary of the establishment of diplomatic ties between the two countries.
In the article, Bita Rasoulian, the Head of the Asia-Pacific Department under the Austrian Federal Ministry for European and International Affairs, noted that Austria and Vietnam share many similarities in their respective foreign policies.
She declared that Vietnam and another nation will join forces to foster multilateralism, respect for international law, and disarmament, as Vietnam was one of the first countries to sign the Treaty on the Prohibition of Nuclear Weapons.
The article cited Vietnamese Ambassador Nguyen Trung Kien, who highlighted Vietnam's dedication to the precepts of international law and its support for the resolution of disputes in the East Sea in accordance with international treaties such as the United Nations Convention on the Law of the Sea (UNCLOS) of 1982.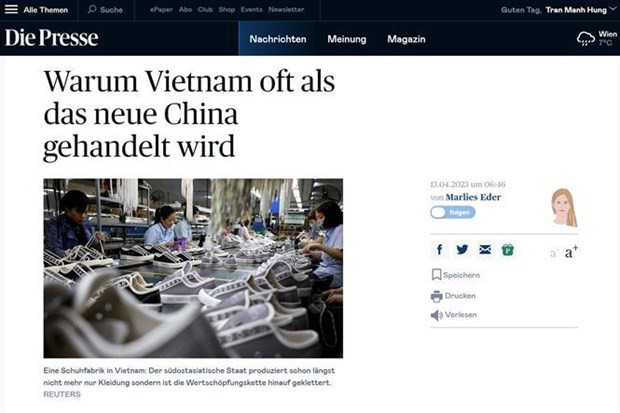 Die Presse – a German-language daily broadsheet newspaper based in Vienna, Austria. Photo: VNA
Previously, on April 14, Die Presse – a German-language daily broadsheet newspaper based in Vienna, Austria – ran an article emphasizing the desirable conditions that make Vietnam an increasingly attractive destination for foreign investors. This news comes at a time when the Southeast Asian nation has been actively seeking to boost foreign direct investment, with many lucrative opportunities arising from its rapidly growing economy.
The official visit of the Austrian Federal Minister for European and International Affairs to Vietnam is likely to further strengthen the collaboration between Austria and Vietnam, as well as the wider region. Moreover, it will also help promote Austria's cooperation with the area.
According to the article, Vietnam has become increasingly attractive to foreign businesses who are seeking to diversify their supply chains due to robust growth, favorable trade agreements, and investment conditions.
The article cited a report from the Pacific Basin Economic Council (PBEC), which noted that Vietnam's market has recently gained traction as a desirable destination for foreign investors due to the relocation of many companies' production to the country. Consequently, this has opened up a wealth of opportunities for businesses to capitalize on the country's vast potential.
According to Die Presse, export control measures and economic sanctions imposed during the trade war, difficulty in the supply chain, as well as the unpredictable consequences of the pandemic, have all prompted businesses to consider diversifying their supply chain. Additionally, the attractive production costs in Vietnam are also a major draw for investors.
In particular, many foreign enterprises, including Austrian firms, have had to look for new markets after withdrawing from Russia due to the conflict in Ukraine. As a result, Vietnam has become an attractive destination for investors. By establishing itself in the country, businesses can capitalize on the low-cost labor, abundant resources, and improved infrastructure. Furthermore, the Vietnamese government has been actively encouraging foreign investment by cutting taxes and introducing incentives. As a result, more and more foreign firms are taking advantage of the opportunities available in the country.
According to the Commercial Counsellor of the Trade Office of the Austrian Embassy in Vietnam, Dietmar Schwank, Austrian companies with a geopolitical mindset are increasingly seeking new investment destinations rather than focusing solely on one country. Vietnam is seen as a potential investment destination due to numerous reasons.
The article mentioned that over the past decade, Vietnam has transformed itself from an agricultural product, footwear, and garment exporter to a manufacturer of electronic components and computer equipment. This is partly due to Samsung Electronics, as half of this Korean company's mobile phones are manufactured in Vietnam and make up one-fifth of Vietnam's exports.
Vietnam's involvement in free trade agreements (FTAs) such as the EVFTA set it apart from other members of the Association of Southeast Asian Nations (ASEAN). By leveraging the EVFTA, Vietnam is able to enhance its economic and trading prospects, thus providing significant benefits to its citizens.
According to Schwank, this is especially noteworthy since the European Union has yet to sign a Free Trade Agreement with any other emerging nations.
It is the trade agreements that provide a sense of security for businesses seeking to explore other reference markets, he noted.
The visit of Austrian Foreign Minister Alexander Schallenberg and a business delegation to Vietnam is expected to help increase Austria's export-driven economy. This has been highlighted by the article, which states that the trip will provide a major boost to the country's economy. The delegation will explore potential opportunities and create new business relationships, which should result in a positive effect on Austria's economy for years to come.
According to Schallenberg, the Austrian Federal Ministry of European and International Affairs will spearhead and bolster Austria's exports to Vietnam, thereby consolidating and broadening Austria's ties with the region.
Meanwhile, the Austrian Federal Economic Chamber (WKÖ) recognizes the potential for Austrian businesses to benefit from opportunities in Vietnam, particularly in the industrial sector. Gady stated that Austria could assist Vietnam in the development of its supply chain with machinery for plastic processing, recycling, and wood processing.
Other Austrian news outlets such as Vol.at, a website of Vorarlberg state, volksblatt.at and nachrichten.at (two newspapers from Oberösterreich state), and news.at reported on Federal Minister Schallenberg's visit to Vietnam.