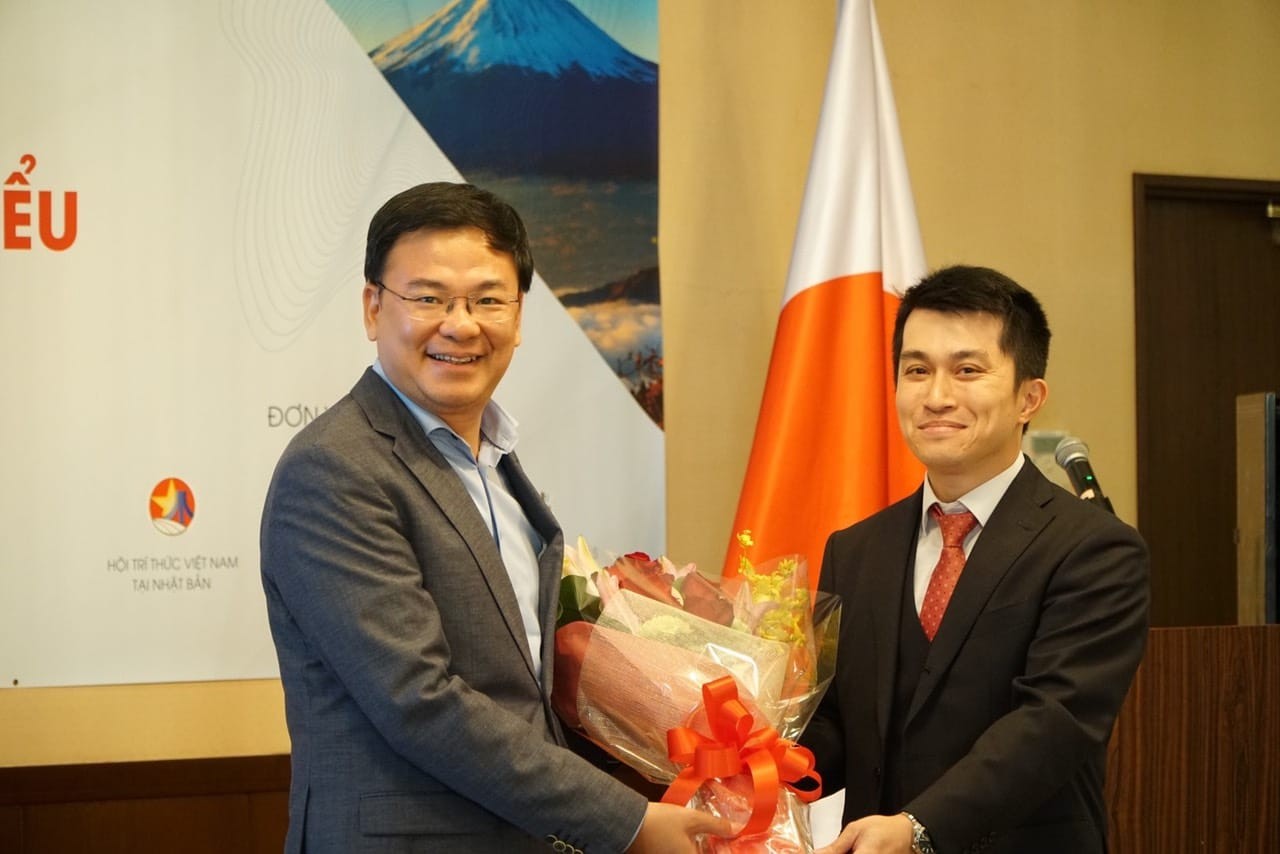 Ambassador Pham Quang Hieu presents flowers to a typical Vietnamese intellectual at the event. Photo: VNA
Around 100 esteemed Vietnamese intellectuals who are currently living in Japan convened at the event organized by the Association of Vietnamese Intellectuals in Japan (AVIJ) on May 27, with the Vietnamese Embassy, the Ministry of Science and Technology, and the Ministry of Planning and Investment playing a role in the event's support, as reported by the Vietnam News Agency (VNA).
Attending the meeting were Ambassador Pham Quang Hieu; Bui The Duy, Alternate Member of the Party Central Committee and Deputy Minister of Science and Technology; Vu Quoc Huy, Director of the National Innovation Center; and 100 typical Vietnamese intellectuals from across Japan.
In his remarks, Ambassador Pham Quang Hieu emphatically highlighted that Japan has become a popular destination for numerous generations of Vietnamese to work, study, and progress in their professional journey.
The number of international students in Japan has grown steadily since 2000, with the Vietnamese community now making up the second largest foreign population in the country with close to 500,000 individuals.
Many people from the younger generation have studied, researched, and worked in Japan for the last 15 to 20 years and are now occupying prominent positions in teaching, research, and management at renowned universities. They are also leading Japanese enterprises in various fields such as information technology, electronics-microchips, robotics, agriculture, healthcare, economics, law, society, and human literature. These individuals can often be found as Professors, Associate Professors, business managers, or heads of research labs.
With the influx of young intellectuals, start-up entrepreneurs, and many devoted international students, the Vietnamese community in Japan has been thriving and making a great contribution to Japan's socio-economic development. These individuals have become a strong connection between the two countries, forging a strong bond of friendship through their efforts.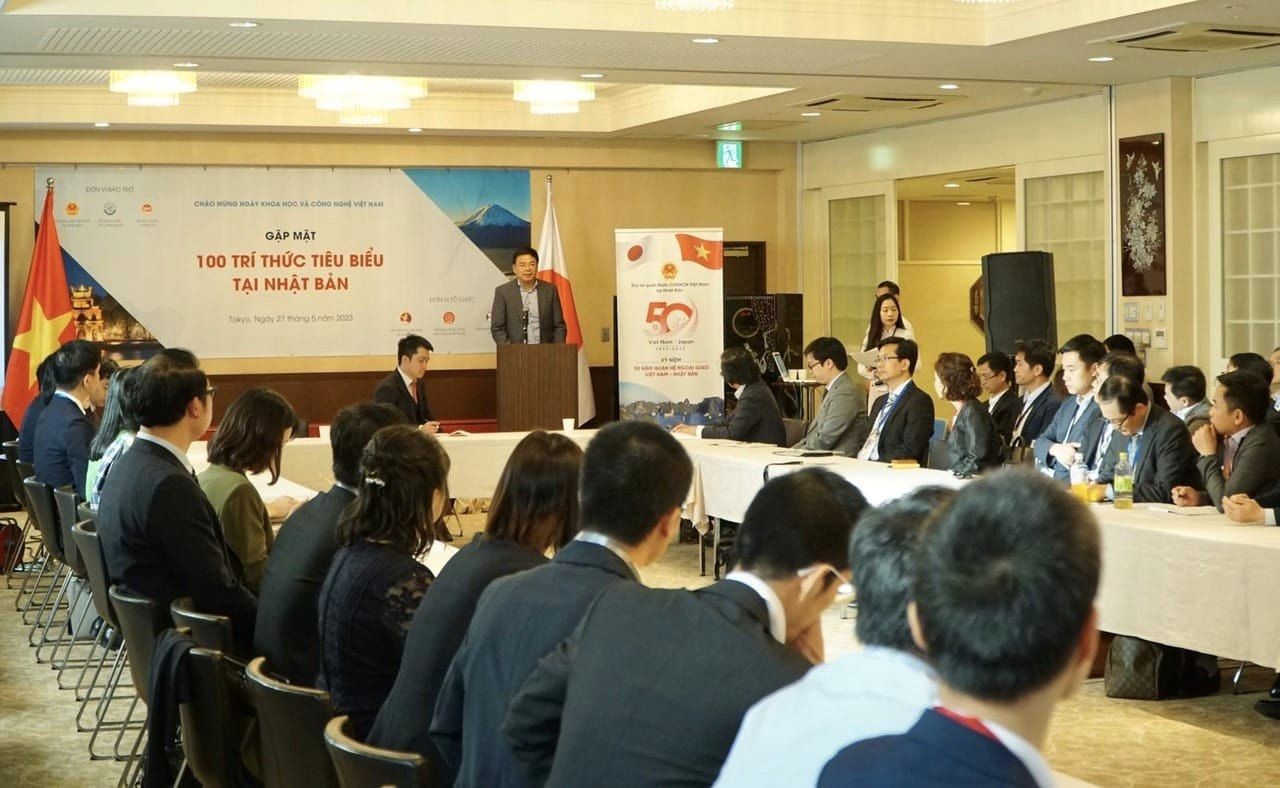 Nearly 500,000 Vietnamese are in Japan, becoming the second biggest foreign community in the East Asian nation. Photo: VNA
The esteemed diplomat highlighted the fact that the Vietnamese Party and State have consistently demonstrated their commitment to overseas Vietnamese, who are an essential component of the Vietnamese nation, by issuing a variety of policies and directives to support them.
He praised the invaluable contributions of Vietnamese intellectuals, both in Vietnam and Japan, to the success of the Vietnam Summits in 2019 and 2021, as well as to the numerous symposiums that drew crowds of intellectuals and businesses from both countries.
Hieu expressed his hope that the AVIJ and the intellectual community as a whole will be able to produce more research studies, make more meaningful proposals and meaningful contributions, and help Vietnam to apply Japan's cutting-edge technology in its socio-economic development.
The intellectuals exchanged information and sought ways to boost cooperation, thus forming a dynamic, united community of Vietnamese intellectuals in Japan, with increasing contributions to the development of their homeland, as well as the collaboration between the two countries. Photo: VNA
The meeting devoted time to actively discussing the accomplishments of Professor Tran Van Tho, along with 20 Vietnamese professors and associate professors in the fields of information technology, microchips, materials, healthcare, agriculture, business, and economics who are currently teaching in universities and research institutes across Japan. The meeting was also attended by 15 presidents, directors, and managers of Vietnamese enterprises in the fields of information technology, finance, economics, consulting, non-profit organizations, and business startups.
This is the first large-scale meeting event for intellectuals across Japan, providing a platform for the exchange of information, connecting them to scientific research networks, and enabling them to share updates on the intellectual network's activities and accomplishments over the past period. Furthermore, there will be discussions to foster cooperation for the future, in order to build a vibrant, unified Vietnamese intellectual community in Japan that makes more effective contributions to science, technology, national advancement, and cooperative relationships with Japan.
Delegates pose for a group photo. Photo: VNA
The 476,000-strong Vietnamese community in Japan is the second-largest foreign population and the second-biggest Vietnamese diaspora in the world. This remarkable community is a testament to the strong connections between Japan and Vietnam.
The vibrant community of Japan is comprised of approximately 250,000 workers and apprentices, 50,000 students, 60,000 engineers, and 50,000 residents. A large population of Vietnamese people, mostly young adults, have settled in all 47 cities and provinces of the country, living, working, and studying there.
They have experienced positive conditions from the host government for living, studying, and conducting business.