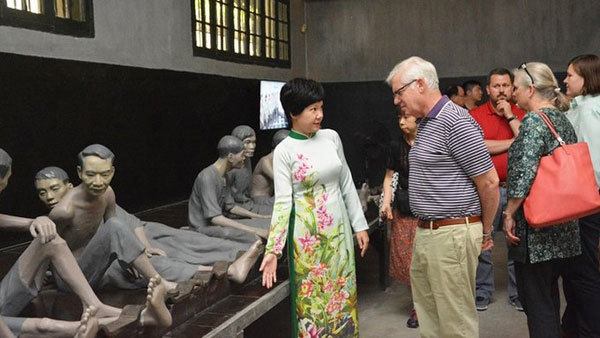 The development of dark tourism with great potential
Therefore, "dark tourism" (tourism associated with death or tragedy) has become a trend both domestically and around the world. 
The attraction of "dark tourism"
"Dark tourism" has been known by different names such as "thana tourism", "black tourism" or "grief tourism". "Dark tourism" refers to visiting places where dark events related to death or tragedies of humanity took place. These events could have originated from natural causes such as earthquakes and tsunamis, or from human related events such as genocide, assassinations and terrorism. Destinations could also be also prisons, war scenes and so on.
Before the COVID-19 pandemic, millions of tourists around the world ventured to the most unlucky places on Earth, where devastating events, accidents or natural disasters took place, every year.
The most popular destinations for dark tourism include Auschwitz (the largest of the German Nazi concentration camps and extermination centres), Chernobyl, Gettysburg (the site of the Kennedy assassination), the 9/11 Memorial in New York, the area of the Fukushima nuclear power plant in Japan and the Killing Fields in Cambodia. Visitors have been making the worst parts of history become a piece of their vacations.
According to Uttar Pradesh Tourism in India, the mysterious city of Varanasi (Benares) on the Ganges, famous for traditional cremation ceremony, attracted around 300,000 foreign visitors in 2017.
Since its opening, the 9/11 Memorial in New York City has become one of the most famous destinations in the world, attracting over 7 million domestic and international tourists every year. Visitors come here to commemorate victims from the 9/11 tragedy and feel the loss of the terrible event that shook the US.
In fact, "dark tourism" is not a new phenomenon. The Washington Post cited an opinion from J. John Lennon, a professor from Glasgow Caledonian University in Scotland, that this type of tourism goes back to 1815 and even the 16th century. However, it has become more and more popular, partly thanks to modern documentaries and films.
Although documentaries mostly deal with historical, geographical or cultural issues and do not promote the destinations based on tourism, they have contributed to arousing curiosity and encouraging tourists to visit painful these monuments.
One documentary film which refers to "dark tourism" is "Dark Tourism" by German film producer Manfred Becker. It was produced in Canada and broadcast during 2007-2008. In 2018, the Netflix documentary series "Dark Tourists", featuring a journalist exploring "strange" destinations, attracted large audiences.
Television has been contributing to driving more people to visit these places. Since the series of short films entitled "Chernobyl" on the 1986 nuclear power plant explosion, premiered in March 2019 on HBO, the number of visitors to the destination has increased by 30-40%.
While the world is still unsure about the purpose of this type of tourism, there is no denying that tours to dark and traumatic places aim to commemorate and remind tourists of the terrible things that humans can do, helping them avoid similar actions in the future. These sites are also a visual repository for historical research and to educate the current generation on the value of the past and respect for the present. 
"Dark tourism" in Vietnam
With a long history of resistance against invaders, Vietnam possesses many destinations marking painful years but showing the indomitable spirit of the nation. Some typical places that could be exploited for "dark tourism" are piles yard on Bach Dang River, Dong Da Mound, Hoa Lo Prison (in Hanoi), War Remnants Museum in Ho Chi Minh City, Hang Duong Cemetery, Con Dao Prison and Phu Quoc Prison. International visitors have also paid special attention to many other places such as the Cu Chi Tunnels, Dang Thuy Tram Hospital, My Lai Village and Quang Tri Citadel.
The places mentioned above bear significant historical and cultural value, helping visitors learn more about the history, especially the unyielding will of Vietnamese people in each historical period of the country.
Over recent years, relic sites have received more investment and methodical management. Visitors to these destinations have been not only the middle-aged and older people but also many young. As many historical sites have applied technological advances and digital transformation, their value has been promoted, especially to young people. For example, since the activities of Hoa Lo Prison were introduced via its fanpage and radio channels via the Spotify and Apple Podcasts platforms, both domestic and foreign tourists have learned in an easier and more interesting manner.
In the long term, management agencies should have appropriate development plans for the development of "dark tourism, focusing on creating and promoting many more visual experience products for visitors, especially young people. In addition, it is crucial to avoid excessive exploitation and commercialisation so that the inherent historical and human values of these destinations will not be lost.
Source: Nhan Dan