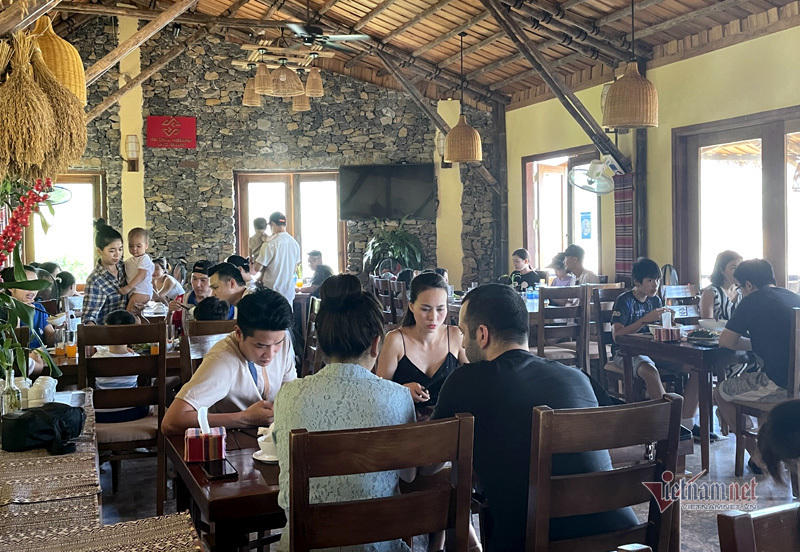 At a resort in Mai Chau on June 19
As her children have begun their summer holiday, Hamy Nguyen in Hoan Kiem District in Hanoi has been looking for a resort near Hanoi for her 5-member family to avoid the heat.
When Nguyen contacted a travel firm and asked about a resort in Mai Chau (Hoa Binh), she was told that the resort is fully occupied until the end of June. Nguyen did not have the opportunity to book rooms there, even on ordinary days.
"I have been advised to go to Ninh Binh as the prices are reasonable, while the resorts there are not overly crowded," Nguyen said.
The travel demand has increased recently as students finished their academic year one month ago, while secondary school students have completed the entrance exam to high schools.
Since they cannot travel far by air as they fear they may get infected with coronavirus on flights, they tend to take short-term trips to places near Hanoi which they can reach with personal cars.
The demand is especially high these days, as Hanoi and northern provinces are being hit by scorching sun and a severe hot spell.
The resorts standing isolated, with large area, but with not too many rooms, with large greenery and swimming pools in Ba Vi and Soc Son in Hanoi, and Mai Chau in Hoa Binh are the main choices of many families.

The resorts standing isolated, with large area, but with not too many rooms, with large greenery and swimming pools in Ba Vi and Soc Son in Hanoi, and Mai Chau in Hoa Binh are the main choices of many families.
As demand is increasingly high, some resorts are running out of rooms, though the room rates are absolutely not low.
Mai Chau Hideaway Resort, with more than 30 rooms in Hoa Binh, is an example. According to Duong Thi Huyen, the manager of the resort, the high business season there is from September to December, or after Tet, from January to March. However, the resort has been full since May.
She said the number of guests has increased sharply since mid-June and the guests are mostly from Hanoi. The room occupancy rate was 70-80 percent mid-week and 100 percent on weekends.
Bakhan Village, which is near Mai Chau Hideaway Resort, is also full. With a reasonable hotel room rate, from VND400,000 per traveler per night (mid-week), it has few vacancies.
The hotel room rate at Avana Retreat is VND5-20 million a night, and it collects additional fees on weekend. However, its occupancy rate is also relatively high, 70-80 percent in mid-week, from mid-May to the end of June, and 100 percent on weekends.
To reach Mai Chau, travelers need to spend four hours to drive cars from Hanoi. If they want nearby destinations, they can choose Serena Resort (Hoa Binh), Tomodachi Retreat Lang Mit (Son Tay Town), Melia Ba Vi Mountain Retreat, and Memory Villa (Ba Vi). The occupancy rate there is 50-60 percent on ordinary days and higher on weekends.
Experts say that isolated and close-to-nature tourism is a growing tendency in the Covid-19 time. Hanoians have the habit of spending holidays and weekends with family members and friends. Therefore, suburban resorts recently have had high and stable numbers of guests.
Travel activities resume
Some localities near Hanoi, including Ninh Binh and Quang Ninh have reopened, so Hanoians have more choices for their travel plans.
An agent of Thien Phuc Tourism Company said on the first reopening day (June 12), FLC Ha Long in Quang Ninh received 800 guests.
However, the localities still restrict the numbers of guests from other provinces, except Vinpearl and FLC resorts. Travelers need to show PCR testing certificates to stay in the resorts. The resorts offer the combo with a testing service.
The other hotels, such as Legacy Yen Tu, have not reopened, or they are only receiving guests on weekends.
Hotels and resorts in Quang Ninh also offer very attractive room rates and service fees. The room rate at Vinpearl Ha Long is VND1.85 million a night with three meals, applied to guests from all cities/provinces, including PCR testing fee.
The Quang Ninh People's Committee has agreed to exempt the Ha Long Bay, Yen Tu and Quang Ninh Museum excursion fees until the end of 2021, instead of the 50 percent reduction as currently applied. This is one of the solutions to help stimulate domestic travel demand.
In Ninh Binh, travel activities have recently resumed, so the number of travelers remains modest. The hotel room rate therefore is low. Emeralda Ninh Binh offers a combo at just VND800,000 a night and a 20 percent reduction for the second night. 
Ngoc Ha